FREE online course

Advanced Competitive Research Practices with Semrush

Learn advanced competitive research techniques from digital marketing expert Navah Hopkins to build your profitability by leveraging Semrush's toolkit.
3 lessons
Exclusive video lessons with digital marketing veteran Navah Hopkins
1 hour
Learn advanced competitive analysis practices in just 1 hour
100% free
The course is 100% free. Save your money for your future market research activities
Who is this course for?
If you're looking for ways to boost your profitability and learn how to use advanced techniques to make your competitor analysis work harder for you and your business, this is the course for you.
About the author
Navah Hopkins, a veteran in digital marketing, has been helping clients win in SEO and PPC since 2008. She is the Director of Paid Media at Justuno, an integrated agency helping customers own their markets via PPC, SEO, CRO, PR, and content. Navah loves sharing lessons learned at local universities and the international speaking circuit. She is a prolific contributor to SEJ, Semrush, and WordStream blogs and webinars.
Lesson structure
Video lessons
Watch easy-to-follow video lessons
Read further
Study the specially picked materials to dive deeper into the topic
Quiz
What to do after the course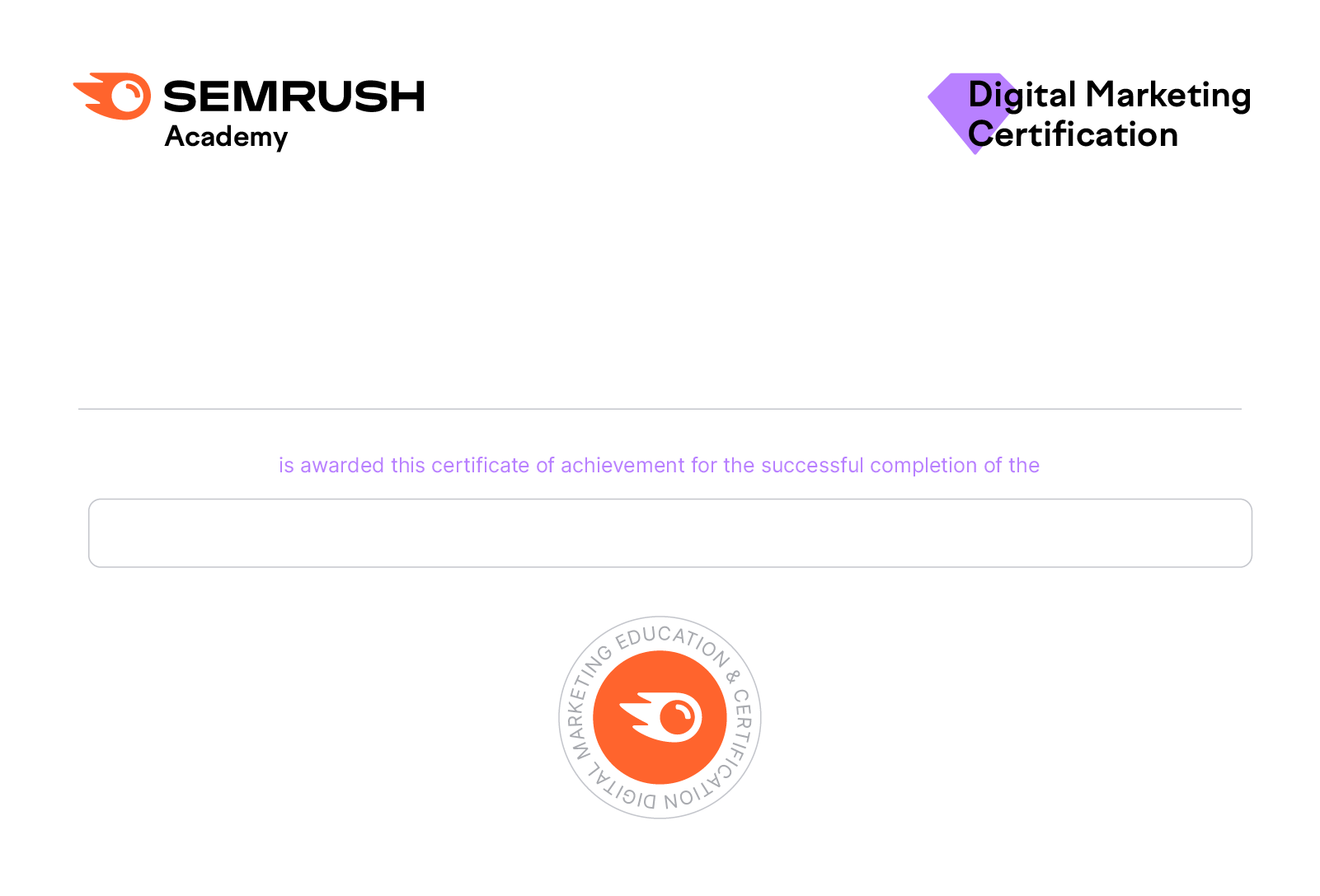 Get certified by Semrush
Have a go at passing the Advanced Competitor Research Practices exam to earn a personalized certificate.
If you're confident that you already have sufficient skills in competitive research, you can jump straight to taking the exam. Once you pass, you'll earn a certificate as proof of your advanced practical skills and a valuable addition to your CV and LinkedIn profile.
You might also like
Competitive Analysis and Keyword Research Course
7lessons1 hour
---
Learn how to take the first, most important, steps in SEO -- competitive analysis and keyword research -- with Semrush tools. These steps are indispensable in building a winning SEO strategy. Learn more.
Advanced Competitive Research Exam
5questions7 min
---
Test your advanced competitive research practice skills and related use of Semrush tools by taking this exam. Learn more.
Advanced Competitive Research Practices with Semrush
3lessons1 hour
---
Learn how to build profitability using advanced competitive research practices with this series of video lessons showing you how to use Semrush tools. Learn more.
You are going to start the !
Important! You won't be able to change your name on your certificate once you receive it.
Before you start, review the information below:
Please note that the certificate issued with your name will be accessible by direct link. By clicking 'Proceed to exam', you agree to make your certificate publicly available.
Certify your team request
Want to rest assured that your employees' knowledge of the Semrush toolset is up to the mark?
If you're interested in making a request, please leave your email.
Become a contributor
Want to join the Semrush Academy expert community? You will have the opportunity to reveal your own tips and tricks on Semrush tools. If you're interested, leave your email.