Free online course

Content-Led SEO with Brian Dean

Own the SEO stage and rank high on Google to drive more traffic & sales!
28 lessons
Hands-on videos with actionable steps and relevant examples
4 hours
of on-demand lessons and study materials
100% free
Use your free Semrush account to get unlimited access to all lessons
Who is this course for?
This course is designed for people that want to create content engineered to rank #1 in Google using strategies that are working great right now. Here you will find a series of in-depth video tutorials, worksheets, and practical tips aimed at helping you reach your SEO goals Inside the course you'll find: video tutorials, worksheets and practical tips.
About the author
Brian Dean is an SEO expert and founder of Backlinko, one of the most popular digital marketing resources online (5M+ readers). Brian's work has been featured in Inc, Fast Company, Entrepreneur, U.S. News & World Report, Success Magazine, Vox, Forbes, Fox News, The Next Web, HuffPost, TechCrunch, and dozens more major media outlets.
Lesson structure
Video lessons
Watch easy-to-follow video lessons.
Read further
Study the handpicked materials to dive deeper.
Quiz
Test what you've learned.
What to do after the course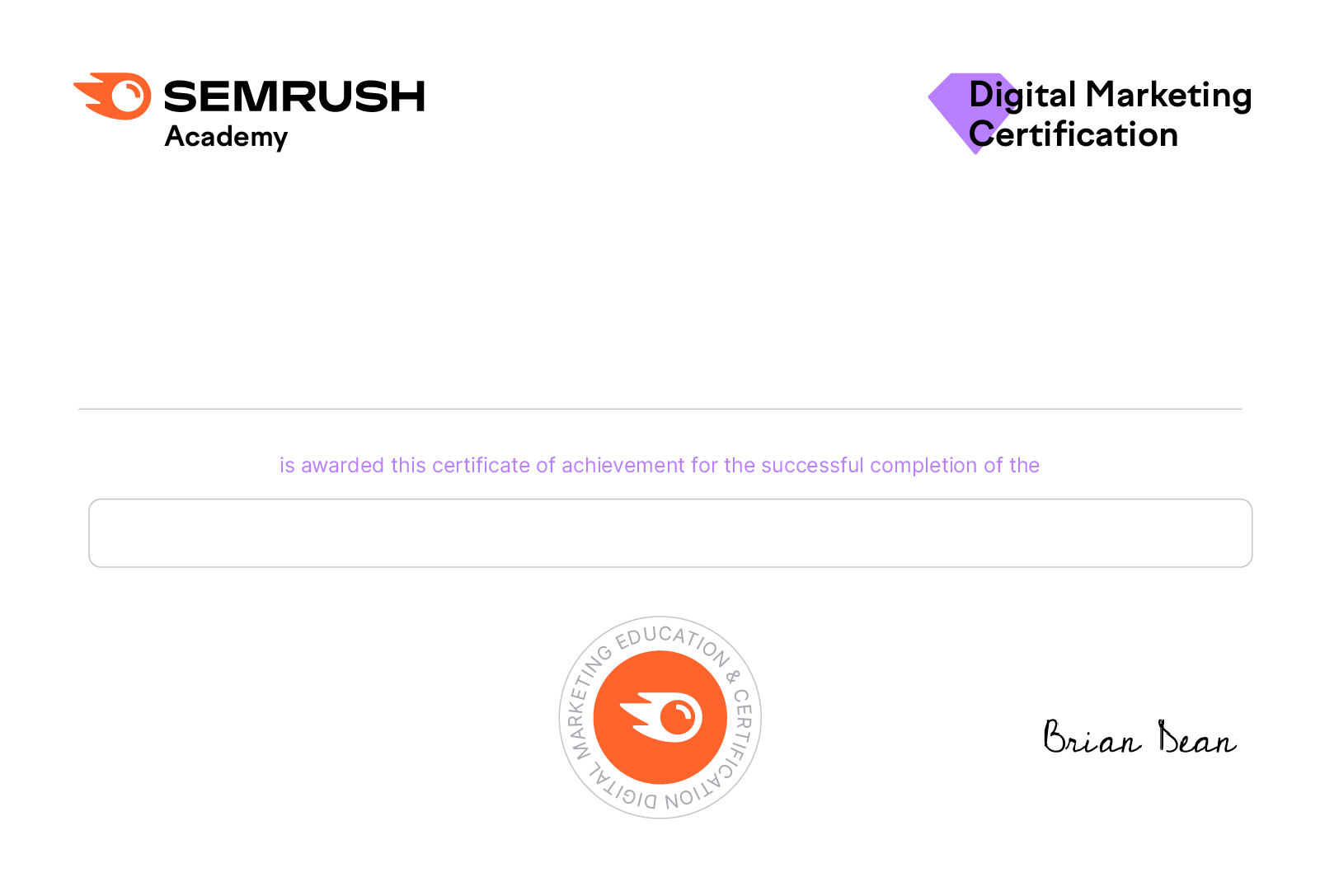 Get certified by Semrush
Seize the opportunity to pass the Content-Led SEO exam and earn your personal certificate.
If you already have sufficient knowledge of the Brian's approach to Contend-Led SEO, you can bypass the educational part and test your skills right away by taking the exam. Upon passing it, you'll earn a certificate, which is proof of your mastery.
You might also like
Semrush SEO Toolkit Course
14 lessons3 hours
---
Learn how to boost your SEO with Semrush tools and get tips from practicing SEO experts in a series of free video lessons. Learn more.
SEO Fundamentals Course with Greg Gifford
31 lessons4 hours
---
Learn all that you need to know about SEO from prominent industry expert Greg Gifford in a series of video lessons. Learn more.
Link Building Course
5 lessons1 hour
---
Learn how to build a relevant backlink profile for your website, keeping clear of bad backlinks, as well as arrange proper internal linking, all of this with Semrush tools. Learn more.
Content-Led SEO with Brian Dean
28 lessons4 hours
---
28 free lessons with a proven step-by-step SEO framework to reach higher rankings and improve your business's visibility on the web. Learn more.
You are going to start the !
Important! You won't be able to change your name on your certificate once you receive it.
Before you start, review the information below:
Please note that the certificate issued with your name will be accessible by direct link. By clicking 'Proceed to exam', you agree to make your certificate publicly available.
Certify your team request
Want to rest assured that your employees' knowledge of the Semrush toolset is up to the mark?
If you're interested in making a request, please leave your email.
Become a contributor
Want to join the Semrush Academy expert community? You will have the opportunity to reveal your own tips and tricks on Semrush tools. If you're interested, leave your email.