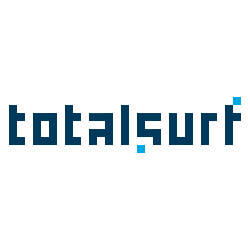 totalsurf
Set your website on fire.
Reading, England, United Kingdom
Very few agencies offer the transparency and fully in-house SEO, copywriting and Google Ads skills that we do.
Our UK-based team of nine, excel in data-driven SEO, powered by superb copy, crafted by real people (no AI generation is harmed in the creation!) who understand how to write engaging, SEO-driven content.
We don't send you overtly auto-generated technical reports generated by software that means little to you. We talk to you about your goals and help you work towards them through our proven strategy and steps to success.
Transparency is key, and we are always upfront about the wins and losses of your campaign, learning from what works by having ongoing conversations with you.
You get a dedicated, experienced account manager assigned to your account, who is able to liaise with not only our external team, but your team as well, whether these are stakeholders or in-house or external developers.
We're geeks at heart, and proud. Everything we do is based on valid marketing data, and our background as a web development agency, gives us a strong advantage over SEO agencies who only know SEO, and not why a developer has setup a site in the way they have. We are, therefore able to work with any dev stack and your own devs, communicating in a language they expect and understand.
Your account executive will get to know you and what you need to hear from us. Do you want highly detailed metric reports or simply headline figures? Let us know, and we will deliver not only the results you need, but also show the performance in a way that aligns with your business on your terms.
We want to set your content and your website on fire!
重点地域
Europe, the Middle East and Africa
我们的客户