Content Outline Builder is a tool that helps you create strong outlines for SEO-optimized blog posts and articles, using AI and competitive research.
You can use it to get new content ideas, plan articles for your website, and to support your writers with SEO-focused, actionable content briefs tailored toward your audience's needs.
What's Included in Content Outline Builder
Content Outline Builder includes:
One project/domain per user
SEO-friendly content opportunities tailored to your domain and topic of interest
Automatic content opportunity suggestions delivered twice a month, once a week, or twice a week according to your preference
Fully customizable, ready-to-use content outlines built by AI
Shareable links for writers, stakeholders and other team members to view your outline
Pricing & Limitations
Content Outline Builder is available in both free and paid tiers. A paid subscription is $40/month.
Free registered users can:
Access unlimited fully customizable content opportunities
Share up to three outlines
Paid users can:
Access unlimited content opportunities that keep refreshing
Create custom outlines for any topic, even if it's not a content opportunity
Share outlines on an unlimited basis
Archive and delete content opportunities
Schedule email notifications for new opportunities suggestions
For more information on Content Outline Builder subscriptions, visit our Pricing page.
How To Use Content Outline Builder
The first time you access Content Outline Builder, you'll be prompted to create a new project by entering your domain (e.g. "semrush.com") and what you want to write about ("content writing").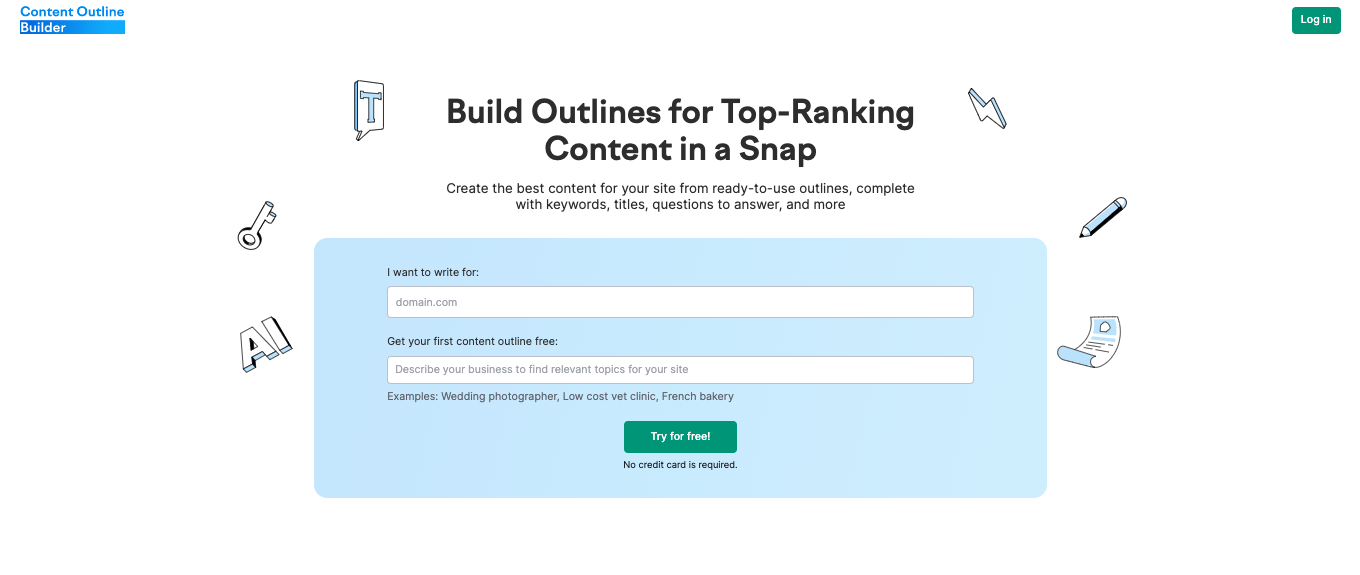 For more relevant topic suggestions, try to use longer keywords or phrases that align as closely with your product, service, business as possible. For example:
Personal stylist
French bakeries
Luxury hotels
Users may only maintain one project at a time. As such, you won't return to this screen in the future, once you've set your first project up.
How To Change Your Project
If you need to create a new project, or edit your current one, click on the name of your project in the top right area of the screen.

This will prompt the Edit Project window to appear.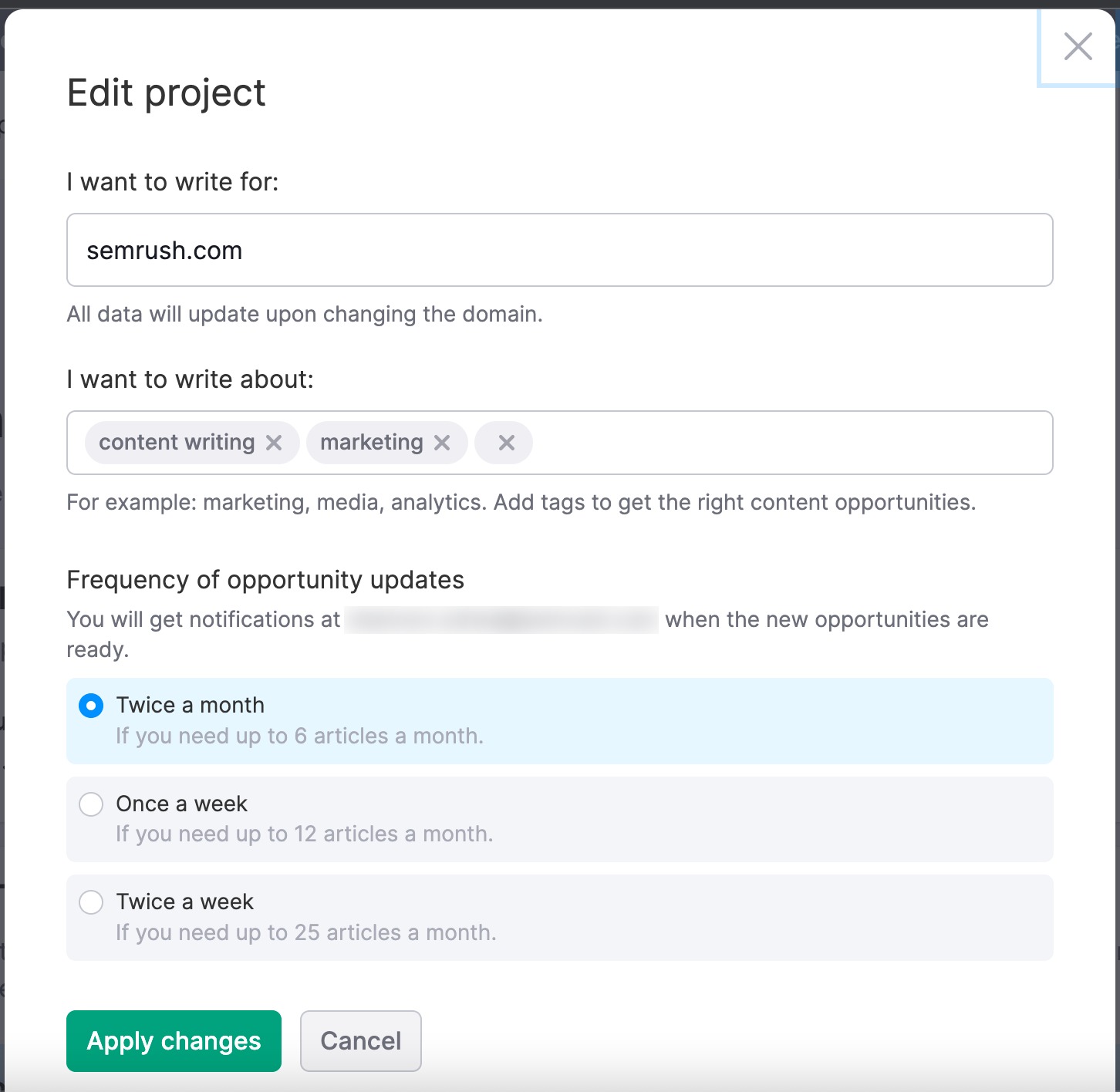 Currently, users can only maintain one project at a time.
To create a new one, enter a new domain into the "I want to write for" field. This will cause Content Outline Builder to refresh, replacing your old project entirely. It will then search for new topic suggestions and delete all of your old outlines.
To update your current project, change the "I want to write about…" topics. Type new keywords in the "I want to write about" field to add new topics. Click the "x" beside any topic you want to remove.
You can also change how often you'd like to receive new content opportunities by selecting one of the following:
Twice a month (opportunities for to 6 articles per month)
Once a week (opportunities for up to 12 articles per month)
Twice a week (opportunities for up to 25 articles per month)
Content Opportunities
Once you've set up a project, Content Outline Builder looks for opportunities that align with your needs. You can find these in the Content Opportunities tab.

For example, if you selected "content writing" and "marketing" as your topics, you'll receive suggestions along these lines.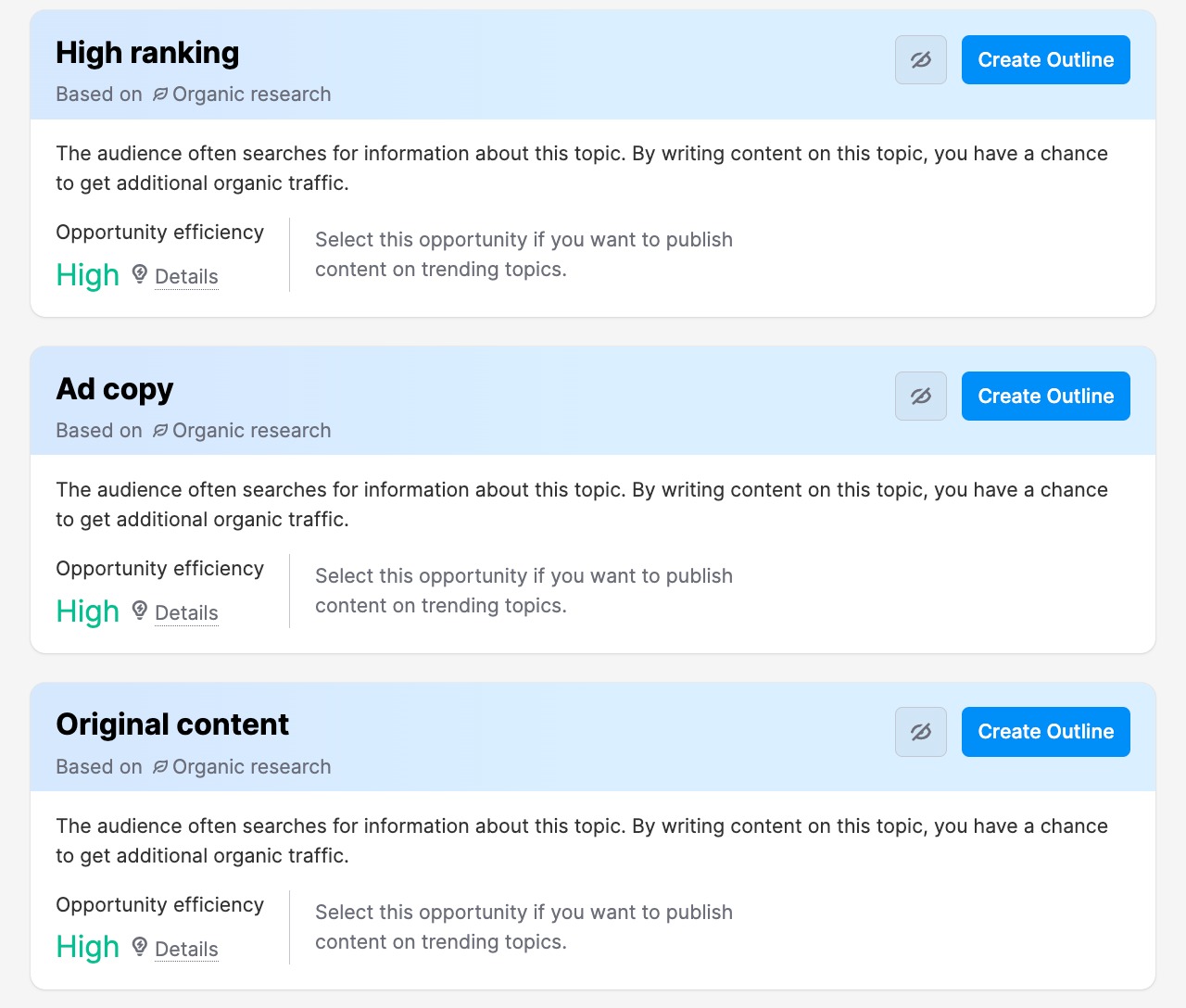 Based on your project preferences, you'll receive new suggestions either twice a month, once a week, or twice a week. You can log into the tool at any time to review your current opportunities in the Content Opportunities tab.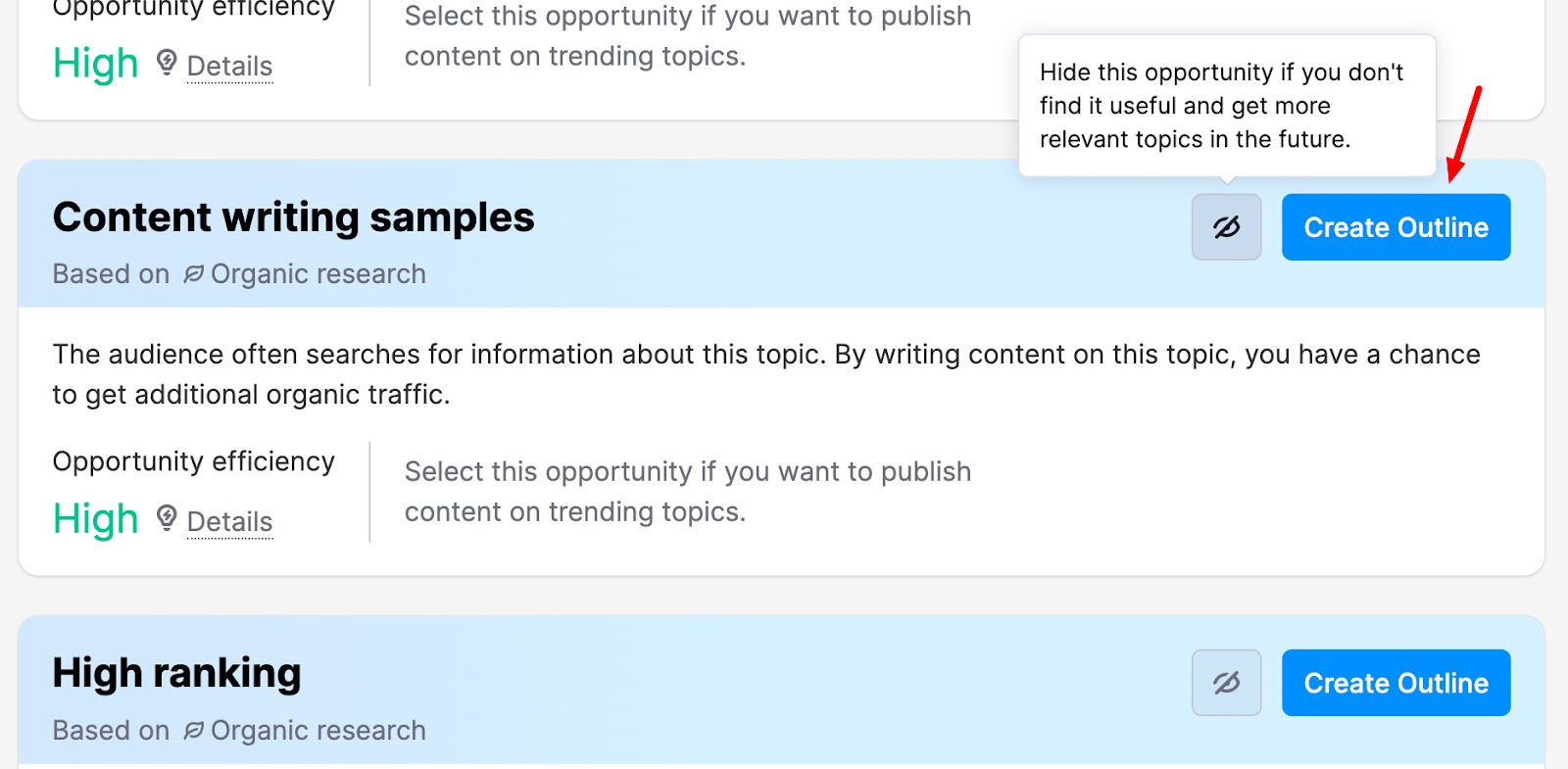 To take advantage of a content opportunity, click on "Create outline" within that opportunity's tile. Then, review the ready-to-use content outline and customize it to suit your site's needs. When you're satisfied, share the completed outline with a writer so that they can start creating.
Creating An Outline
You may create a new outline based on one of your suggested content opportunities, or another topic of your choice.
To start creating your outline with a content opportunity (described above), click "create outline" the appropriate content opportunity tile.
If you have another topic in mind, enter it directly into the "What do you want to cover?" box at the top of the Content Opportunities tab. Then click "create outline."
Next, review each section and edit your outline wherever necessary.
General Recommendations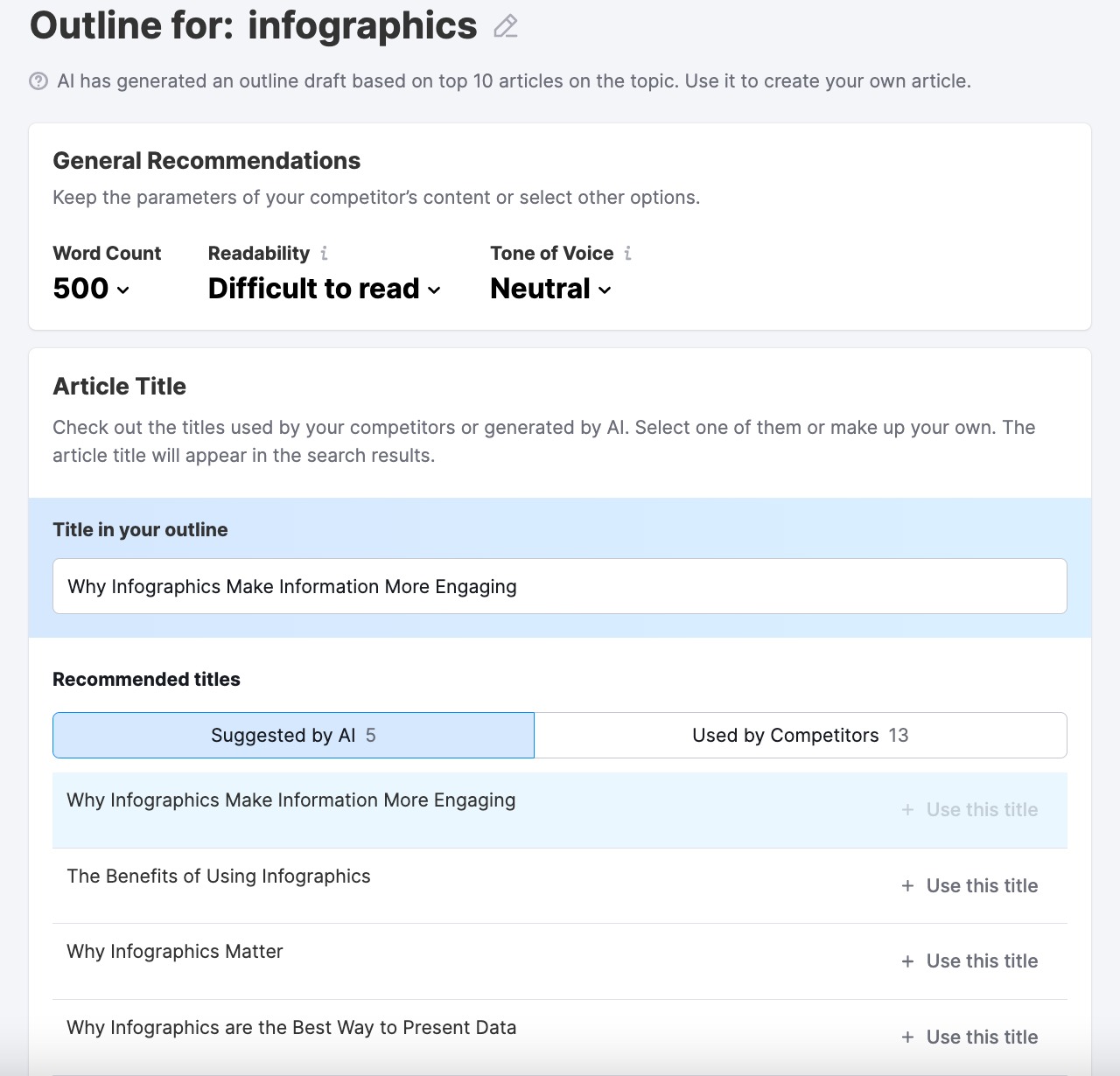 This section provides basic recommendations for your new article, based on how your ranking competitors are written. For example, if most of the high-ranking articles are quite short, the tool will probably recommend a length under 500 words.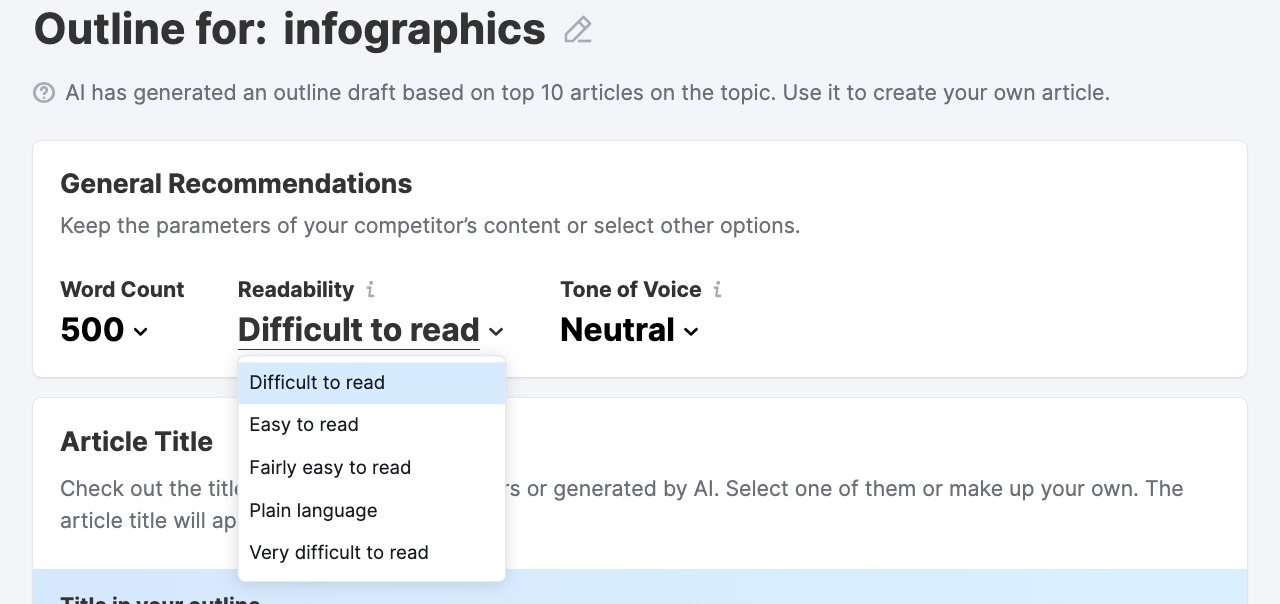 Click the drop down arrow beside any recommendation in order to change it to suit your needs.
For example, if you want to write a more in-depth piece aimed at educating beginners, you might select a longer word count and an easier readability, even if that was not initially suggested by the tool.
Article Title
This section provides automatic recommendations for your blog post or article title.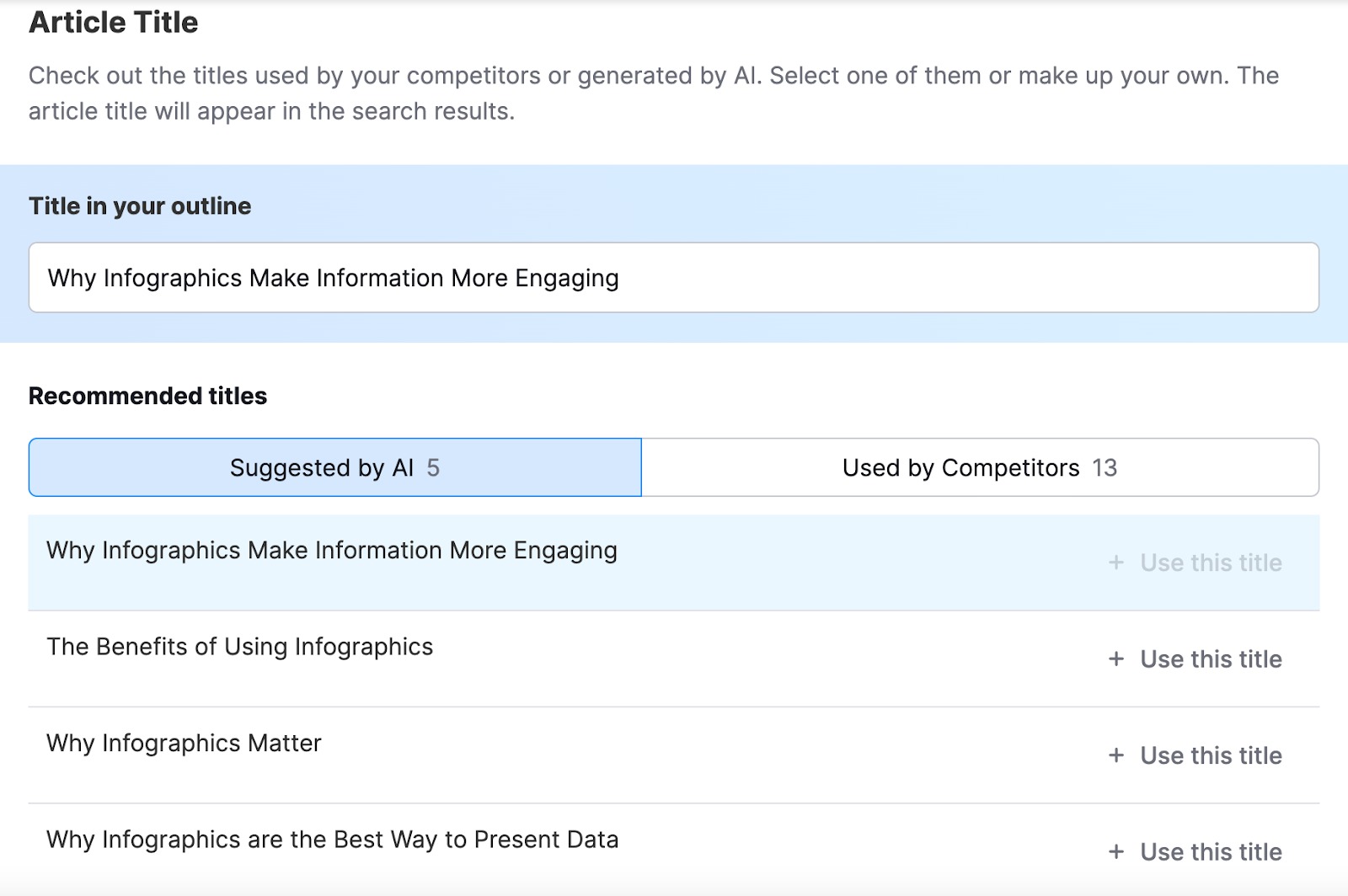 You'll find your suggested title in a text field under "title in your outline." Click anywhere within that text field to edit it as needed.
If you're not happy with this suggestion, Content Outline Builder also provides two lists of suggestions:
Recommended by AI
Used by competitors
Review both of these to find the best option for you. If you want to use one of the recommended titles, click "add to outline." Then, you can continue editing it, or move on to the next step.
Pro tip: Be mindful to avoid plagiarism when reviewing competitor titles. Instead, use these as inspiration, and personalize them to keep them original.
Article Description
An effective article description helps your writer better understand what you want them to write about.
Content Outline Builder will suggest a description automatically in the text field under "description in your outline." Click anywhere within that text field to edit it as needed.
For more suggestions, review the "recommended descriptions" section. Just like the Article Title section above, this includes two lists:
Recommended by AI
Used by competitors
If you want to use one of these suggestions, click "Use this description." Then, edit it as needed.
Keywords
Here, you can decide which keywords you want this article to target. Based on the opportunity you've selected, the tool will automatically recommend several keywords. You can find them under "keywords in your outline."
If you already have some target keywords in mind, you may type them here directly, separated by commas. Remove any keywords you don't like from this list by clicking on the "x" beside it.
Next, review the "recommended keywords" list for more suggestions. Recommended keywords come with the following data:
Volume: How often that keyword is searched per month
Keyword Difficulty: How easy or difficult it would be for your content to rank on the first page for that keyword
Efficiency: The balance between search volume and keyword difficulty. A highly efficient keyword would have a higher volume while being easier to rank for
Click the plus sign (+) in the "add to outline" column beside a keyword you want to use. Then, you will see that keyword added to your "keywords in your outline" list.
Table of Contents
In this step, you'll build a table of contents that will structure your article. You can also think of this as the H2s and H3s that your writer will use to organize the content in the finished product.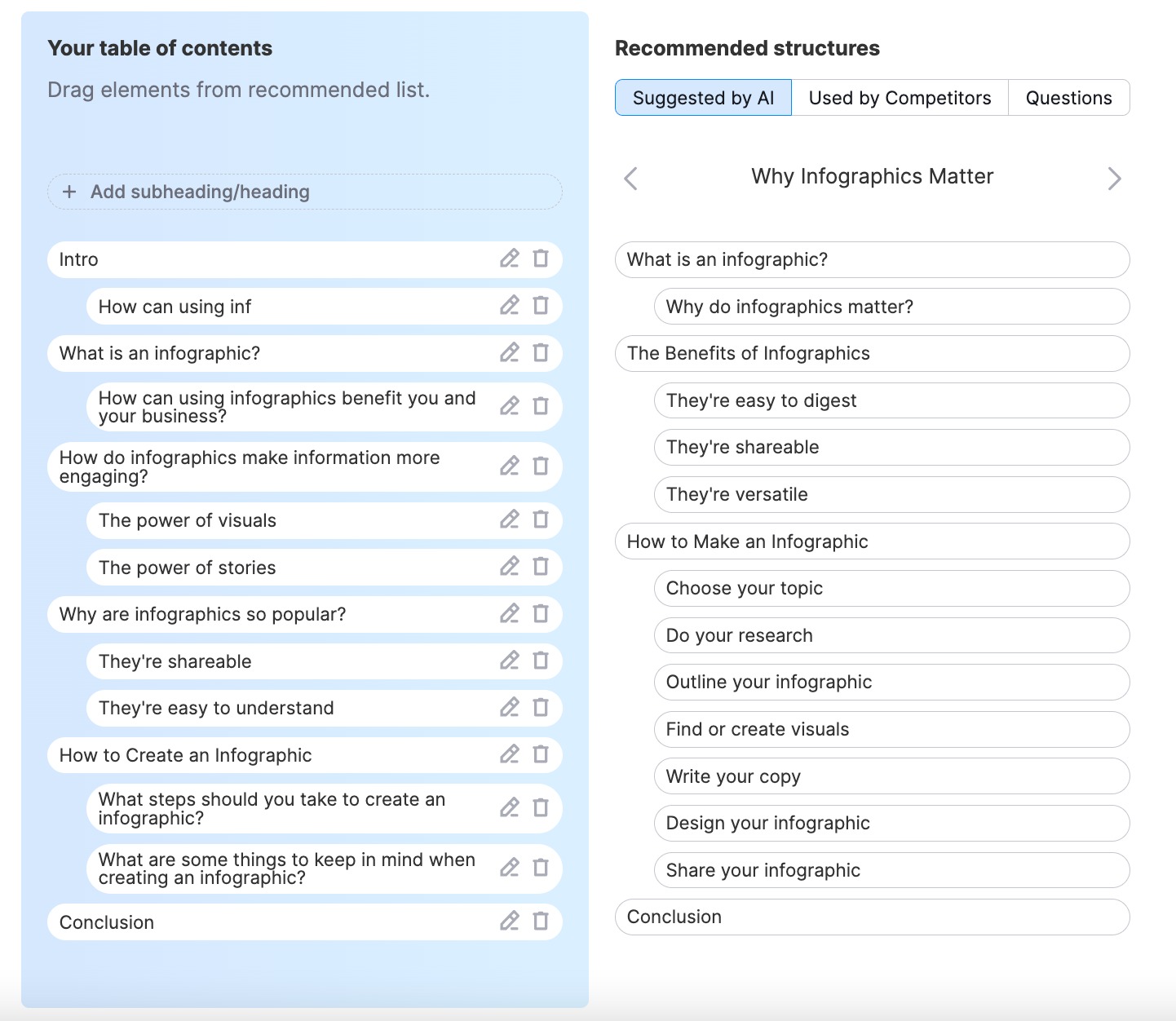 Outline Builder will automatically provide a ready-to-use table of contents on the left.
To personalize this outline, you can:
Reorganize the sections by clicking and dragging them into the order you want
Edit the text by clicking on the pencil icon
Delete a section by clicking on the trash can icon
To the right, in the Recommended Structures section, you'll find a variety of suggestions by subsection:
Suggested by AI
Used by Competitors
Questions
Each of these subsections contains multiple outlines for you to review. Click the gray left and right arrows to review each suggested outline.
Click and drag any outline element to add it to your table of contents. Then, move or edit it as needed.
Facts and Data
In the Facts and Data section, you can help your writer by providing research, statistics or data they may want to cite in their article. Done effectively, this could help to boost the article's credibility.
Outline Builder will automatically suggest a few facts and their sources under "facts in your outline."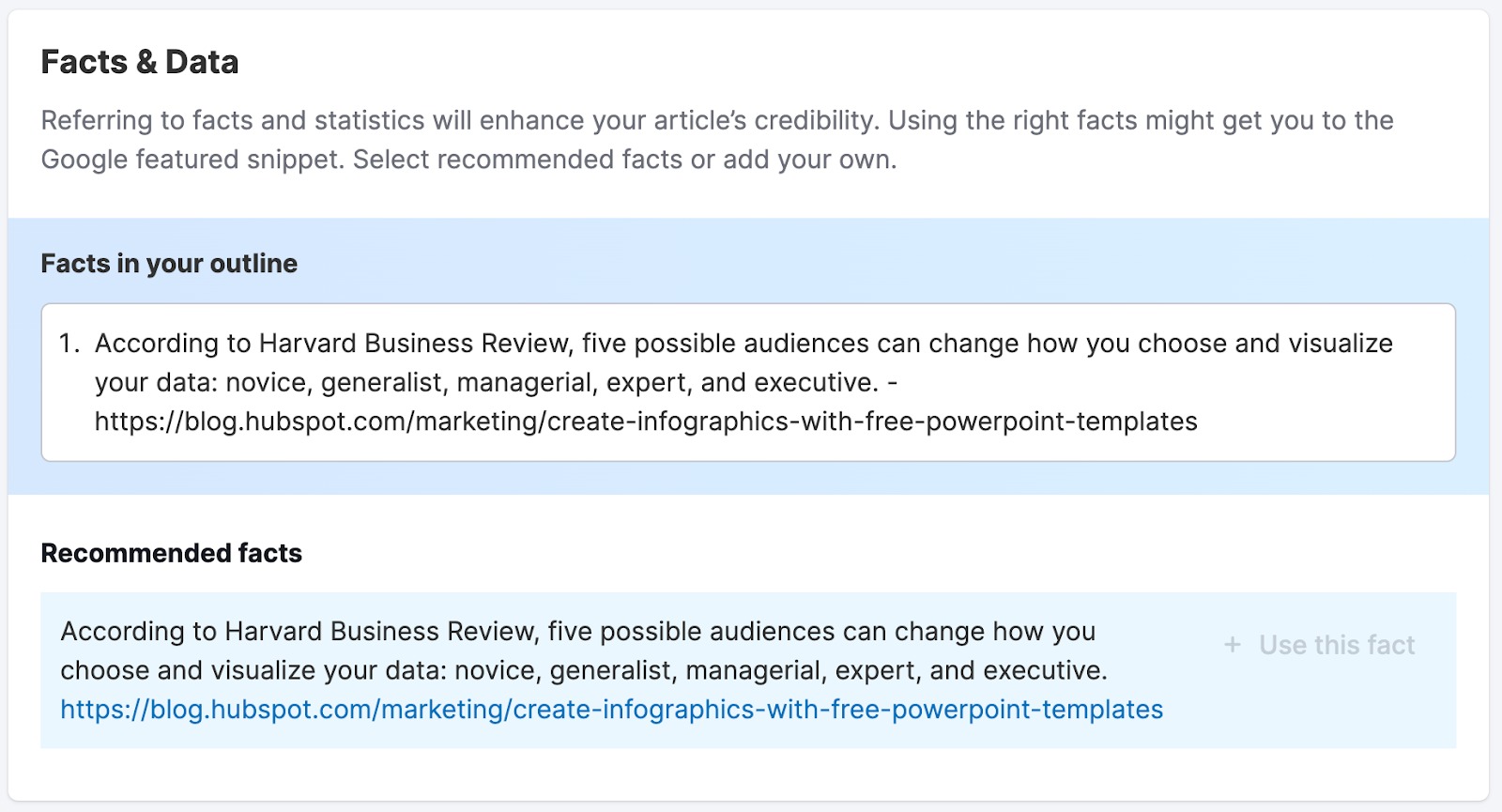 First, review the suggested facts to see if they align well with your article topic. Remove any that you don't want to focus on. If you already have some research done, you can add it to the list by typing into the box. If possible, provide a source for the writer to cite or read more.
Next, review the "recommended facts" section, containing additional research you might want to include. Click "use this fact" to add one to your outline.
Articles for Inspiration
Here, you can provide links to other articles (your own or somebody else's) that align with your vision for your new content. This can help your writer understand what has been effective in the past, and how they might approach this one.
Add sources of inspiration by copying and pasting URLs into the "Links to articles in your outline" section.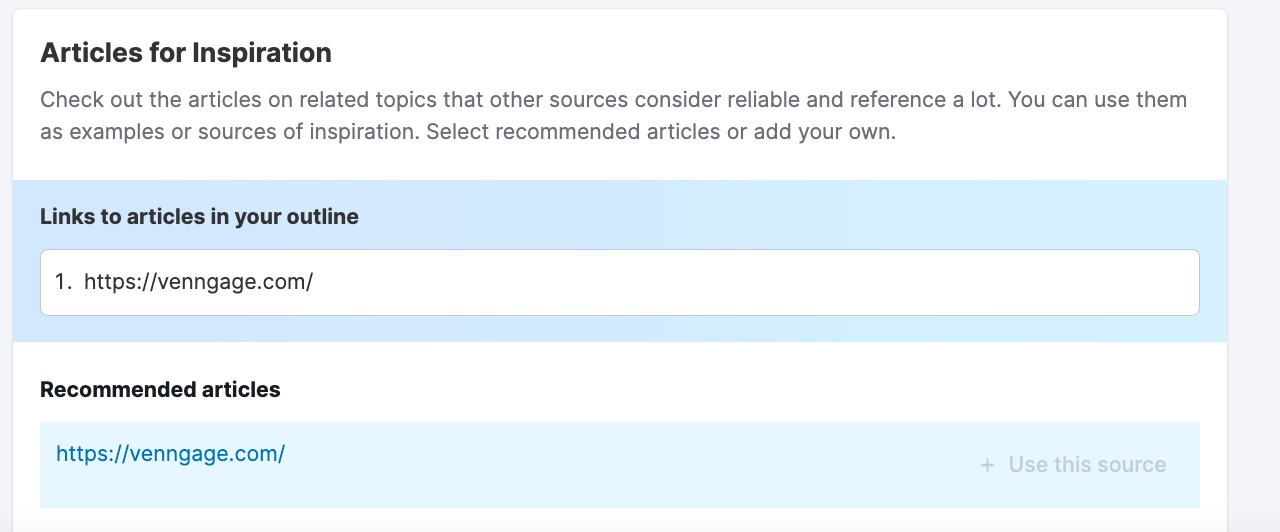 If you need further inspiration, review the "recommended articles" section and add the ones you like to your outline.
Additional Instructions
Here, you can provide more unique guidance to your writer, if needed.

For example, you could include:
Unique content requirements for your site
Notes on process or points of context
Deadlines
Calls to action
Type your instructions into the provided box to add them to your outline.
Pro tip: Use this section to emphasize your call to action or your goals for this article. This will help the writer create a more targeted piece of content.
Finishing & Sharing Your Outline
Once you've completed your content outline, click the "preview" button (found on the top right in gray) to review it.
Here, you'll be able to see what the outline will look like for anyone you share it with.
Click "back to edit" to make any necessary changes.
Once you're ready, click "share outline." A window will appear, containing a shareable link.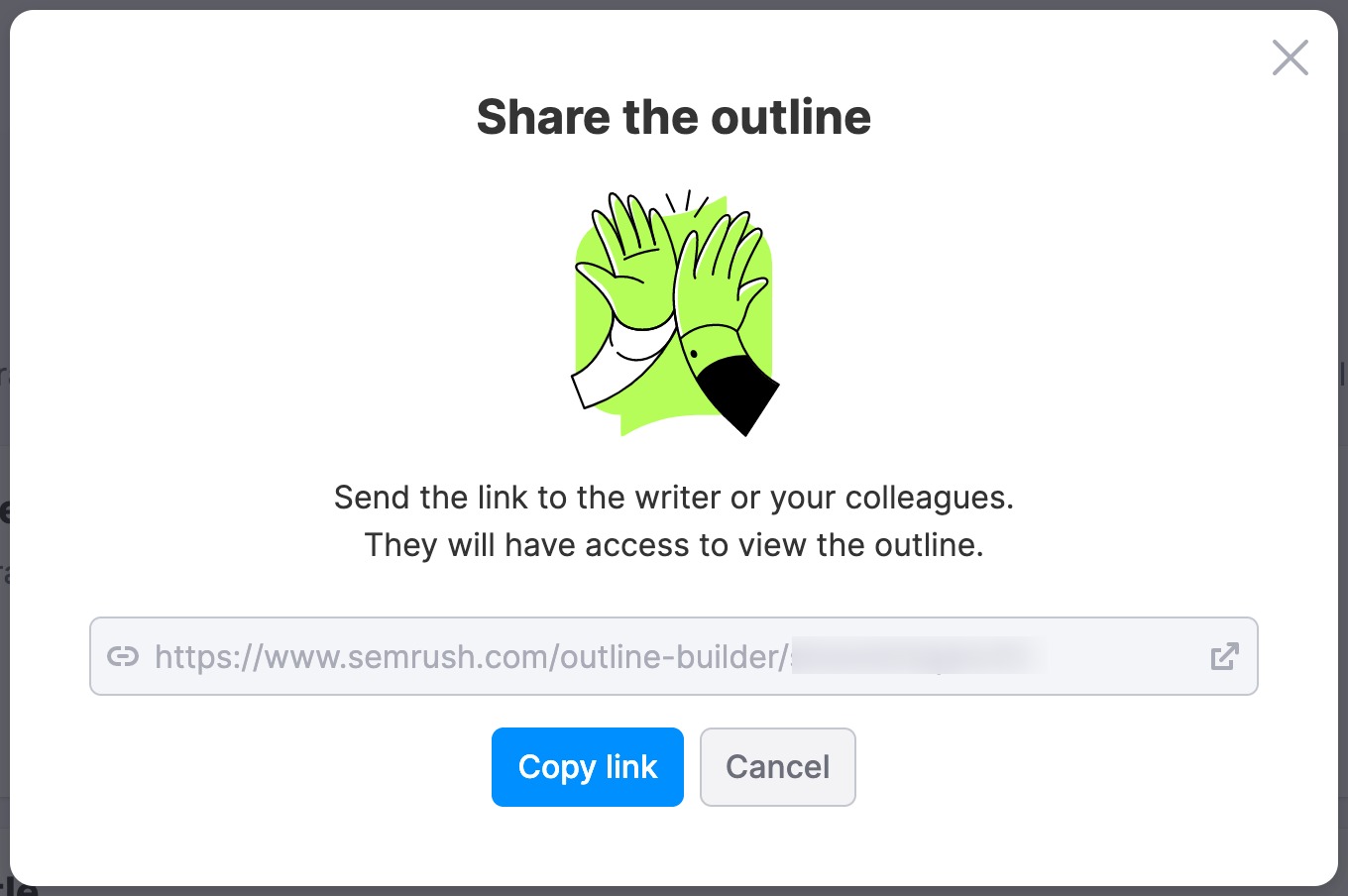 Copy this link and send it to anyone on your team who needs to reference this outline, such as your writers.
How to Access Previous Outlines
Any outline you create for your current project can be found under the Outlines tab.

Click "edit outline" to make changes to your existing outlines. This will return you to the Outline Builder screen described above.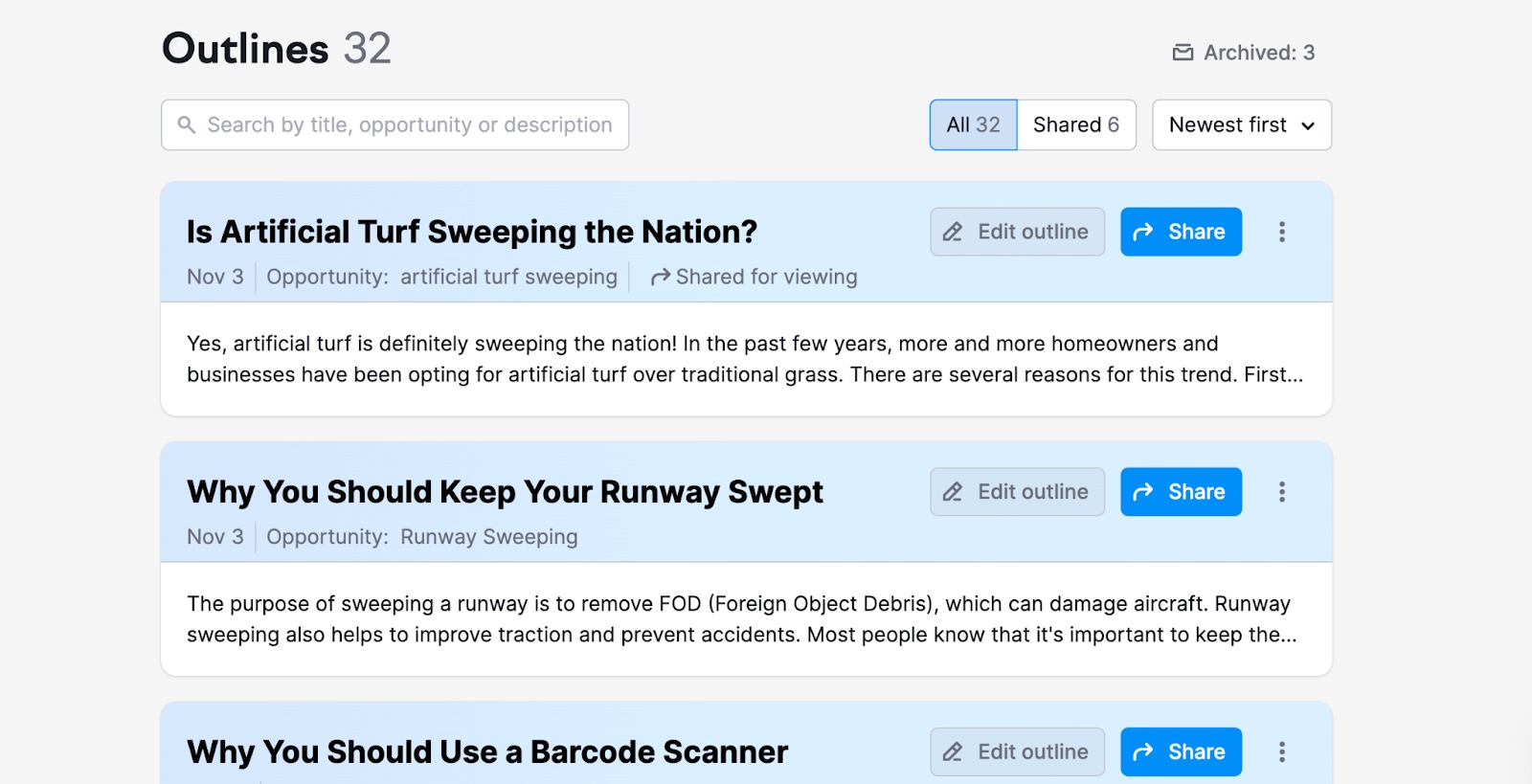 Click "share" to copy and paste the shareable link to that outline.
There is also an opportunity to preview and archive an outline.

Archived outlines are stored in a separate tab above the sorting options which you can access at any time: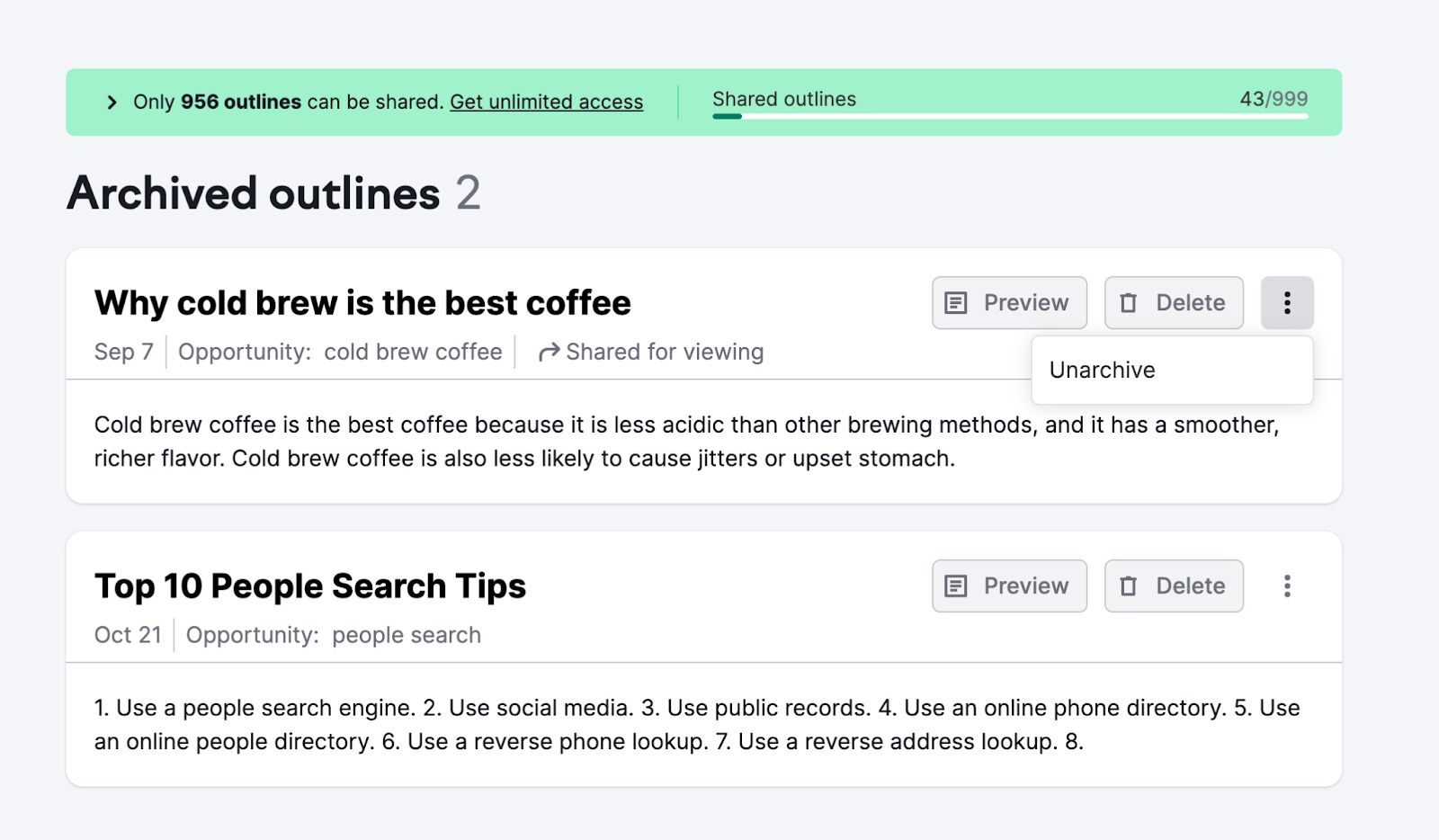 Outlines are visible only for your current project. If at any point you create a new project by entering a new domain into the "edit project" window, these outlines will be lost, even if they are archived.
Marketplace one-step articles
One-step articles allow you to order content in our Content Marketplace using the recommendations from the Content Outline Builder tool.
These orders consist of one-step content creation, skipping the title & meta creation step, as they are generated from Content Outline Builder.
Please note that the orders are available only for outlines with a word count of 3000 or less.
How to order one-step articles
Order a one-step article from the Outlines page or when editing a specific outline. Click the 'Share' or 'Share outline' button.
Click on the 'Order article' button.
You will be redirected to the Marketplace article brief with pre-filled fields ready to be submitted.
After saving and/or paying and submitting the order, it will appear in the My Orders section. This order will be marked '(from Content Outline Builder)' and will have only 4 statuses: Draft → Article Creation → Article Ready → Completed.