Listing Management is a Semrush Local tool that syncs your business data across multiple online directories.

With this tool, users save time by managing their business listings and information in one place without having to visit each directory manually. To learn more about the Listing Management tool and how to use it, visit this article on Listing Management.
What Is the Semrush Local's Google Connector?
The Semmrush Local's Google Connector helps users connect their locations to Google Business Profiles, one of the most important directories for Local SEO. Previously, these connections were made using 3rd-party solutions.

Now, Semrush has developed its own connector, which works directly with Google APIs.
Benefits of the Semrush Local's Google Connector
This integration eliminates 3rd-party providers from the connection process and provides a more stable connection.
The Semrush Local's Google Connector also:
Provides access to Google Business Profile Insights report, which gives a plethora of helpful metrics
Connects all locations to Google, all at once
The Google Business Profile Insights Report
Getting access to the Google Business Profile Insights report is one of the most important features of the new integration.

From this report, users can see key metrics fetched from Google Search and Google maps.

Those metrics include:
Views
Actions (direction requests, calls, messages, website visits)
Average Rating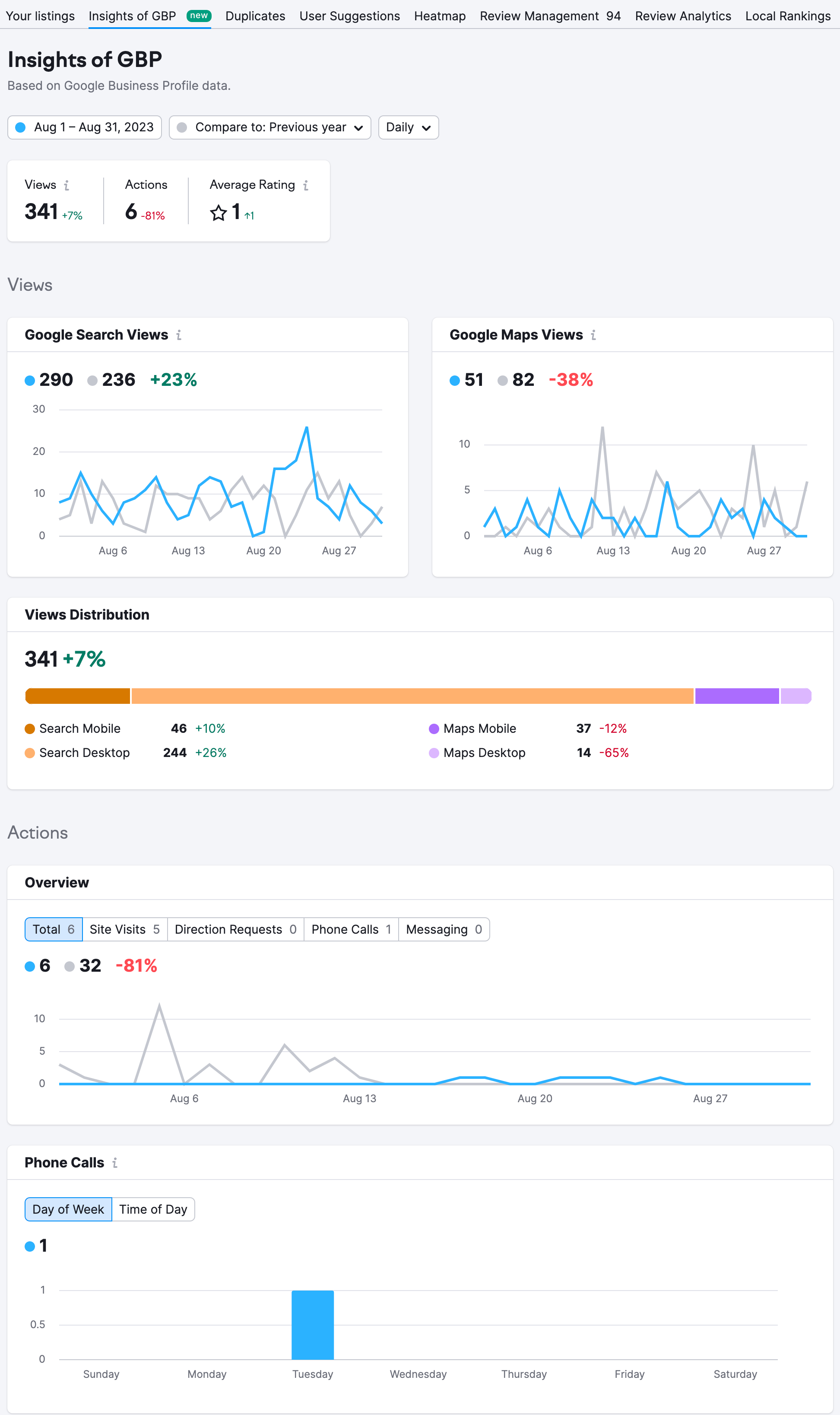 Users will also be able to compare their current performance to a previous period, year, quarter or month to help monitor progress long-term. They can also adjust the time periods to expand their data insights report.

Beginning two months after the initial setup of a location, a generated newsletter with new data from the main searches will be sent to the user every two weeks.

Users will still be able to access these insights from within the Listing Management tool.
Semrush Local's Google Connector Features
Because we work with Google directly, we have access to new opportunities that help us develop this integration.

We don't have plans for new features set in stone yet, but there are opportunities on the horizon for aggregating Google Insights—views, searches, and user actions—across several locations.

Here is a list of potential future opportunities:
Google Business Profile Posting
Competitive research based on analysis of competitors' profiles in Google
Advanced Google Maps position tracking
Instruction: How To Reconnect Locations to Google with the New Google Connector
FAQs