Why Does No Data Show For My Keyword/Domain?
Does this screen look familiar?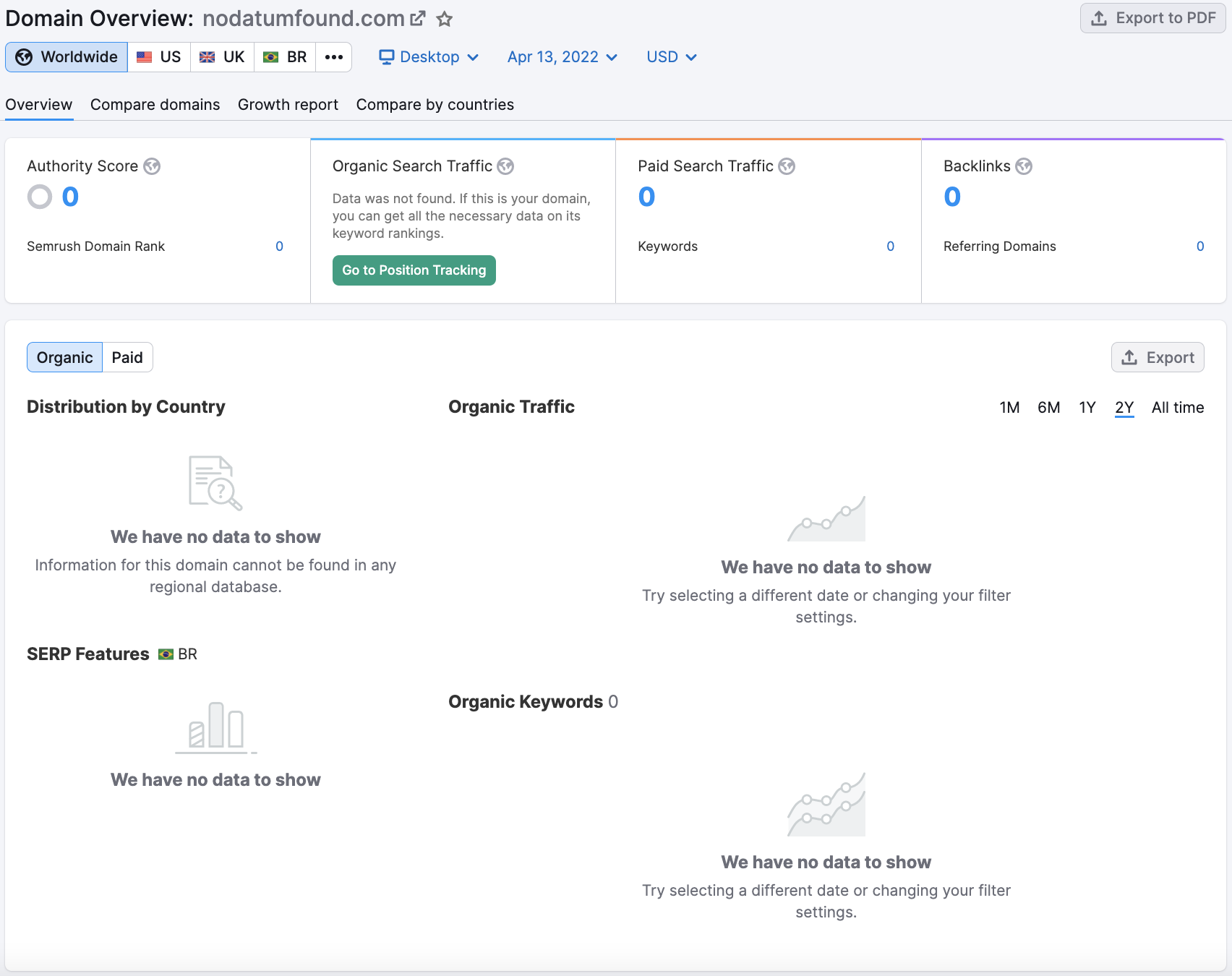 When you see this screen it means that we were unable to pick up data for the query you entered. In most cases, this is because the keywords that the domain you queried ranks for are not in our database.
We get our information by analyzing the search results for the first 10 results pages for each keyword in our system. This means we analyze the top 100 results organically and the top 8 ad results through Google Ads. This procedure is what determines the data displayed for any domain or keyword within Semrush.
Because our system is limited to the top 100 results for around 500 million (and counting) global keywords, we will not be able to show you the following:
Keywords the domain is ranking for that do not qualify as the top keywords for the given database (be sure to double check you have the right regional database selected).
Keywords the domain ranks for out of the top 100 Organic results or top 8 Paid results.
Any keywords that the domain is only ranking for at a local level. We gather our Domain and Keyword Analytics data at the national level.
If your site does not rank within the Top 100 results for any of the keywords in Semrush, we will have no keyword data to show for your website.

Since Semrush only focuses on the Top 100 results, your internal analytics will give you more encompassing information. Semrush is not meant to replace your internal analytics, but rather act as a complement to your internal analytics and a tool for competitive intelligence.

If you are looking for rankings and data on keywords not provided in Semrush's main database, you can use Position Tracking to follow the rankings of any possible keyword. Position Tracking will query this keyword for you and provide day-to-day rankings information that can be viewed easily from within your Project.
常见问题
Why Does No Data Show For My Keyword/Domain?
展示更多