The SEO Writing Assistant (SWA) gives any writer the ability to check the SEO potential and originality of a piece of content in real time. Not only that, but you can also determine how easy to read that piece of text is to users.
Check the originality of a piece of text with the plagiarism checker feature.
Use AI to save time on composing and rewriting pieces of text with the Rephraser; Compose with AI, and Ask AI features can be applied to the whole text as well.
Connect the SWA add-on to your Google Docs, WordPress, or MS Word to generate SEO recommendations and monitor how well your text complies with them.
Using SEO Writing Assistant, you can:
Google Docs Add-On
Find SEO Writing Assistant in the Google Workspace Marketplace and click on the 'Install' button. You can locate this add-on under the 'Extensions' tab of a Google document. When you select 'Show', the SWA will pop up as a sidebar to the right of your document.
WordPress Plugin
Log in to your WordPress admin account and search for Semrush SEO Writing Assistant in the Plugins section, or follow this link. Once you find it, click on 'Install now'. Next, go to your 'Installed plugins' and activate SEO Writing Assistant. Go to the Page or Post you want to optimize and click on 'Connect SEO Content Template' by logging in to your Semrush account. You can drag your SWA panel to the right-hand side if you wish.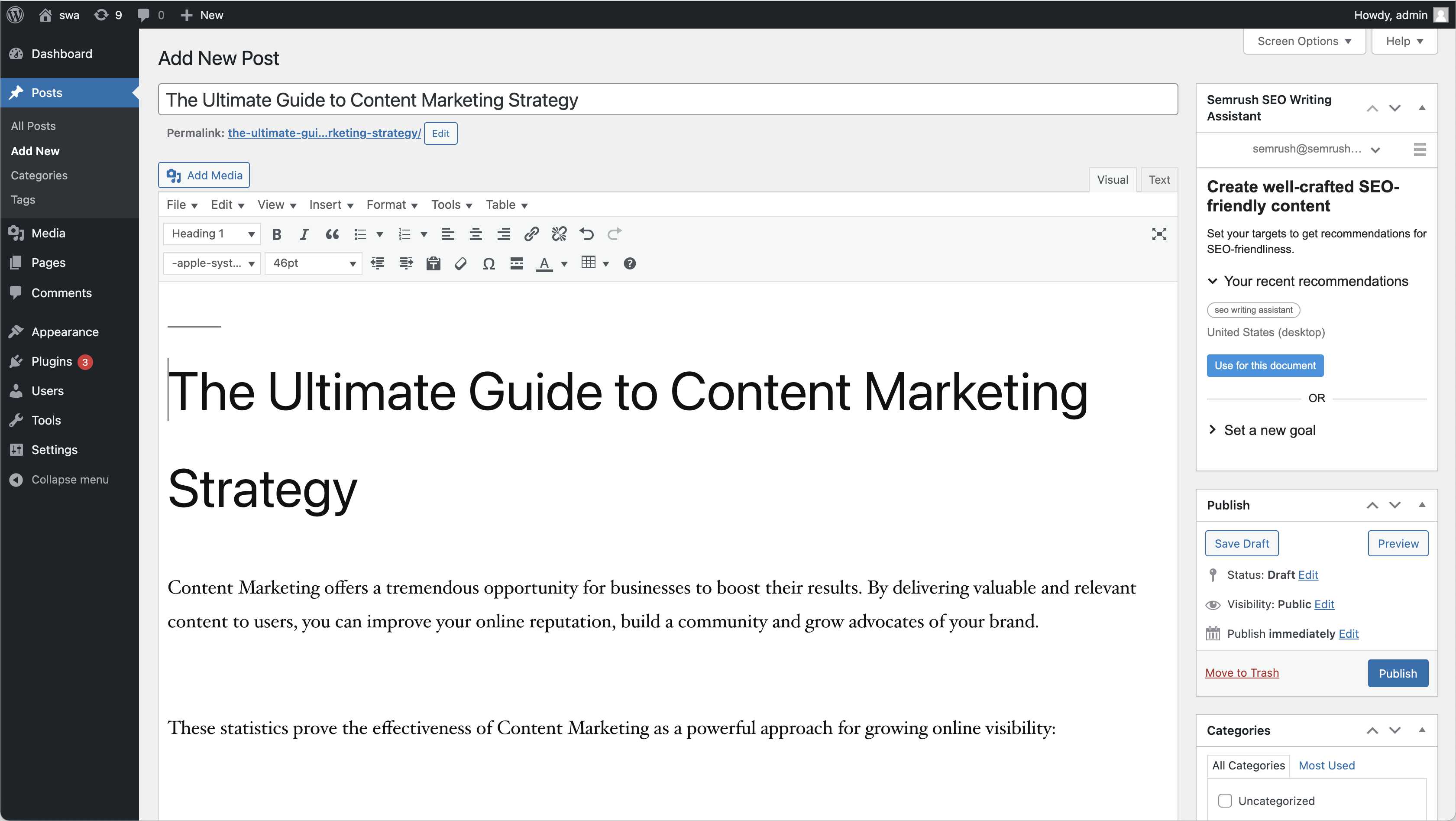 To start analyzing your content with SWA, you'll have two options:
Using an existing SEO Content Template (this will be the SEO Content Template you most recently created in your account)
Creating a new recommended set directly from the Add-on/Plugin.
MS Word Add-On
Create a new Word doc, head to 'Insert,' hit 'My Add-ins,' find the Semrush SEO Writing Assistant on the list of apps, and click 'Add.' After installing it, you can access the tool using the "Show SWA" icon in your 'Home' views. You can also start by going to Microsoft AppSource and clicking on the 'Get it now' button.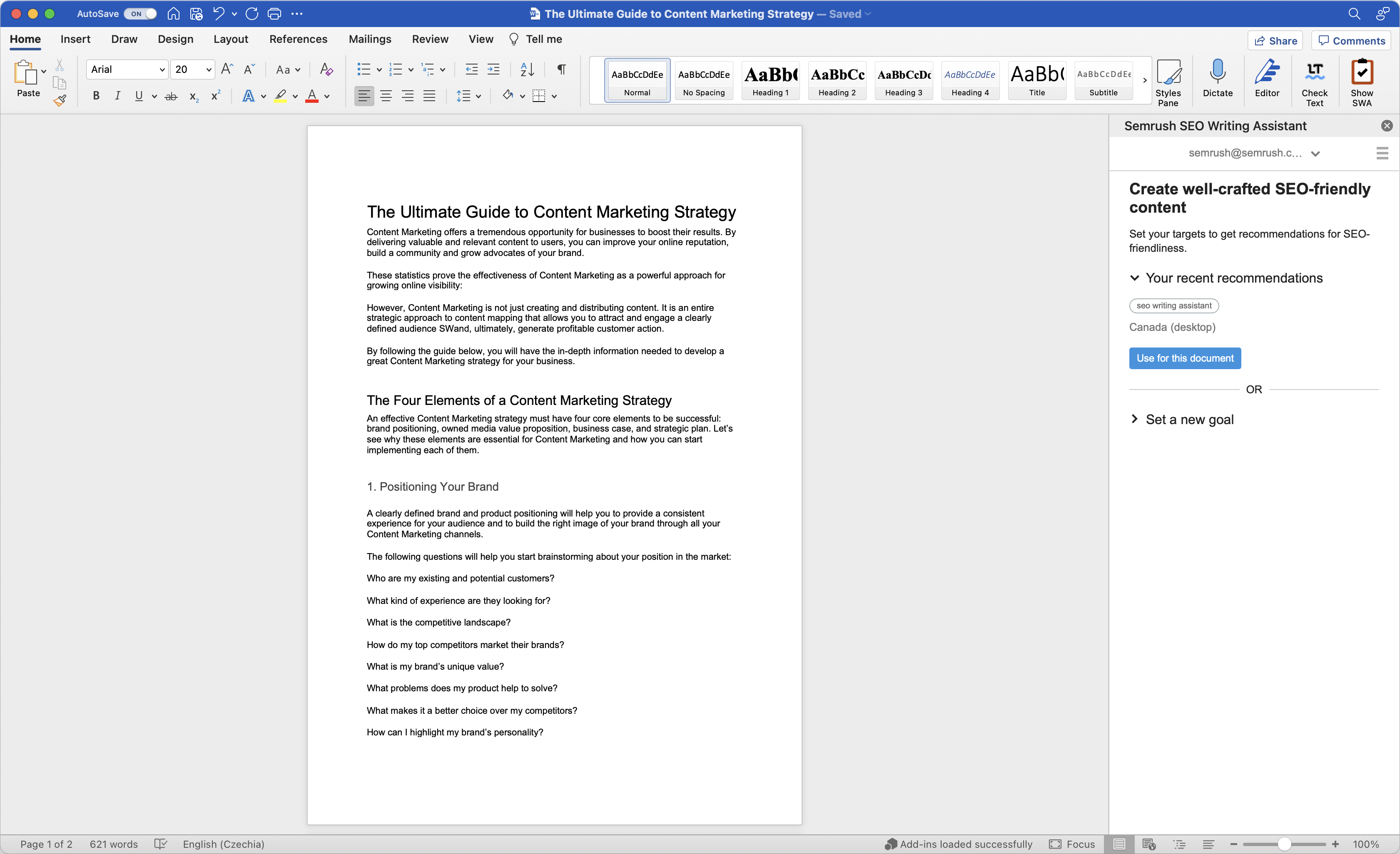 Creating New Recommendations
To create a new template, you must enter your target keywords, location, and device (desktop or mobile). When you're finished, hit the ''Get recommendations' button.

Once you get your recommendations, the first thing you may notice is the score graph at the top. This graph is an excellent place for you to identify the weak points of your article. The overview score is broken down into 4 different scales: Readability, SEO, Originality, and Tone of Voice.
Changing Recommendations
If you want to adjust your recommendations, you can change your target keywords, location, or device, click on the pencil icon next to your keywords.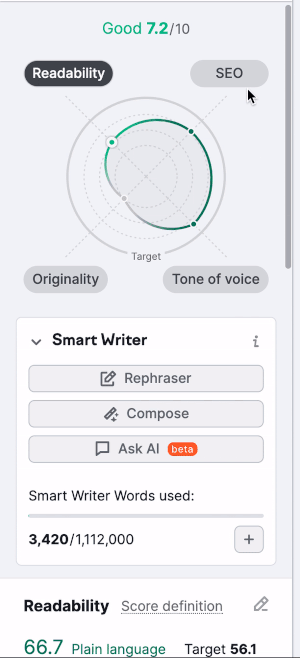 Next, type in new keywords and change your location up to city level, device, or language. And don't forget to click on the 'Change keywords' button at the bottom when you've made changes.
Using the Rephraser feature
To save time on rewriting small parts of your copy, use the Rephraser feature. Select the part of a text you need to rephrase, and a panel will appear above the text. You can either rephrase, simplify, expand, or summarize parts of your content. The AI algorithm will generate a paraphrased/simplified/extended/summarized piece of text, which you can then use in your articles or on other channels.
Alternatively, you can click the Rephraser button in the right-hand menu and enter a part of the text to rephrase.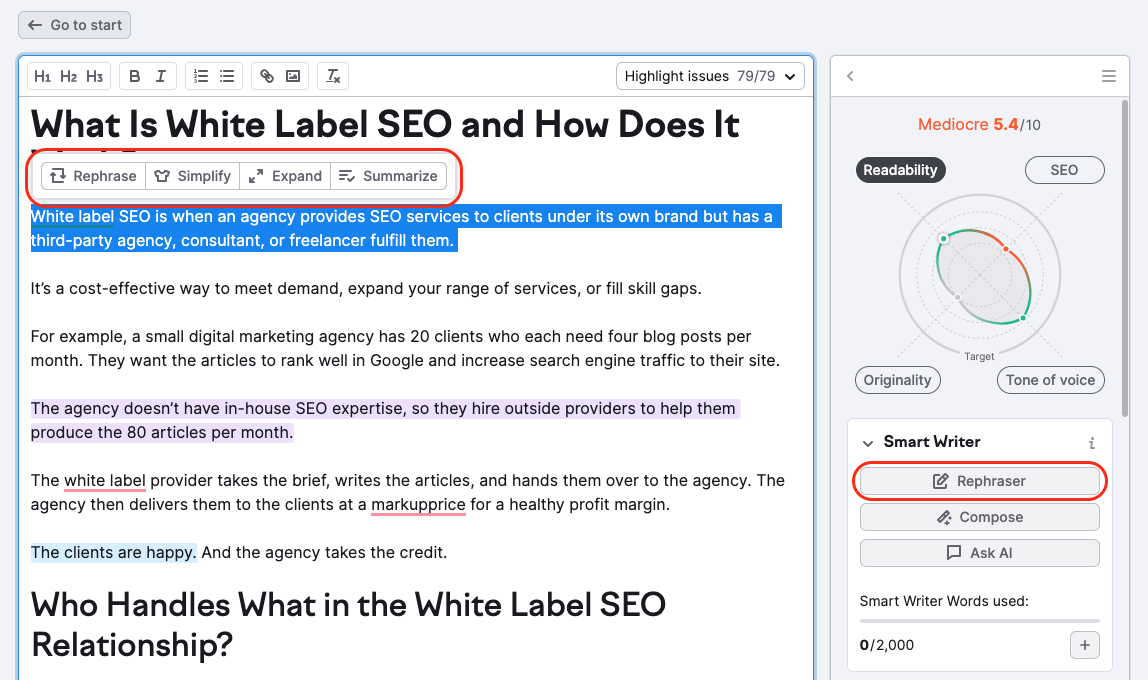 The limits for this feature are dependent on the subscription level and can be found here. Note that this tool works best with shorter bits of text (20-130 words) and should not be used without human supervision. So, make sure you double-check the rewritten copy before publishing it.
Compose
Need quick help with composing texts? Use the Compose feature. Click on the "Compose" button, which can be used anytime when creating a text.
This feature can provide more content on a topic or do something you ask for (e.g., "write a short essay on the topic…").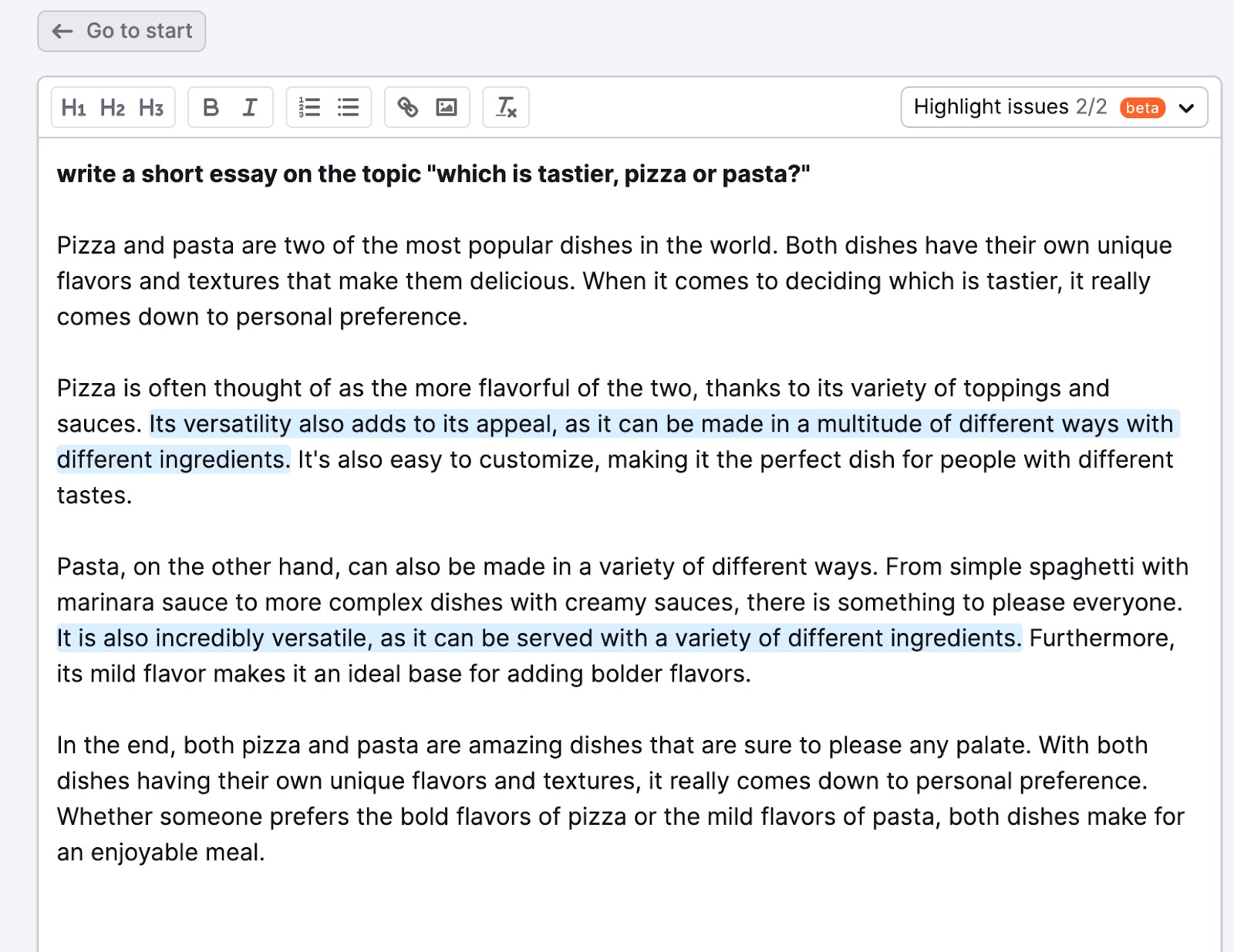 Currently, the limits of this feature include:
It's only available in the Semrush UI and Google Docs (not in WordPress or MS Word).
For each created text, Smart Writer Words limits are spent. This is based on the number of words AI generated (max 100 limits, even if there are more words generated).
Smart Writer Words limits depend on the subscription level and can be found here.
Ask AI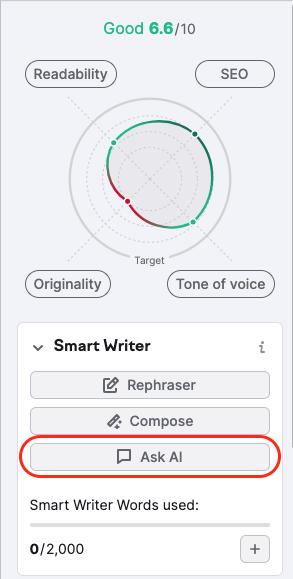 Click on the "Ask AI" button to ask AI any question. AI will provide an answer you can use as a part of the content.
This feature is available in the Semrush interface and Google Docs add-on. Each answer charges as many Smart Writer Words as the answer contains.
Overall Score
As mentioned above, the overall score will be provided directly above the interactive chart at the top of your metrics. The overall score is a real-time metric that grades the quality of your content by considering all of the elements below.
The closer the number is to 10, the more optimized your text is. You are able to see the specific metrics that are affecting your score by clicking on any of the four different scales.
Readability
Once you click on the readability scale on the graph, SWA will expand to show you all of the different metrics that affect your readability score. These include readability score, word count, title issues, and content issues.
Readability is the ease with which a reader can understand written text according to the Flesch reading ease score formula. Try to match the target number, which is average for your top 10 competitors on Google.
Using the readability score will help you create user-friendly text. Naturally, the more readable a piece of content is, the more likely a user is to read through the entire thing.
This feature is available in English, German, French, Spanish, Italian, Portuguese, Dutch, and Turkish. You can set your own target readability manually by clicking on the pencil icon.
Words will calculate the number of words in your text and will set a goal according to the average word count of your rivals' content.
You can manually edit your target readability score and target word count by clicking on the pencil icon next to readability. Keep in mind that whenever you manually edit these targets, your overall score will update accordingly.
Title Issues will provide you feedback on the title of your article. It can let you know if your title is over the Google character limits, as well as if you should add more words to attract more users.
Content Issues lets you see any issues with the actual content of your article. This includes long paragraphs, hard-to-read sentences, the use of the passive voice, and complex words. If you have these issues with your content, SWA will show you exactly what sentences or words could be rewritten, reformatted, or replaced in order to help your score.
The Simplify button opens the Rephraser window: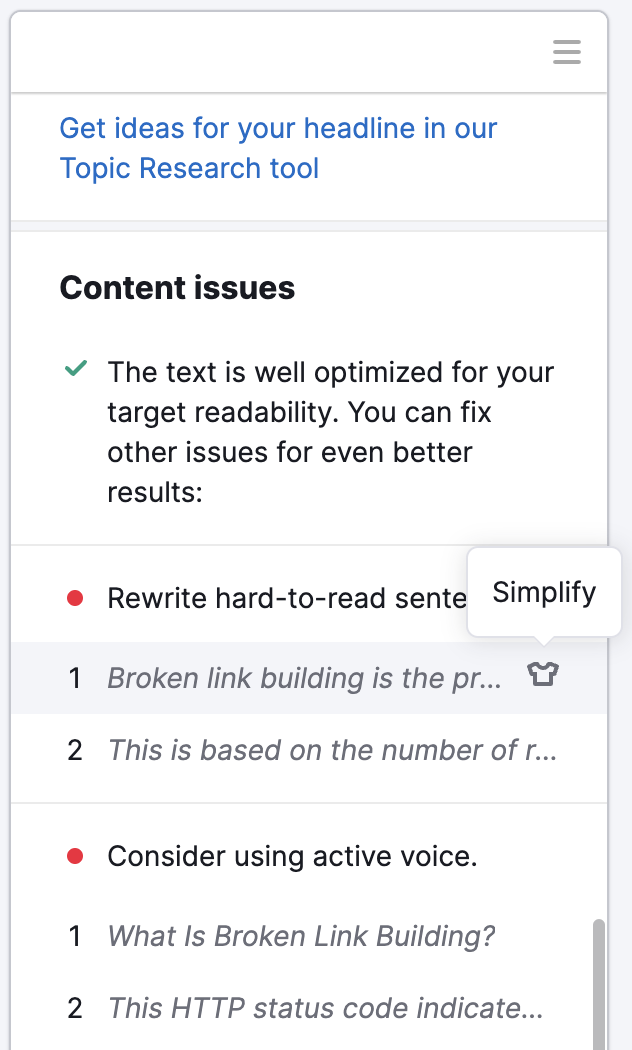 There is also the option to use the Rephraser function for a piece of text written in the passive voice: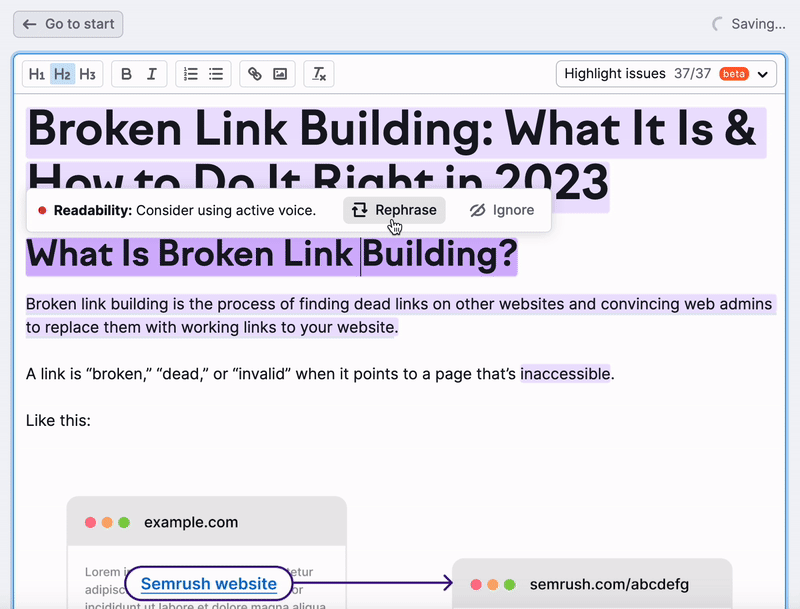 Note: the "too complex words" check can be set to "ignored" in the list of recommendations. This change will remove the check from the list but won't affect the readability score.
You can also use the Split button by hovering over a paragraph to adjust its size automatically: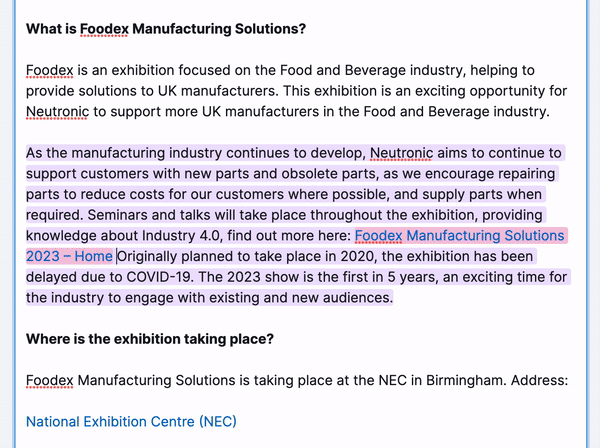 Note: This feature is only available in SEO Writing Assistant on the Semrush website.
SEO
Just like with readability, clicking on SEO will expand to show you the different metrics that make up the SEO scale.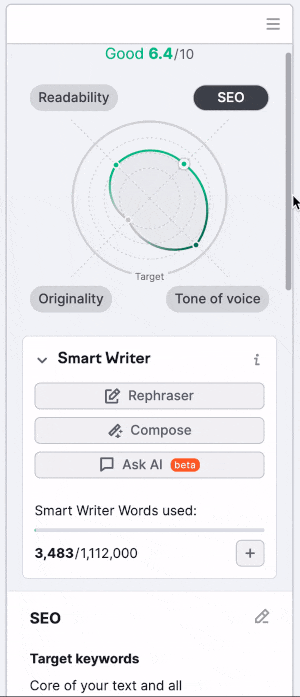 Target keywords are the core on which all the recommendations are based. You can change them at any time to change the topic or get more precise tips for your content. To change them, click on the pencil icon directly to the right of the target keyword widget.
Recommended keywords are words that are semantically related to your seed keywords. Once you use them in your content, they will be highlighted with green in the doc. Hover over any of them to see each keyword's monthly search volume and keyword difficulty score.
This makes it easy to gauge which keywords would be most beneficial to target due to their low difficulty (low competition). If you see (n/a) next to your recommended keyword's volume or difficulty, it means we don't have this data in the database.
SEO Writing Assistant also checks your text for keyword stuffing. If any keyword you target is used too frequently in your text, you will see a warning. This keyword will be highlighted with orange in the 'Recommended keywords' and 'Target keywords' sections. Hover over it to see the details.
Try to avoid using a keyword for more than 3% of the whole text, as keyword stuffing can result in punishment from Google.
Link Issues will let you know if you have any broken links in your content. SWA will point to this link so you know exactly what you need to fix.
Alt attribute issues will remind you to add alt attributes to your images if you haven't done so. Don't ignore this check, as alt text is still an essential element for an effective online presence. The SWA will highlight the pictures into which you need to add alt attributes and show the tips on implementation.
Tone of Voice
Another feature of the SWA is the ability to gauge a document's tone of voice. The tone of voice depends on the words you're choosing to use, the rhythm, the word order, and the pace.
Your tone can be considered very casual, somewhat casual, neutral, somewhat formal, and very formal. Not only can you see where your text lies on this scale, but you can also see your document's most casual and most formal sentences.
You can set or change your target tone of voice by clicking the pencil icon in the top right corner.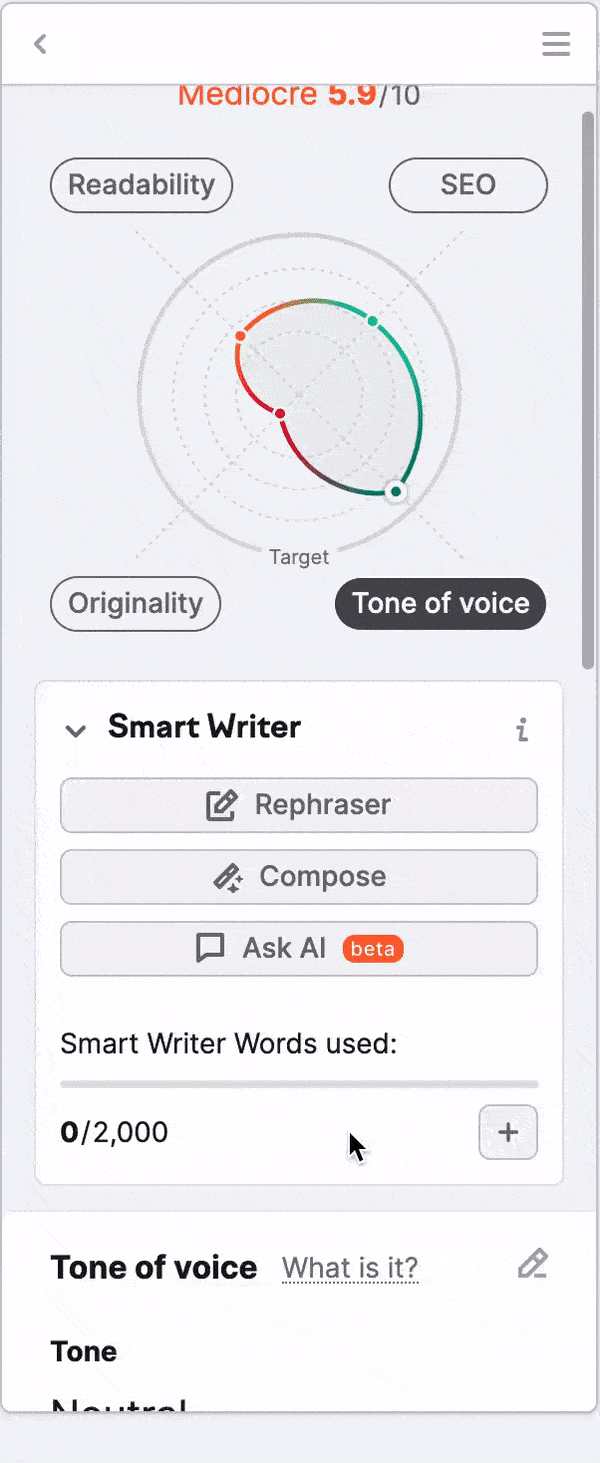 The target tone you ultimately choose will depend on the type of content you are writing. If you are writing an academic piece you are probably going to want it to be more formal than a blog post. If some of your sentences differ from your overall tone of voice, SEO Writing Assistant will point those sentences out for you so you can change them if you see fit.
Also, the Tone of Voice highlights the usage of filler words and phrases in a text – an AI-based feature allows you to rewrite sentences identified with such phrases.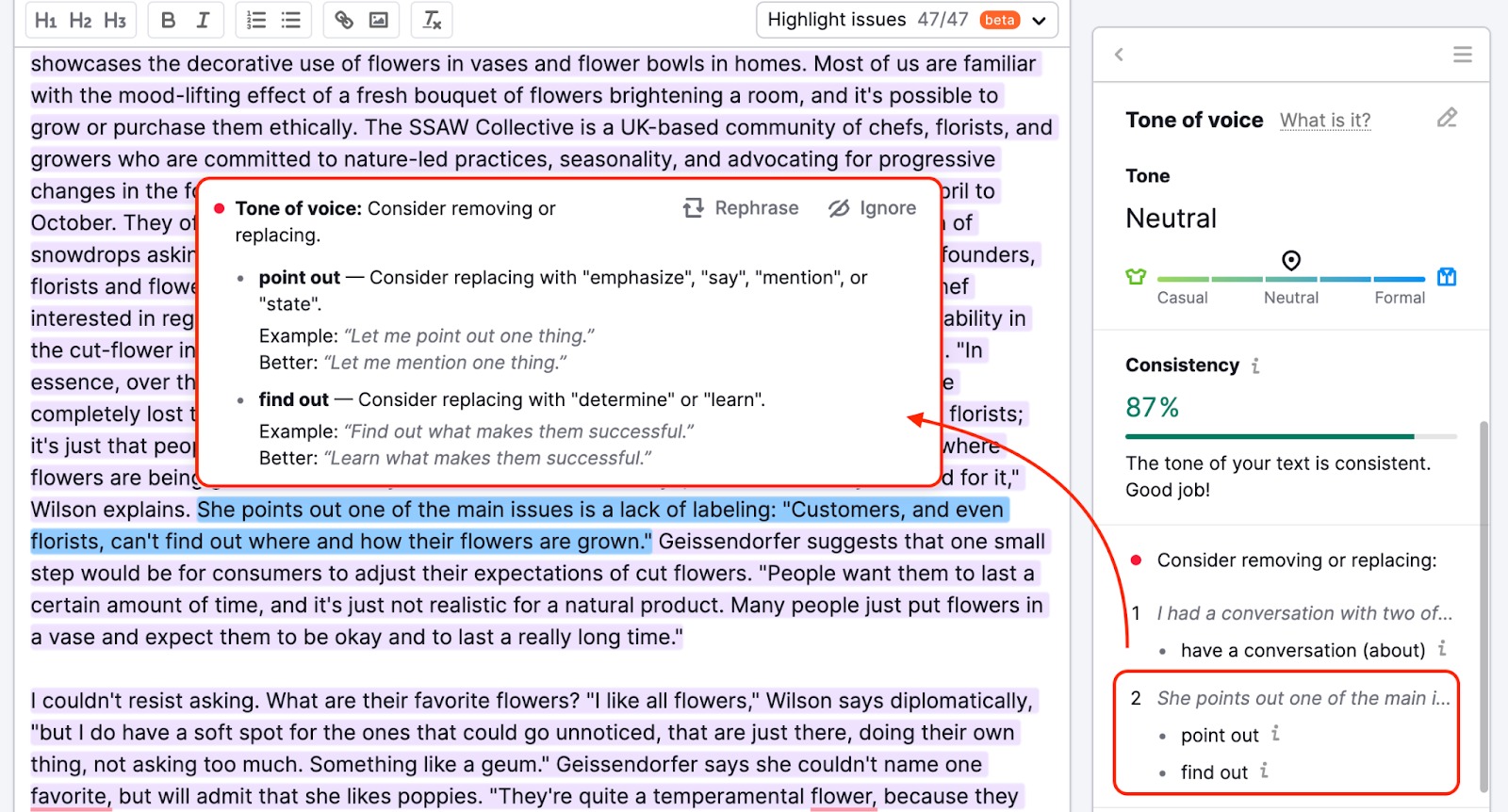 Originality
The Originality metrics look for signs of plagiarism in the text. It can determine the total percentage and number of copied words for an article based on other content found on the web.
Head to the 'Originality' section in the tool and click "Check" to see the originality percentage for your copy, along with all text fragments that appear to be unoriginal. The tool even goes as far as to identify the original sources of content from across the internet so you can verify any plagiarized text.
Rewriting your unoriginal text
Having a high percentage of copied words can lead to multiple risks. Hover over the highlighted piece of the text and click "Rephrase". This feature will modify your copy, ensuring there's no plagiarism in your article, and will keep the formatting of the original text (lists, links, headers, images, etc.) Once updated, you can recheck your originality to see where you stand.
The Rephrase feature serves both for the occasional paraphrasing of small bits of text (up to 500 words) and the whole text as well. However, make sure to always review the paraphrased content before publishing it.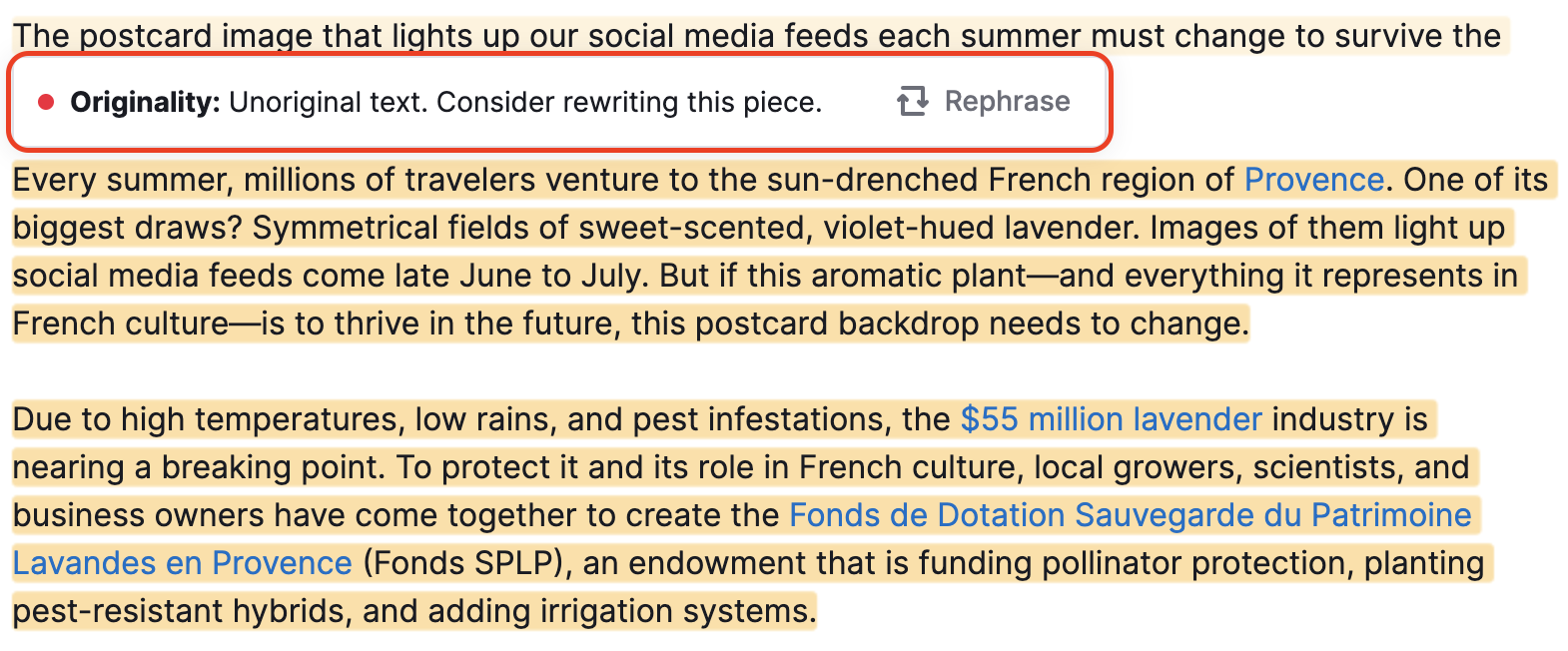 You can also exclude one or several domains to prevent it from popping up in the originality checker. All you need to do is click on the eye icon directly to the right of the text source.
This could be useful if you are updating a piece of content on your own website or blog. Because this content already exists on your site while you are updating it, it will be marked as plagiarized. Just click to exclude the domain and solve this problem.
Switch layout
With the SEO Writing Assistant constantly working to improve its features and services, it also lets users change its design. By default, your design will include the overall score graph at the top. However, if you just want a simple view of the metrics and recommendations, you are able to change its design.
To do this, navigate to the right of your email address and click on the menu. From here, simply click on Switch layout. Once this is done, you will see the layout change so that it shows you all the recommendations at once.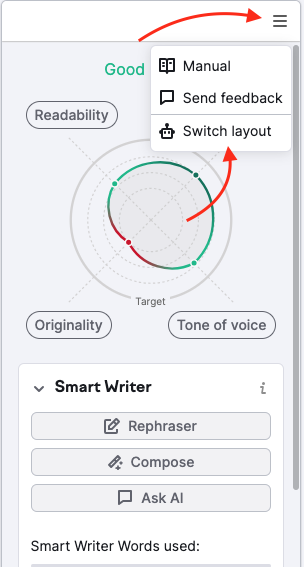 Highlighting issues
The highlighting issues feature highlights the pieces of content where there are SWA recommendations.
This allows you to easily find and follow the recommendations and implement improvements quickly.
Each recommendation category is marked with a different color, and by hovering over a highlighted section, you will see the triggered recommendation in detail.
Please note: This feature is available only in the SWA editor inside Semrush. You will not find any highlights in Google Docs, WordPress, or MS Word.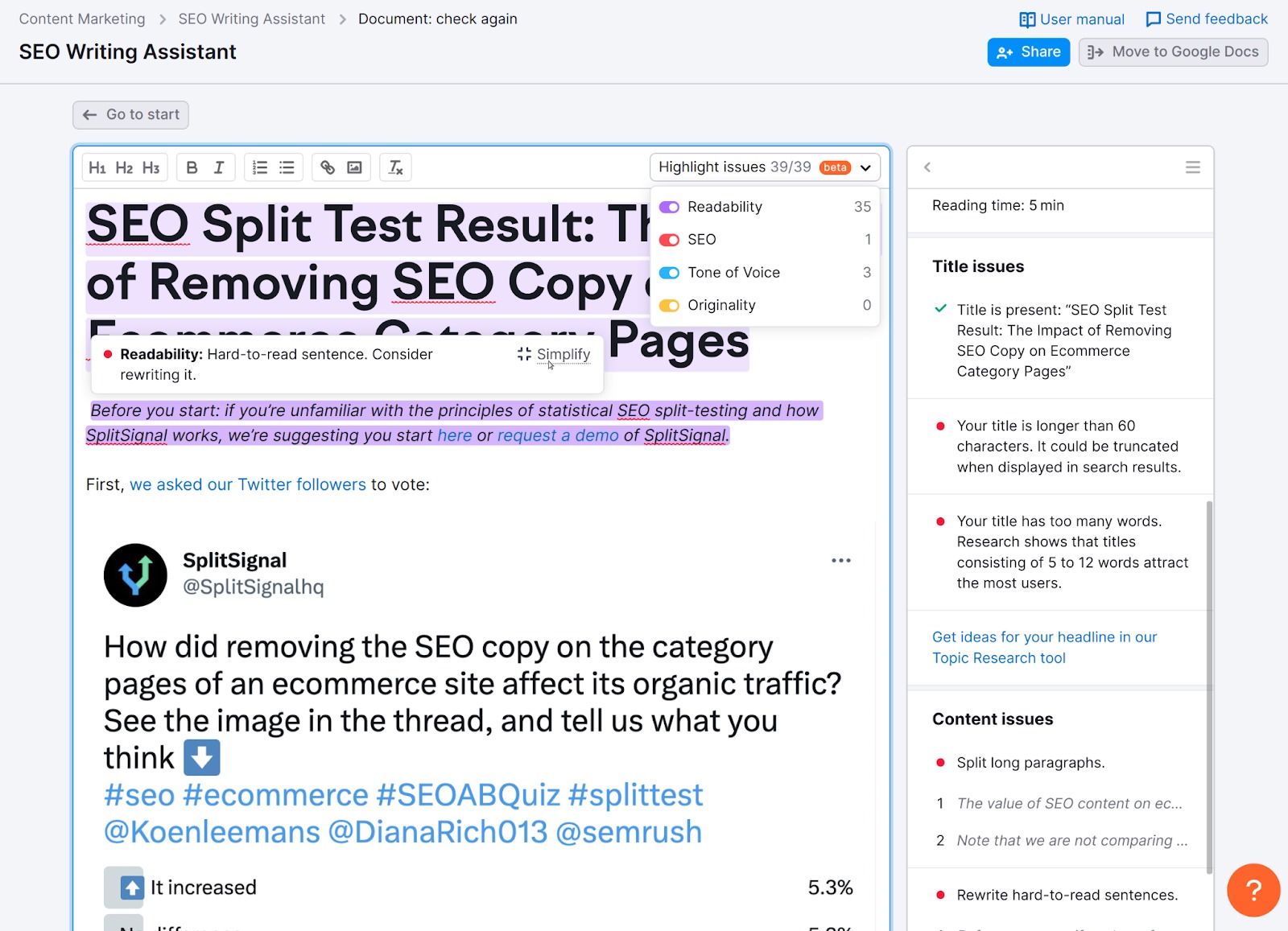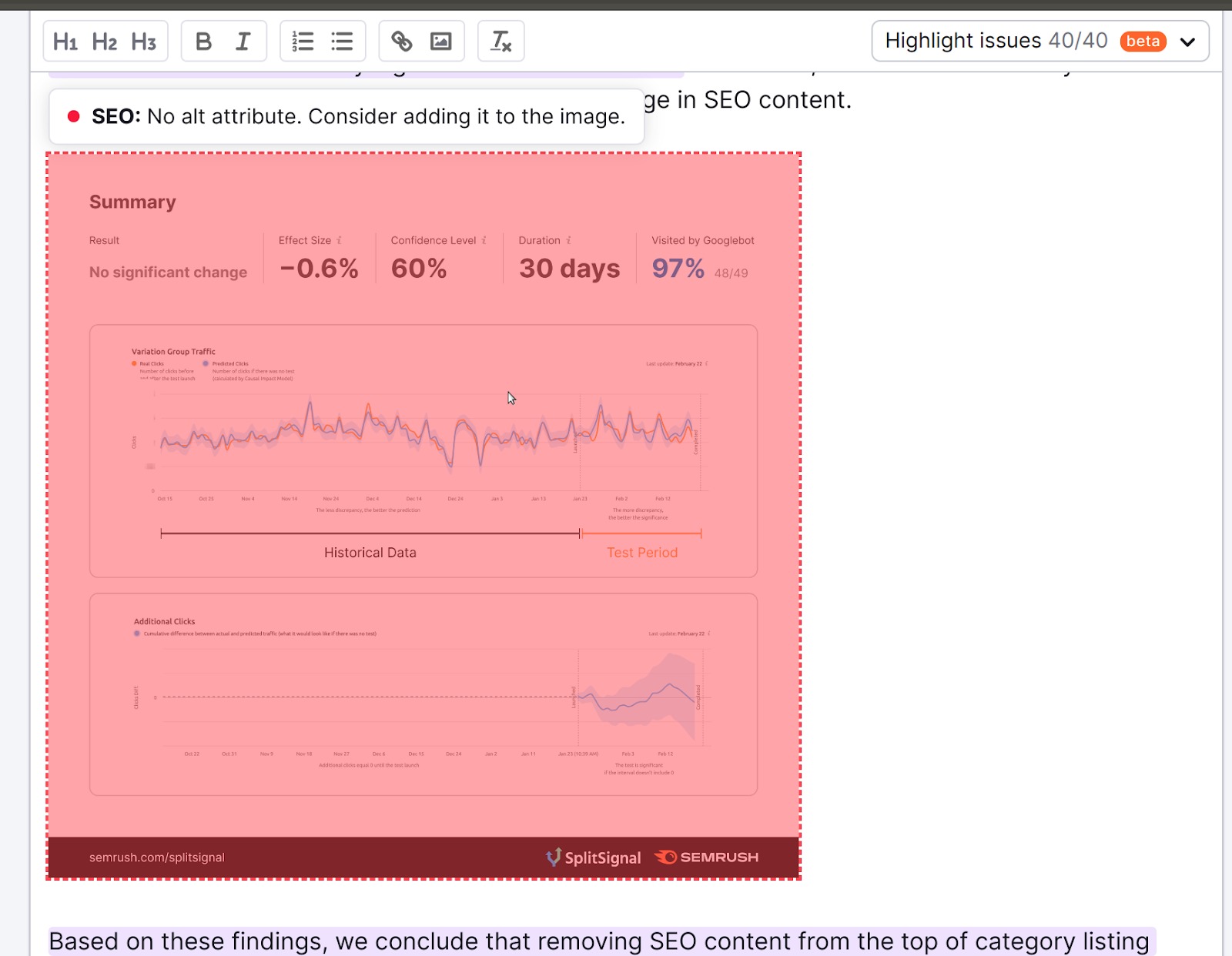 Manage your documents
The SEO Writing Assistant allows you to navigate the list of documents by searching for a title or a target keyword. However, if your list of files is too long, you can shorten it by archiving all documents you don't need right now:
Instead of being deleted, archived files are moved to a separate list, where you can check them and move back to the main list by unarchiving.
The tool also saves unfinished articles in a browser, so you will not lose your work in progress after turning off your device or losing access to the Internet. If there are several saved versions, you can switch between them to decide which one to continue working on:
Collaborate and distribute workload between different team members with the document-sharing feature. Find more information about this here.
Limits
Free and Pro users can generate 2 documents in total per account
Guru and Business users have unlimited documents per month
When you create a template in SEO Content Template you spend SEO Idea Units, however, when you send this template to SEO Writing Assistant and open it in Google Docs, no more units are charged, even if you make any changes.
Plagiarism Checker Limits
The limits for the Plagiarism checker feature are as follows:
3 checks are available for a Pro subscription in total
5 checks are available per month for a Guru subscription
10 checks are available per month for a Business subscription
If you would like to purchase additional Plagiarism limits, you can do so from your Subscription Info page. 10 additional Plagiarism checks can be purchased for $5 with a Guru and Business subscription.
Smart Writer Words
The limits for the Rephraser and Split features follow the same concept but use a separate kind of limit called Smart Writer Words. The limits for this feature are as follows:
Pro — 500 words per account
Guru — 1000 words per month
Business — 2000 words per month
Please note: to Rephrase, Simplify, or Summarize, the tool uses 1 Smart Writer Words limit for 1 word. The Expand feature spends 2 Smart Writer Words limits for 1 word.
The Split option consumes the same kind of limits. Each split applied to a text uses 10 Smart Writer Words limits.
You may purchase additional Smart Writer Words limits from the Subscription Info page. Guru and Business users can additionally purchase 10000 Smart Writer Words for $20/month.