How do I filter a report?
Certain reports in Semrush will provide you with a large amount of data, so the best way to find the data you are looking for is with filters. Filters are available on every report under Domain Analytics and Keyword Analytics.
For example, looking at the Organic Positions report for a competitor, you may want to find out what keywords they get traffic from that include a specific product name or word. You can filter your list quickly by entering the keyword into the search box (see below).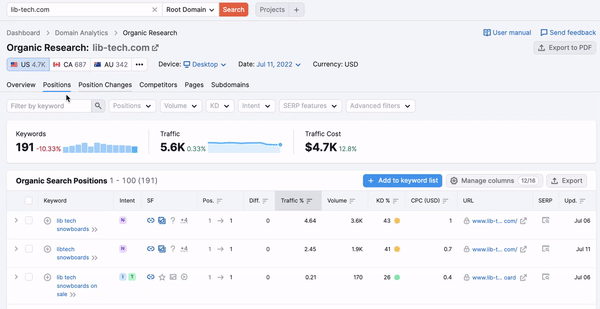 Once you enter the query, you will see the table below is displayed with your keyword filter. You can break down the applied filters to show you results by Position (Pos), Volume, CPC, URL, Traffic %, Costs %, Competition Level (Com.), Results, and more.
There are multiple types of keyword filters (containing, word matching, begins with, etc.) so for an explanation of each filter's logic, read this article.
The filter function will help you with gathering the necessary information on your keywords you are looking to target and help discover any new keywords to fit the criteria of realistic keywords for you to target.
This function can also help determine the best performing keywords used by a competitor in a PPC campaign. By selecting the "Add One More" button below the applied filter, you can specify your results, even more, to make sure that the keywords being displayed are fitting your desired criteria.