How to Create a Custom Traffic Analytics PDF Report
Traffic Analytics is an amazing tool that allows you to gain a full understanding of a website's traffic. Use it to benchmark your website to your competitors or to evaluate a new market or niche.
The Traffic Analytics Overview report allows you to export data sets into a PDF report with the simple click of a button.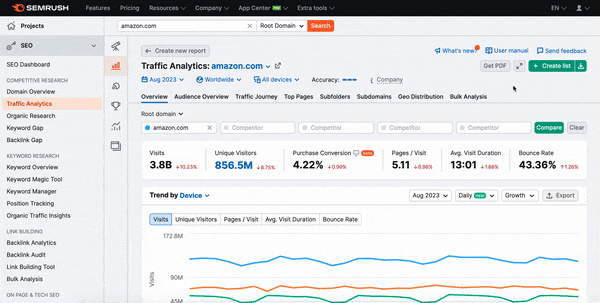 While this in itself is a great resource, there may come a time when you only want certain data exported. This is where the Traffic Analytics section of My Reports can help. As you can see from the GIF above, directly next to the export to PDF button there is a Create Custom PDF Report button. This will lead you directly to the My Reports tool.
If this is your first time using the tool, you can learn the best ways to utilize it by checking out the user manual.
Start by creating a new template that is going to be specifically for your Traffic Analytics needs.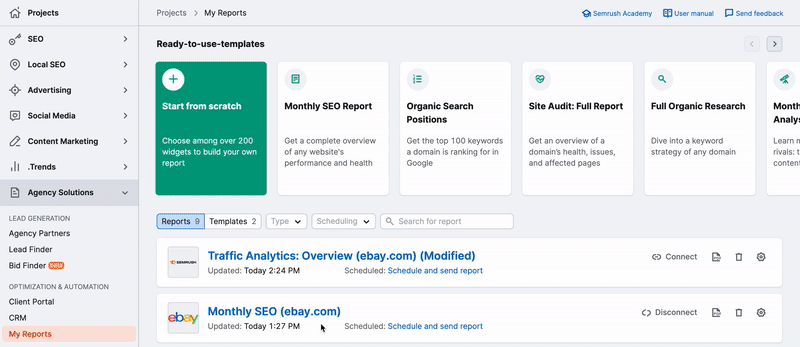 Once you have your template started, it's now time to start adding your Traffic Analytics widgets to your report. All of the Traffic Analytics widgets are located underneath the Domain Analytics menu item. Click on the dropdown menu to expand the widgets so you can access the Traffic Analytics data.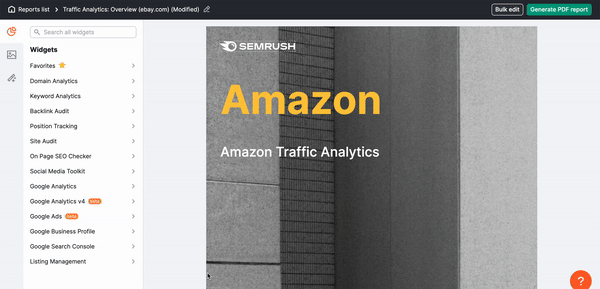 There are 17 different Traffic Analytics widgets that you can choose from. These include:
Traffic Summary
Traffic Sources Trend
Metrics Chart
Traffic Share by Device
Traffic Channels
Top Subdomains
Top Referring Sites
Top Search Engines
Top Social Networks
Top Countries
Competitors Comparisons (Traffic Overview, Visits, Unique Visitors, Bounce Rate, Ave. Visit Duration, Traffic Channels, and Top Traffic by Country)
Just drag and drop whichever data is going to benefit your goal the most.
When you drag a widget into your report you will be prompted to enter the domain, location, and time frame (historical data). The device type may also be available depending on which widget you choose.
After you have all of your desired widgets in your report you can generate your PDF by clicking on the green button in the top right of your dashboard.
Saving Templates
While not a necessity, if you plan on using Traffic Analytics data in My Reports quite frequently it's recommended that you save it as a custom template for future use. To save a template, go back to your list of reports, find the Traffic Analytics template you just used, and click on the gear icon. Here you can save this template so it can easily be used again in the future.
If you wish to read more about utilizing Custom Templates, you can check out the dedicated section of the manual here.
常见问题
How to Create a Custom Traffic Analytics PDF Report
展示更多