The Review Management tool lets you monitor your business reputation and take timely measures to maintain it. In this tab, you'll see all available reviews of your listing in all directories, starting from the most recent.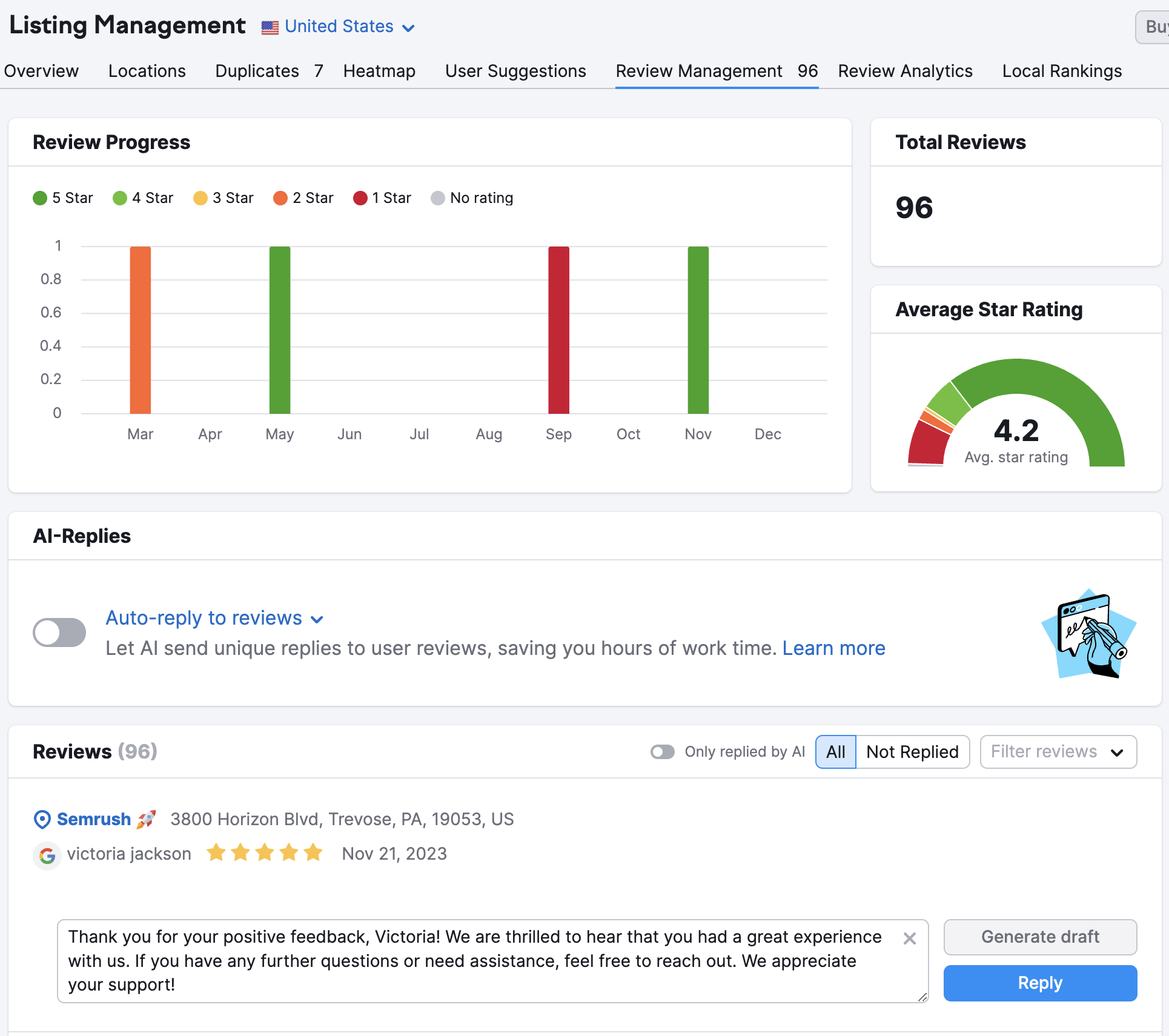 You can read any review right from the tool. To answer it or just learn more, press the "Open review" button and the system will take you right to the directory where the review is located. Please make sure you connect your Google Business Profile to Semrush, to be able to reply to your GPB reviews directly.
To focus on more positive or more negative reviews, choose the corresponding status at the top of the Reviews table.

You can leverage AI-generated responses for unanswered replies, which can provide inspiration when you're unsure how to respond to a customer review.
The tool provides automatic suggestions for the initial five reviews without responses in the Review Management section. You can also manually initiate suggestions for specific reviews by using the "Generate draft" button next to the unanswered review you intend to reply to.

Please note that this feature has a daily limit of 50 AI-generated suggestions per location.
AI Auto-reply
Premium Semrush Local users can also stay on top of customer reviews and save time by utilizing AI for swift and efficient responses. Automate the entire process with AI auto-replies. The AI Auto-reply feature automatically responds to customer reviews. It analyzes the reviews and generates suitable replies to save you time and effort.
Google gives higher priority to businesses that reply to reviews. It also shows that the business values customer feedback and is actively working to improve its services.
You can enable auto-replies for all your Premium locations and select if you want to auto-reply to positive (with a 4-5 star rating), negative reviews (1-3 stars or without rating), or both.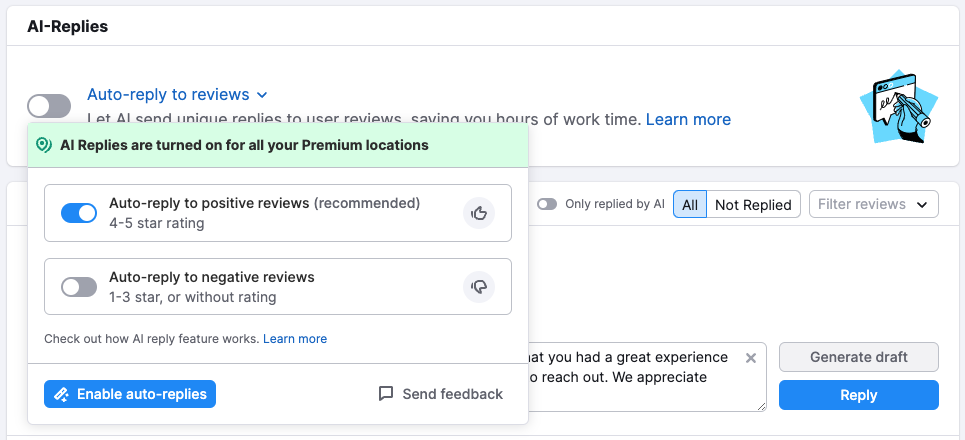 AI will answer reviews once a day, and you can review and edit replies after they are published.
AI generates replies in the main official language of your location. For example, if your location is in New York, AI will generate replies in English. If your location is in Mexico City, it will be in Spanish.
The limit is 30 replies per month for each Premium location.
Email Alerts
Email alerts allow you to stay on top of any negative reviews. If you have received a negative review, you'll receive a weekly email from Semrush Local with the negative review from the previous week and a CTA to answer the review.
Please refer to this article for more information about how email alerts work for Listing Management and Review Management work.