Backlink Analytics on Semrush gives you the ability to study your and your competitors' backlink profiles and make comparisons between multiple domains side by side.
Advanced filters, sorting, and exporting
Competitors report for finding the domains that share the most similar backlinks as you
Quick comparison feature
Referring domains, IPs, and anchor text analysis
Easy to see a competitor's top performing pages in terms of acquiring backlinks
We constantly crawl the web to find new backlinks and add them to our database within an hour of being published.
According to our study, on average it takes around 40 minutes for the Backlink Analytics tool to report a recently appeared link. We update the backlinks data in the interface every 15 minutes. This way, you can monitor your competitor's new and lost links in a matter of minutes from being created or removed.
Read more about Backlink Analytics:
We also offer a Backlink Gap report that allows you to compare backlink profiles of multiple competitors side by side.
Why should you use Backlink Analytics?
According to our ranking factors study, backlinks are still a top factor in Google's organic ranking algorithm.
Unfortunately, building links isn't exactly a walk in the park. Sure, there are some easy ways to build links, but in order to compete with your market, it takes deep research, a PR mindset, and persistent follow-ups to build links consistently.
In 2021, we fully rebuilt our backlink discovery system and made it the fastest and freshest compared to other tools. New backlinks are added to our database within an hour, new and lost links can be monitored in the tool's interface every 15 minutes.
Use this data to look at your referring domain's connections. Their most significant connections could be your future ones with a little outreach.
Visualize this with the Backlink Analytics Network Graph report: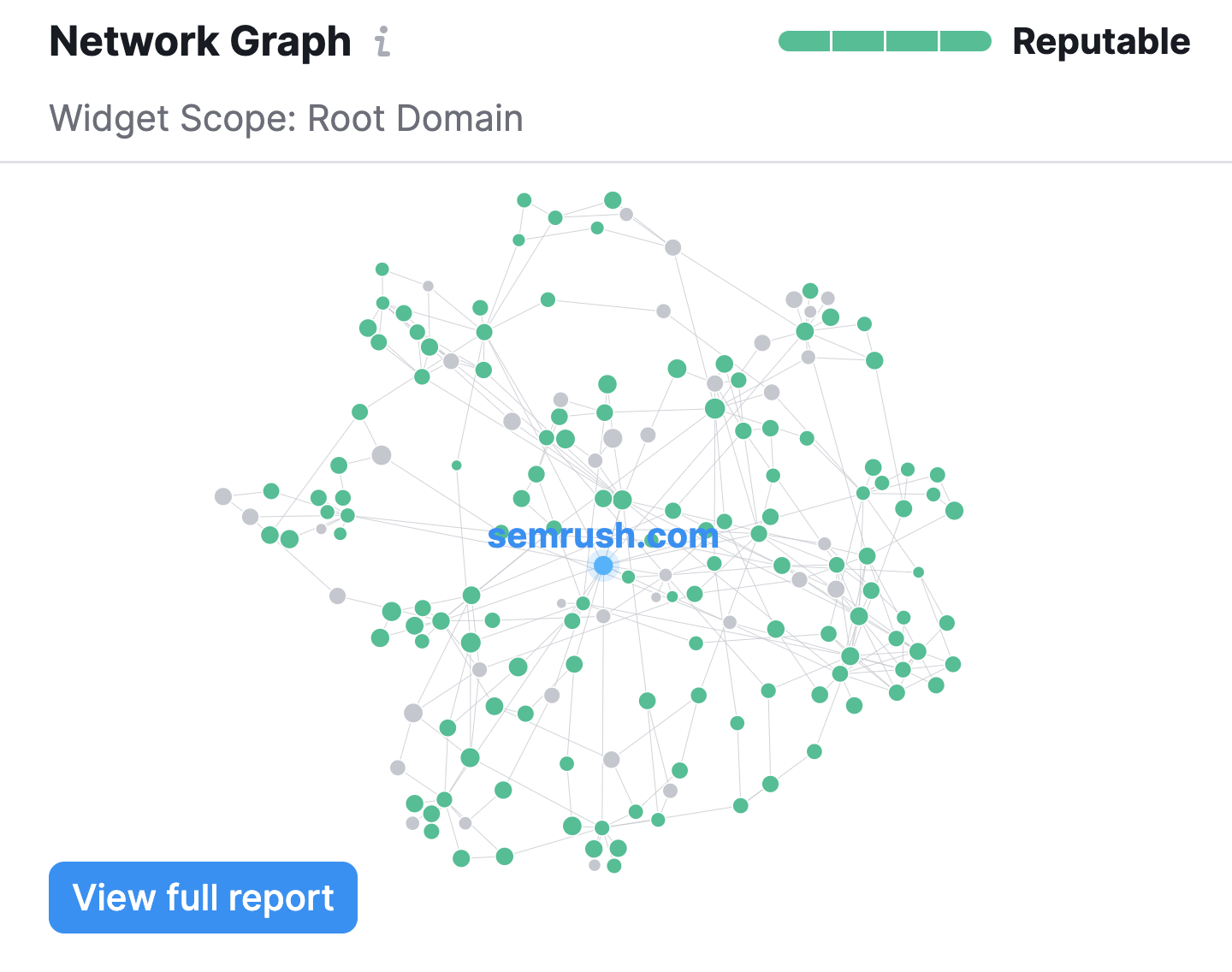 Also, as you manage a backlink portfolio, you can also use our Link Building and Backlink Audit tools from the Projects section.
The Link Building Tool offers an interface to manage an email outreach campaign from start to finish. Enter your domain or target keywords and Semrush will generate a list of link building opportunities and a dashboard to manage your emails as you reach out to them with your pitch.
The Backlink Audit tool analyzes your backlink portfolio and shows you suspicious or toxic links that could potentially lead to a Google Penalty. From the tool, you can add these links to a disavow list and send your disavow list to Google to remove your website's association with the dangerous links.