In the Backlink Gap tool, you can compare the backlink profiles of up to five competing websites at once. Enter the domains and Semrush will list all of the referring domains that are sending links to these sites. Filtering makes it easy to identify the websites that are linking to your competitors but not you. This helps SEOs identify gaps between competitors' link building strategies and plan their own outreach to build links.
Line graph display of competing sites' backlink profile growth over time
Quick filter to find the backlinks your site is missing out on
Excel and CSV exporting
Actionable link building and outreach insights
To get started with this report, you'll need to enter the websites of multiple competitors. If you want to be able to find backlinks that your competitors have but you don't, be sure to enter your domain in one of the input fields.
Adding Competitors
There are a few ways to pick out competitors to add to the report. After you've entered your domain, you can click your mouse in one of the input fields to see auto-suggested competitors (sourced from our Backlinks Competitors report). You could also use the Organic Competitors report if you wanted to look for more of your organic search competitors.

Competitors added can be root domains, subdomains, or URLs. This means you can compare multiple subdomains or URLs on the same domain, compare a subdomain to a domain, a subdomain to a subdomain, a domain to a URL, or any other combination in between. After entering your competitors in the input fields, start the tool with the green button.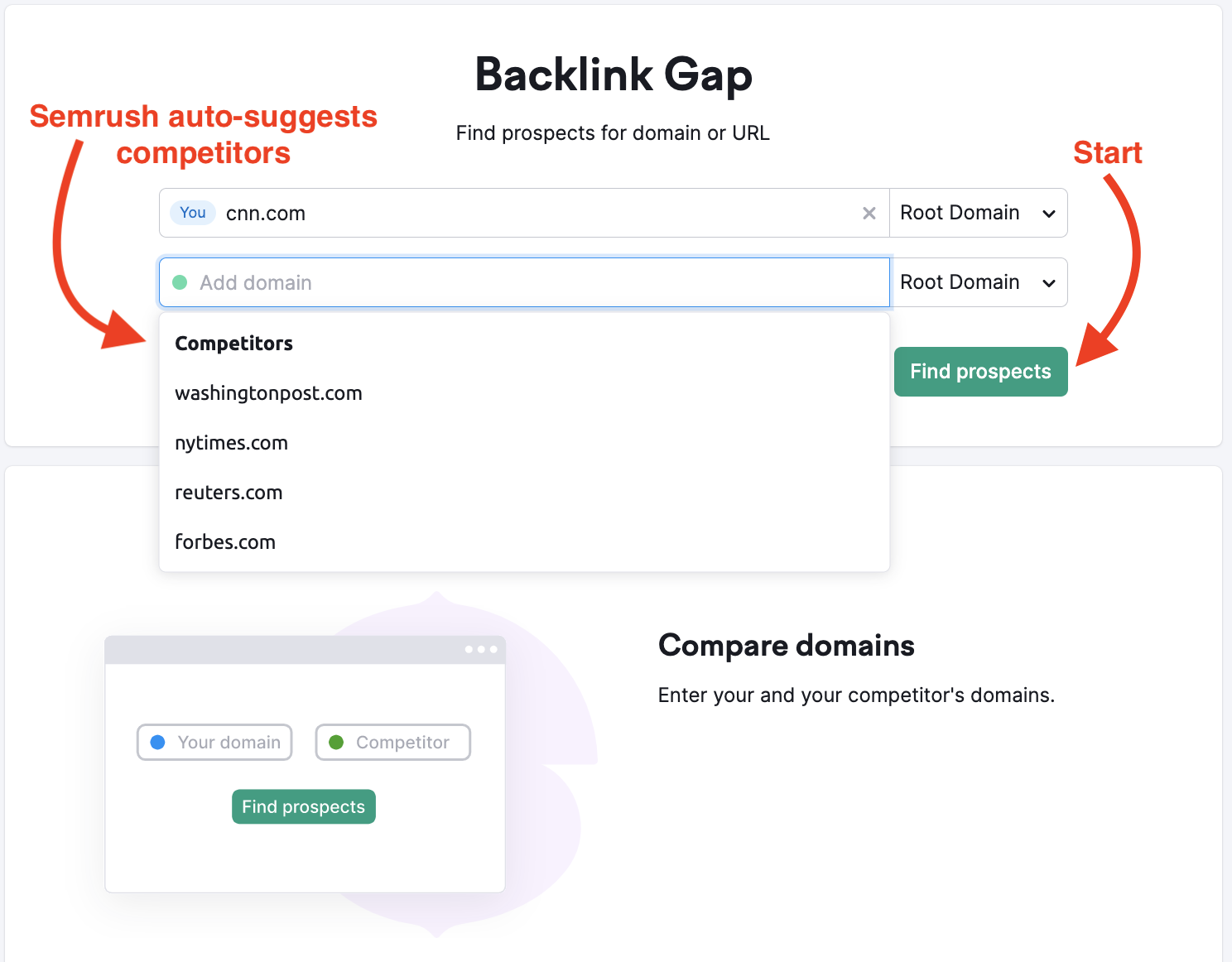 Finding the Backlink Gaps
The tool will present a graph and a table depicting the comparison between competitors' backlink profiles. You can get a quick look at which competitor is building the most backlinks with the trend graph at the top.
The table directly below the chart will show you all of the referring domains that send backlinks to the websites entered. This data is sourced from our Backlink Analytics.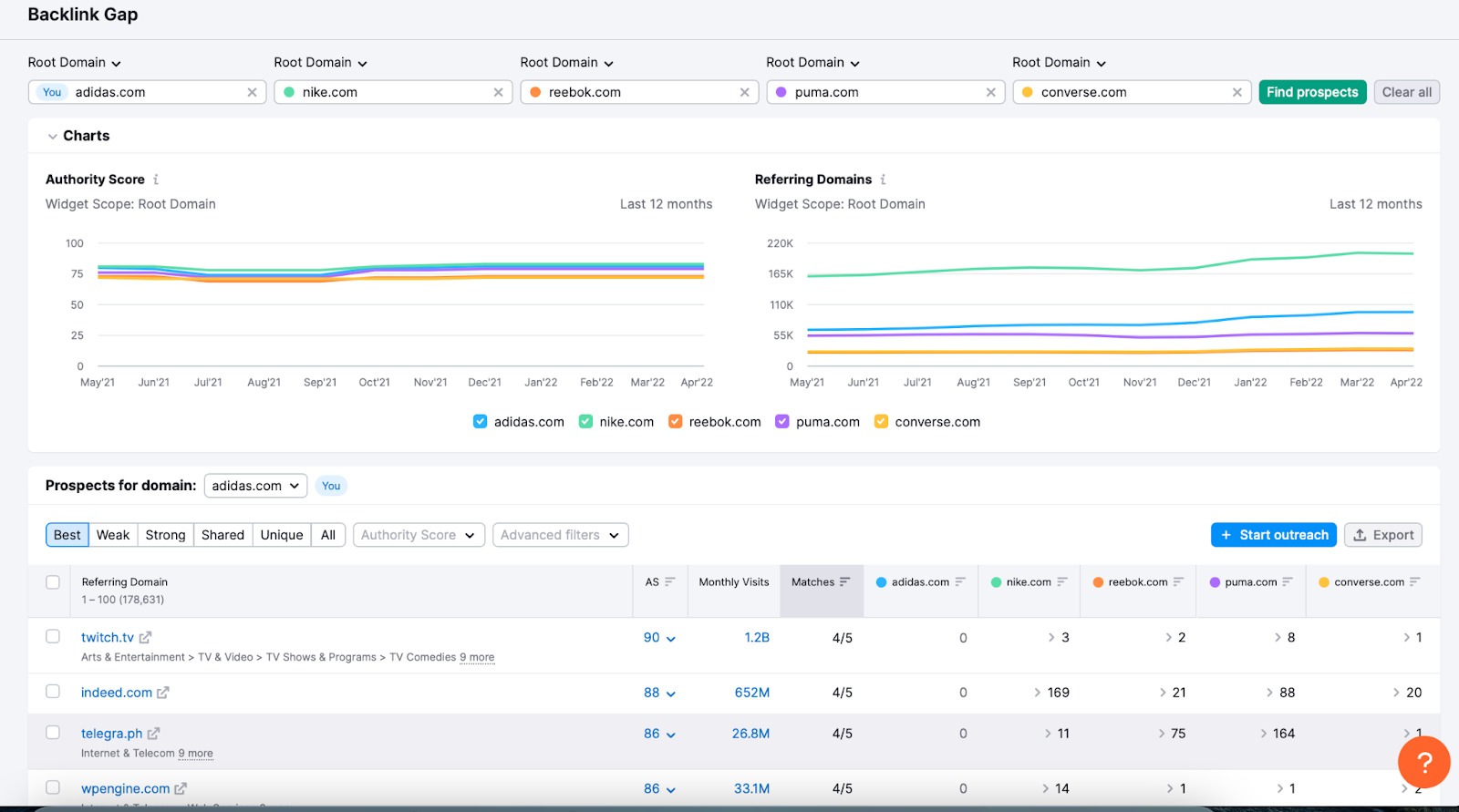 Authority Score: Authority score is a compound metric that scores the quality of a given domain.
Monthly Visits: An estimate of total visits to the website over the last month.
Matches: Matches tell you the number of analyzed domains that this referring domain is linked to. These matches are based on the domains you are analyzing.
Referring Domains: You can change the list of referring domains relative to you-domain with Prospects for domain filter. To do this, simply click on the drop-down menu just above the table. You can also filter out the list of Prospects with Authority Score and Advanced filters.
You are able to view the new, lost, or follow links from a specific competitor when you expand the row. For this, simply click on the view dropdown in the column of the competitor you want to further analyze.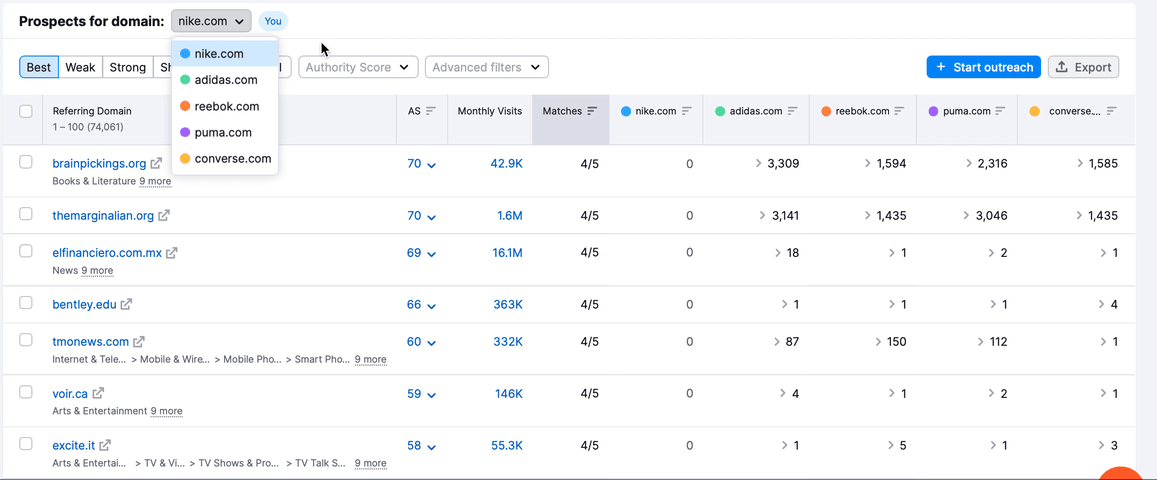 Matches
To see the referring domains that send the most links to your competitor, use the up/down sorting arrow in your competitor's column. The "Matches" column indicates how many of the competitors have a backlink from the listed referring domain.
This is an easy way to tell whether a website is a popular source of links among your niche, or if it only has a relationship with one of your competitors.
Referring domains that match with multiple competitors can be identified as good outreach targets since they link to more than one site in your niche. A referring domain that only matches one competitor could potentially be less likely to link to you. However, it could also be a good outreach target because a link to your site that your competitors don't have would help you stay ahead of them in the SEO game.
Opportunities You're Missing
To view the backlink opportunities that you're missing (the referring domains that your competitors have links from but your domain does not), select your domain in the drop-down above the table.

These websites could be your next link building targets since they are linking to your competition but not your website.
You can also filter your domains by best, weak, strong, shared, and unique:
Best - Domain's that point to all of your competitors but not you
Weak - Domain's that point to you less than your competitors
Strong - Domains that point to you only and not your competitors
Shared - Domains that point to you and your competitors
Unique - Domain's that only point to one specific domain
At this time, the trend graph can only display a visual comparison between different domains. If you are comparing multiple subdomains from the same domain, the trend graph will not be able to plot the backlink trends of each subdomain.
You can also send up to 100 domains directly to our Link Building Tool. This will allow you to outreach these domains directly in order to help provide backlink opportunities.
For a quicker way to compare the backlinks of up to 200 URLs at once, you can use the Bulk Backlink Analysis or our public API (API is available with a Business level subscription to Semrush).
If you are interested in more ways to outperform the competition, enjoy our "How to Benchmark Opportunities for Growth" quick guide.