The Keyword Overview is our top-level report to look up any keyword in the Semrush database. After entering your word or phrase in the search bar, you'll see the keyword's search volume (national, global, and local level), intent, number of results, CPC, Competition level, volume trend, and more.
Top-level examination of any keyword in the Semrush database
Instantly judge a keyword's estimated value and competition
Portal to deeper keyword research reports in the software
Option to send keywords from the Bulk Analysis tab directly to the Keyword Manager
In digital marketing, keywords are the intersection of you and your potential customers. You can target keywords by writing content on your website or through an advertising budget on Google Ads.
But before you can bring in any traffic from search, you need to decide which search terms are worth targeting. This is where keyword research becomes so important.
The Keyword Overview report is the easiest place to start your keyword research and get familiar with Semrush's reports and metrics.
Analyzing a Keyword's Value
When you launch a Keyword Overview report, Semrush will provide you with an initial assessment of a keyword's value.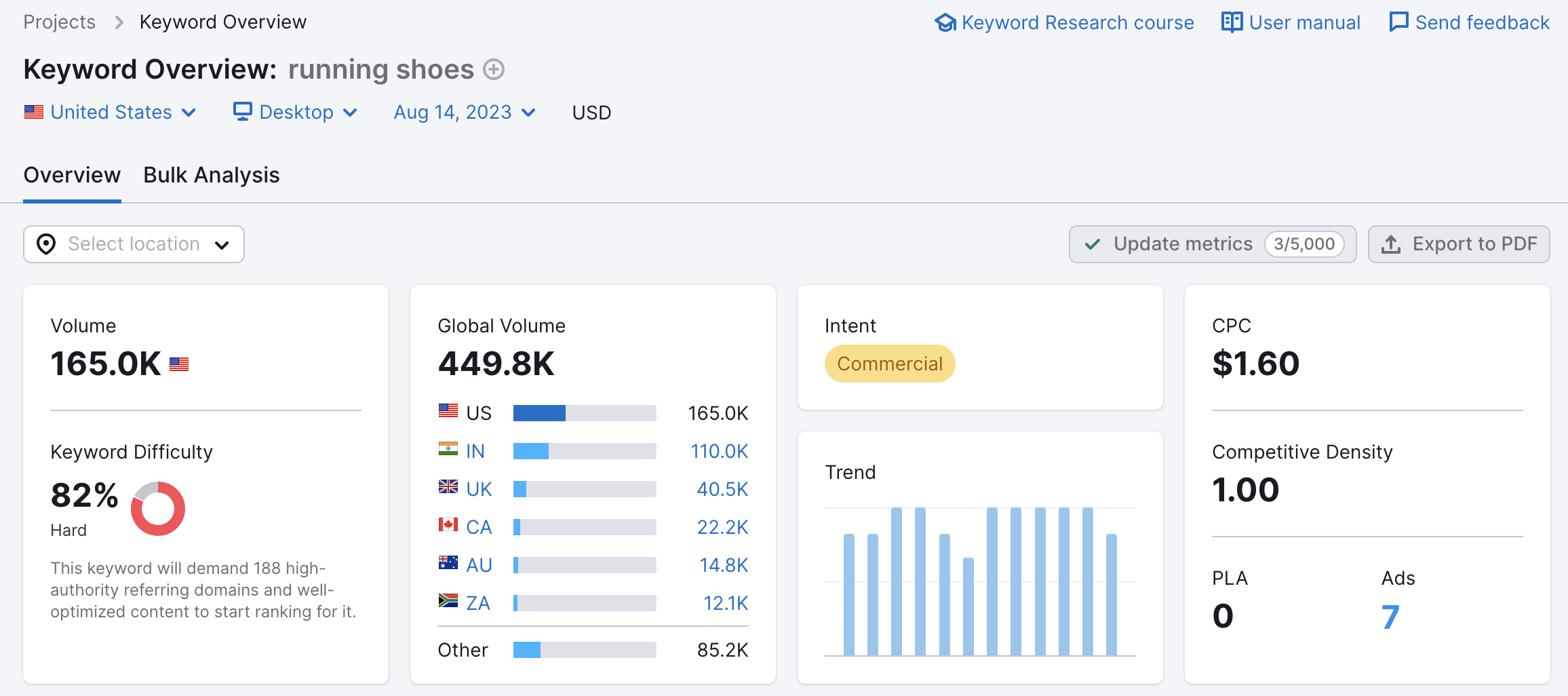 Volume: the average number of times per month that a keyword was queried on Google (on the national/local level).
Keyword Difficulty: metric that tells you how much SEO effort it might take to organically rank a page in the top 10 results on Google for a certain keyword. The keyword difficulty score is a percentage from 0 to 100, and the higher the percentage, the more difficult Semrush predicts it would be to rank for.
Global Volume: the combined total of the keyword's monthly search volumes across all of our country databases.
Intent: the purpose of a user's query in a search engine. Intents can be read by search engine algorithms to show the proper results and SERP features. The main types of search intents are: informational, navigational, commercial, and transactional.
Trend: how much interest web searchers have shown in a given keyword in the last 12 months.
CPC: cost-per-click ad advertiser pays Google for a click on their PPC ad on this keyword's SERP.
Competitive Density: the density of advertisers bidding on this keyword for their ads on the national level. A score of 1.00 indicates the highest level of competition, and a score of 0.00 indicates no competition. Although this metric refers to competitors in paid search, it can be representative of a keyword's organic value as well.
PLA: the top Product Listing Ads (Google Shopping) seen on this keyword's SERP.
Ads: the top Google Ads PPC ads seen on this keyword's SERP.
Knowing search volume allows you to estimate how popular a keyword is. But popularity isn't the most important thing when picking your targets.
Finding the Right Keywords to Target
High-volume search terms are great for driving a lot of traffic. However, actually ranking for a high-volume keyword is easier said than done.
The more popular a keyword, the more competition there will be to go after that sweet traffic. So, the higher the search volume, the harder it is to overrun your competition.
Let's say you run a website for a local electronics store. If you want to outrank your competitors on Google, look for keywords with a lower volume and a low keyword difficulty score. You can adjust the target location to see either the most relevant metrics or switch to a national-level report for a broader picture.
These keywords might fly "under the radar" of your competitor's strategy and could be quick wins for your site.
These are also known as long-tail keywords. Long-tail keywords are smart targets because they are more specific with their intentions.
For example, the long tail keyword "best wireless headphones for working out" is much more specific compared to simply "headphones."
While it may have less search volume, this keyword is more valuable for an SEO strategy because its intentions are more clear. In the SEO industry this is called "searcher intent."
With a more specific keyword, you can be more effective targeting searchers by providing super-specific content on your website. In contrast, "headphones" would likely be too broad and competitive of a keyword to effectively target with SEO.
When thousands and thousands of people Google "headphones," you can never know what they all want. But, when only a few hundred people search for "best wireless headphones for working out," it's easier to offer them exactly what they want.
Checking a Keyword's Intent
You can go even further and enrich your keyword research with an automated intent analysis in Semrush. We identified search intent for each keyword in our databases so you can quickly find out what the users are searching for and intending to do. The Bulk Analysis tab allows you to analyze a user's intent and a handful of other key metrics for up to 100 of your target keywords at a time.
Tip: Use the Keyword Gap tool to find gaps in multiple competitors' keyword strategies.
Keyword Variations, Questions & Related Keywords
The keyword ideas widget shows you a snapshot of similar groups of keywords that you can dig through to find your perfect target keywords.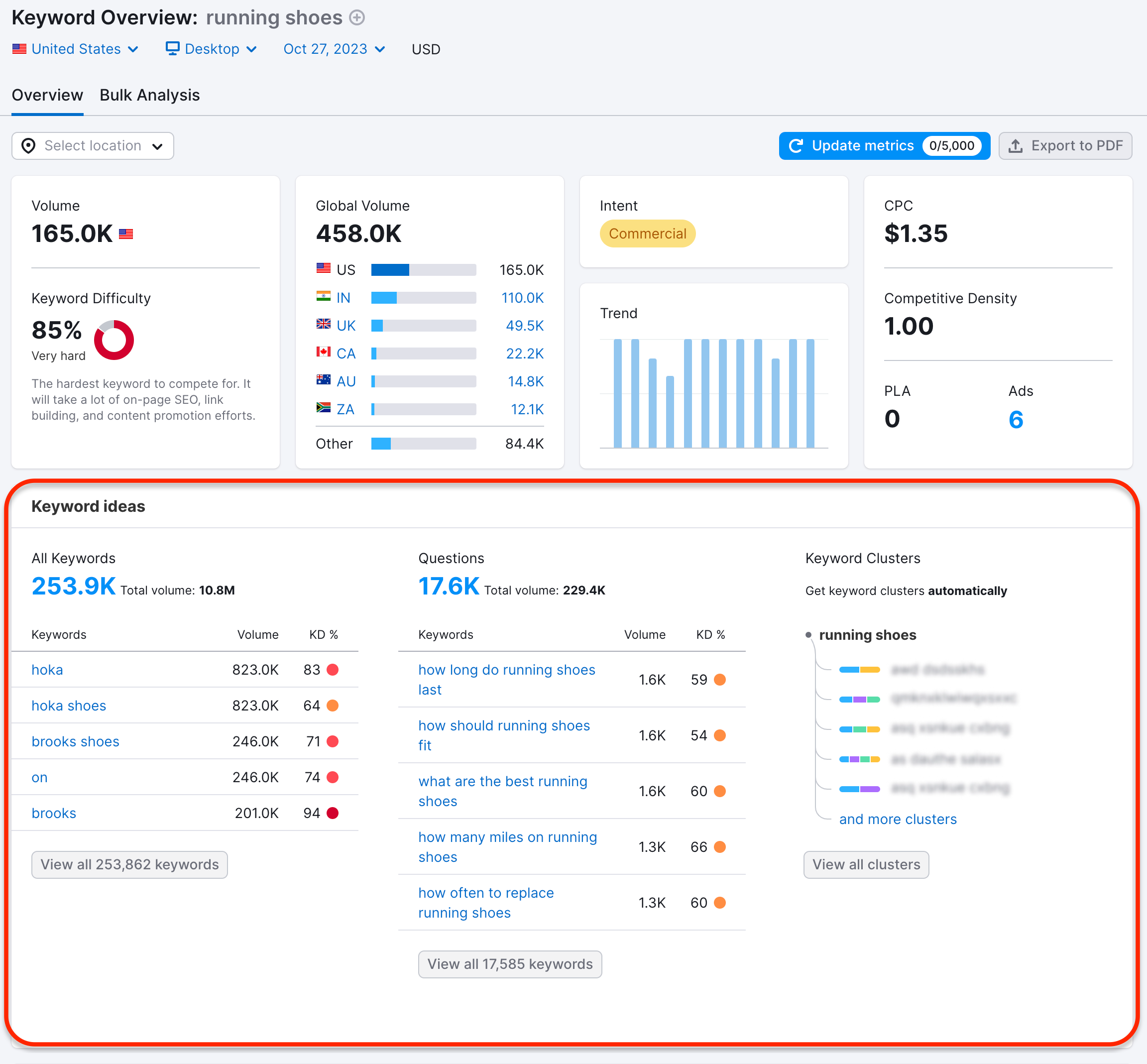 Keyword Variations: search phrases that include your original keyword as well as additional modifying words. Keyword Variations help you find the most popular related searches to your main query.
Questions: search terms where Semrush sees a "who, what, where, when, why, how, is, can, etc." Questions are great for generating content ideas for blog posts, FAQs, and content pages on your site. Answering commonly searched questions can help your SEO, including voice search optimization.
Related keywords: keywords that have similar results as the queried keyword. With related keywords you'll find common misspellings and topically related search phrases. Related keywords make for excellent keywords to target with PPC, because misspelled keywords generally have a lower CPC and competition level. This list is only presented for local-level reports.
Keyword clusters - groups of keywords a page can rank well for. Instead of displaying clusters, Keyword Overview has a link leading to the full report in Keyword Manager. Keyword clusters are only available for a country-level report.
This data is pulled directly from our Keyword Magic Tool so you also get the total volume and average keyword difficulty. If you click on the number of keyword suggestions you will be brought directly to the Keyword Magic Tool.
Checking the Trend
A keyword's trend helps you understand the seasonality of your target audience and predict when driving traffic with a particular search term will result in seasonal spikes.
The trend chart in this report will show whether or not a keyword's search volume fluctuates throughout the year or if it stays relatively constant. The bars represent the last 12 months, with the last one always corresponding to the previous month.
For example, if we were to analyze a keyword in August 2023, the first bar (on the left) would represent August 2022, and the very last one — July 2023.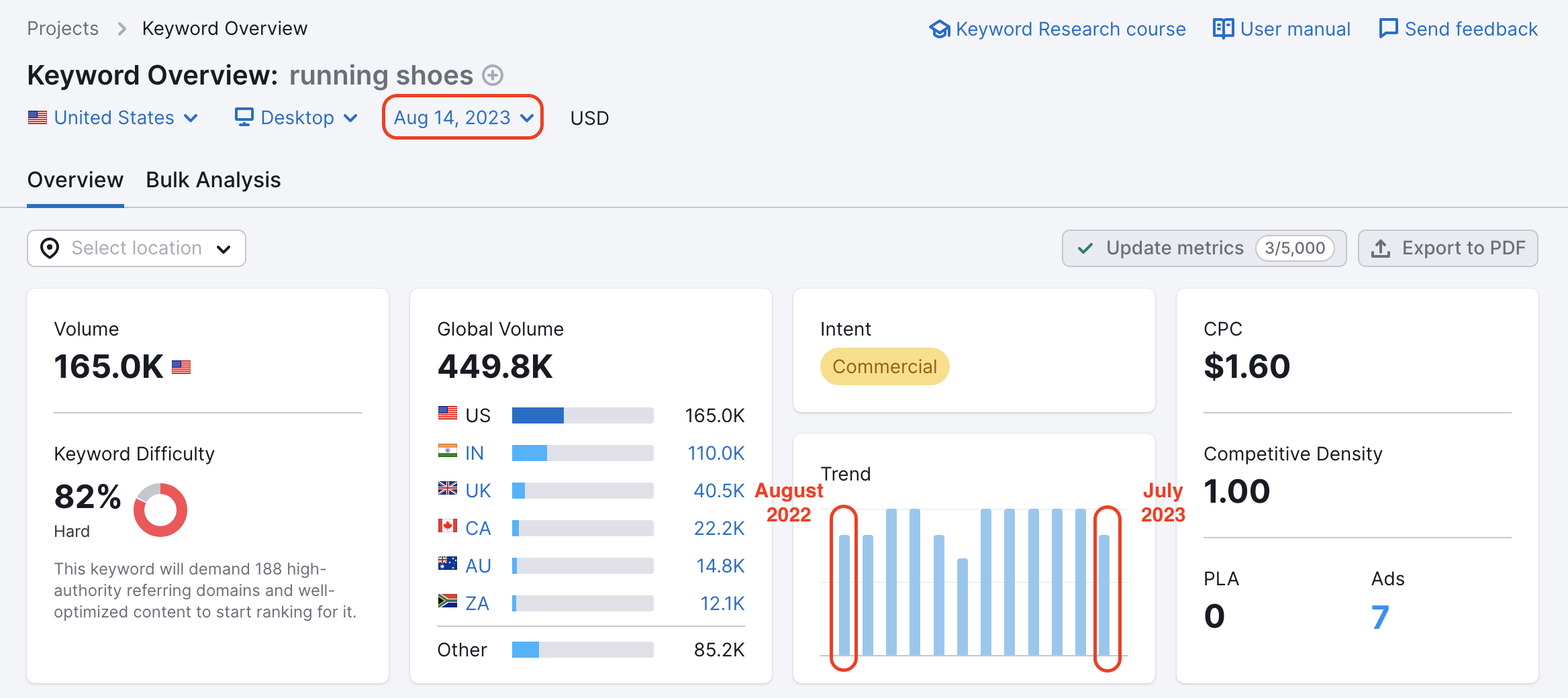 If you see that a keyword's trend doesn't peak and stays at the same level, then you'll need to make sure that you're targeting this search query year-round.
However, if a keyword has a seasonal spike, then you can plan accordingly. For example, a keyword like "bathing suits" may trend higher in the spring and summer months.
As a website, you could strategize with seasonal website content or an advertising campaign to target this keyword.
Analyzing a keyword's organic value
If you scroll down, you'll see the Keyword Overview report lists the top domains whose landing pages pop up organically for the search term you are analyzing.
You can view the SERP itself with the blue "View SERP" link, and generate real-time metrics on these top-performing websites with the button.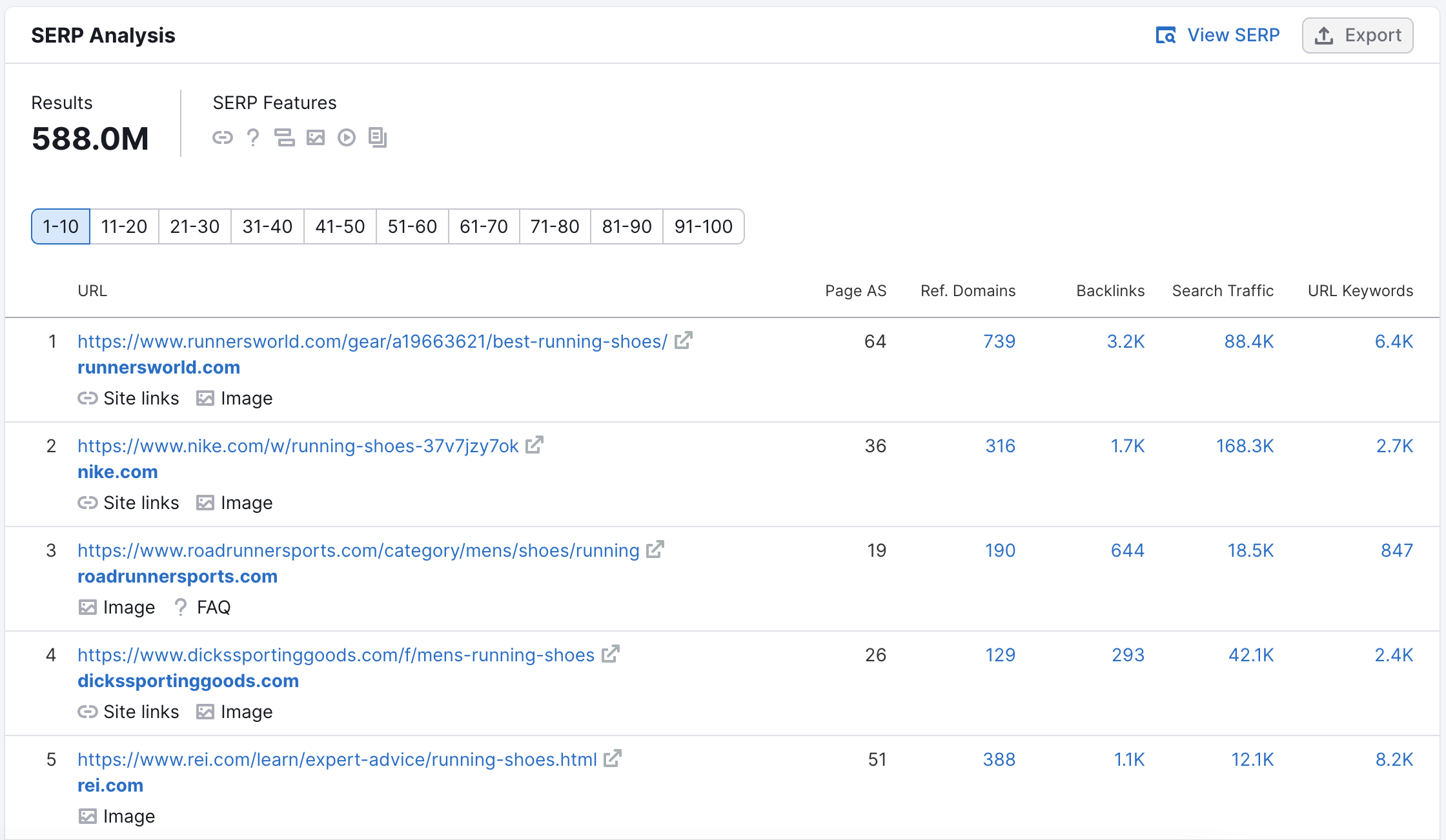 If you find your website in this list, congratulations! Google considers your page one of the best and most relevant to the given keyword. But don't miss the chance to strengthen and improve your ranking.
Improving your search rankings organically can be the biggest factor when it comes to beating out your closest online competitors. Since billions of searches happen every day, getting your site up in the rankings for the right keywords can really pay off.
Whoever is ranking currently on the first page of results are your SEO competitors. You can check each competitor's web page and analyze its content, structure, and usage of the particular keyword. You can click on the small arrow to open the page in a new tab or click on the URL to open an Organic Research report for that webpage.
From that report, you'll be able to see this page's keywords, backlinks, traffic share, and more.
If your domain isn't at the top of the search results, you should then analyze the content of those pages in order to learn from them.
One of our Project tools, On Page SEO Checker, can help you generate ideas for improving your content.
Tip: You can export each part of the report in XLS or CSV formats.
Analyzing a keyword's advertising value
If your site doesn't naturally rank for keywords, you can still get search traffic by bidding on keywords through Google Ads.
Below the organic listings, you can also find the top PLA Copies (product listing ads), and Ad Copies (Google Ads) that appear for a keyword in paid search results. Take these as inspiration for writing your own ad copy and analyze the landing pages they are pointing to.
If you're an ecommerce website, pay attention to the top product listing ads. These advertisers are your top Google Shopping competitors.
The Keyword Ad History widget will show how actively websites bid on the keyword in the last 12 months on the national level. Click it and you'll be forwarded to the Keyword Ads History report, which will have more information.
By using Semrush Keyword Analytics you can determine your best-performing ads over the past year. With this information, you will be able to see which strategies are bringing in the greatest ROI and use this for continued success in your future search advertising.
If you have already been using the analyzed keyword for your advertising campaigns, you can use this data for improving your ads' search visibility.
Now that you're comfortable querying a Keyword Overview report, be sure to check our the Keyword Magic Tool to dive even deeper into keyword research.
Tip: To view historical data for a keyword, use the selector at the top.
Local keyword metrics
It's possible to get keyword metrics not only on a national but also on a local level.
This filter allows you to evaluate the organic traffic potential of a keyword in your specific location, create a location-specific target keyword list, build better keyword plans for a local SEO campaign, and much more.
On the Keyword Overview landing page, specify a keyword, choose any local sub-location, city, or region as a location, and click search to get local data.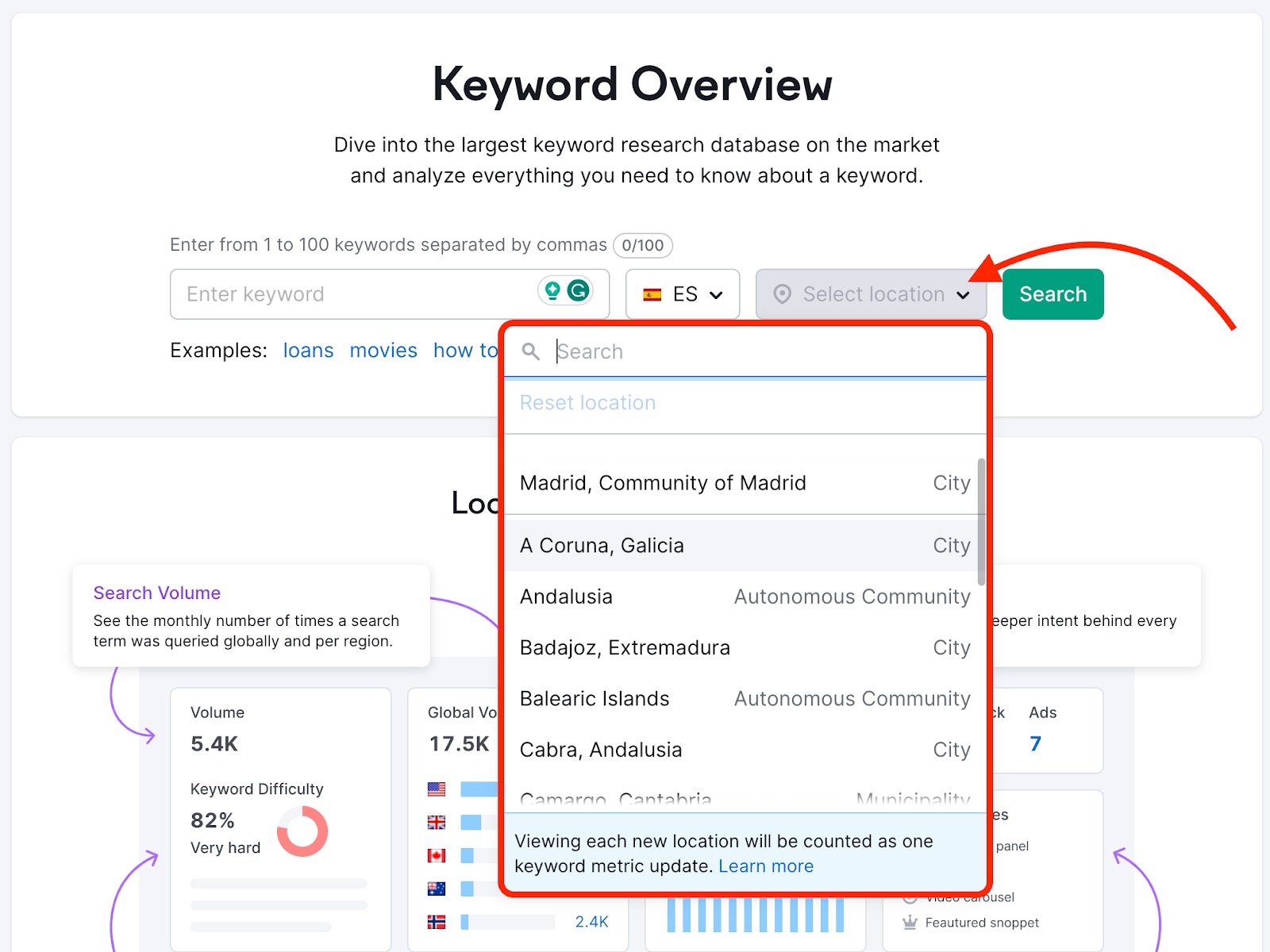 This is available only for single keyword searches, not in bulk.
Local data can also be requested inside the Keyword Overview tool. Here, you can easily distinguish what metrics are local data and which show national data.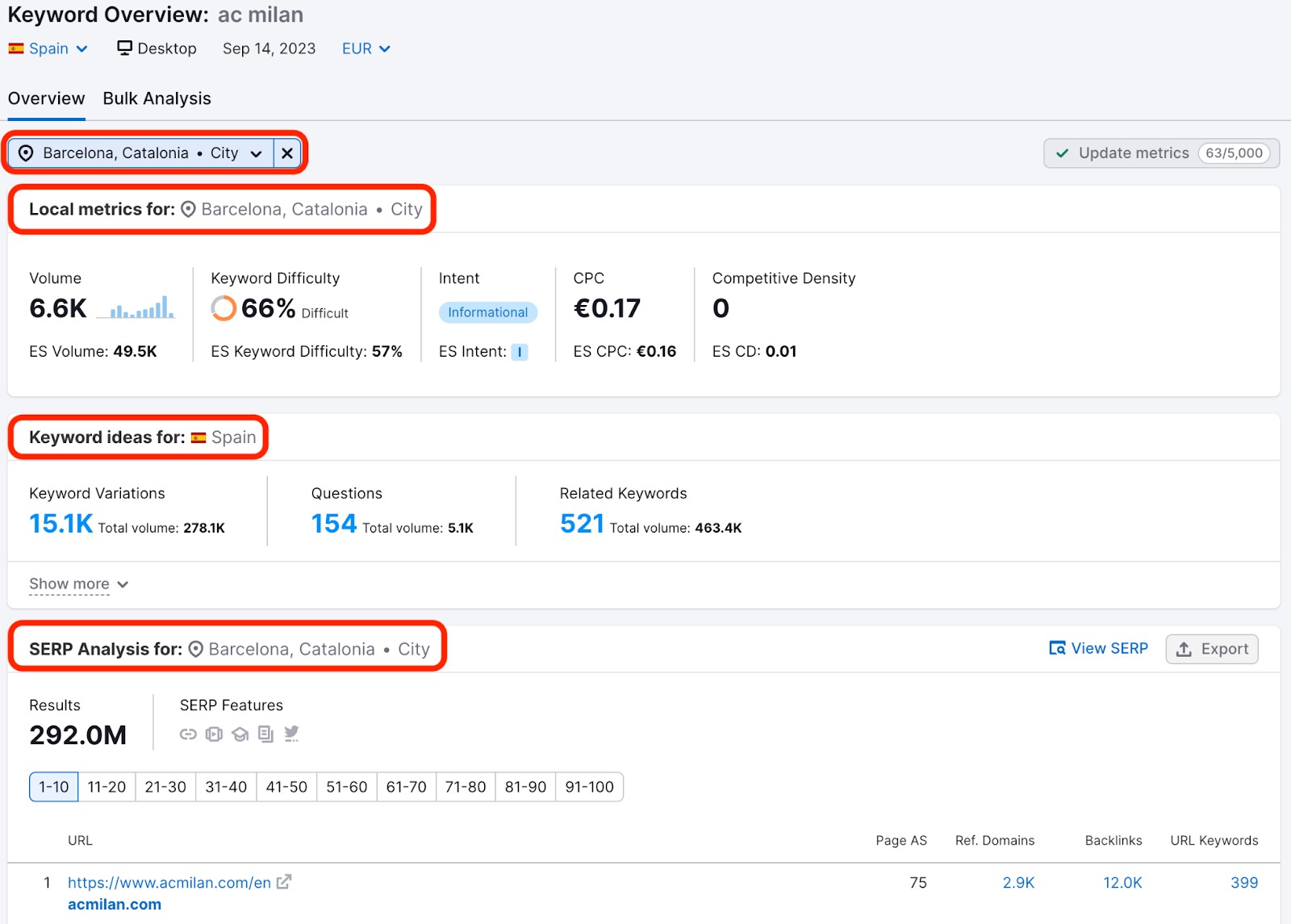 Viewing each new location will be counted as 1 more "Keyword metrics updates" limit.
When you use the local metrics filter, you'll find local data for a keyword's:
Volume
Volume trend
Keyword Difficulty (KD%)
Competitive Density
Cost-per-click (CPC)
Intent
SERP analysis
SERP features
Results
Analyzing keywords in bulk
Using the Bulk Analysis tab you can analyze the metrics for up to 100 keywords. You will get the Intent, Volume, Trend, Keyword Difficulty, CPC, Competitive Density, SERP Features, and Results on each keyword.

After comparing the keywords, send the keywords that best fit your SEO strategy to the Keyword Manager, a keyword repository for all your keywords gathered with different Semrush tools.
Note: local keyword metrics are not available in the Bulk Analysis report.
At the moment, you can get historical data only for one specific keyword at a time in the Keyword Overview tool. Bulk Analysis allows analyzing sets of keywords, but metrics are always up-to-date.
Tip: You can get historical data for keywords in bulk with Semrush API Batch Keyword Overview call. Please note that Standard API Package is available starting from Business subscription.
Exporting options
Export data from Keyword Overview (Overview report) to PDF or create your custom report with the My Reports tool. Combine data from Traffic Analytics, other Semrush tools, Google Analytics 4, Google Search Console, and other sources to create custom PDF reports. Align the reports with your brand and schedule automatic updates for seamless report automation.
You are able to export your keyword list from Keyword Overview into a CSV, XLSX, and CSV semicolon file.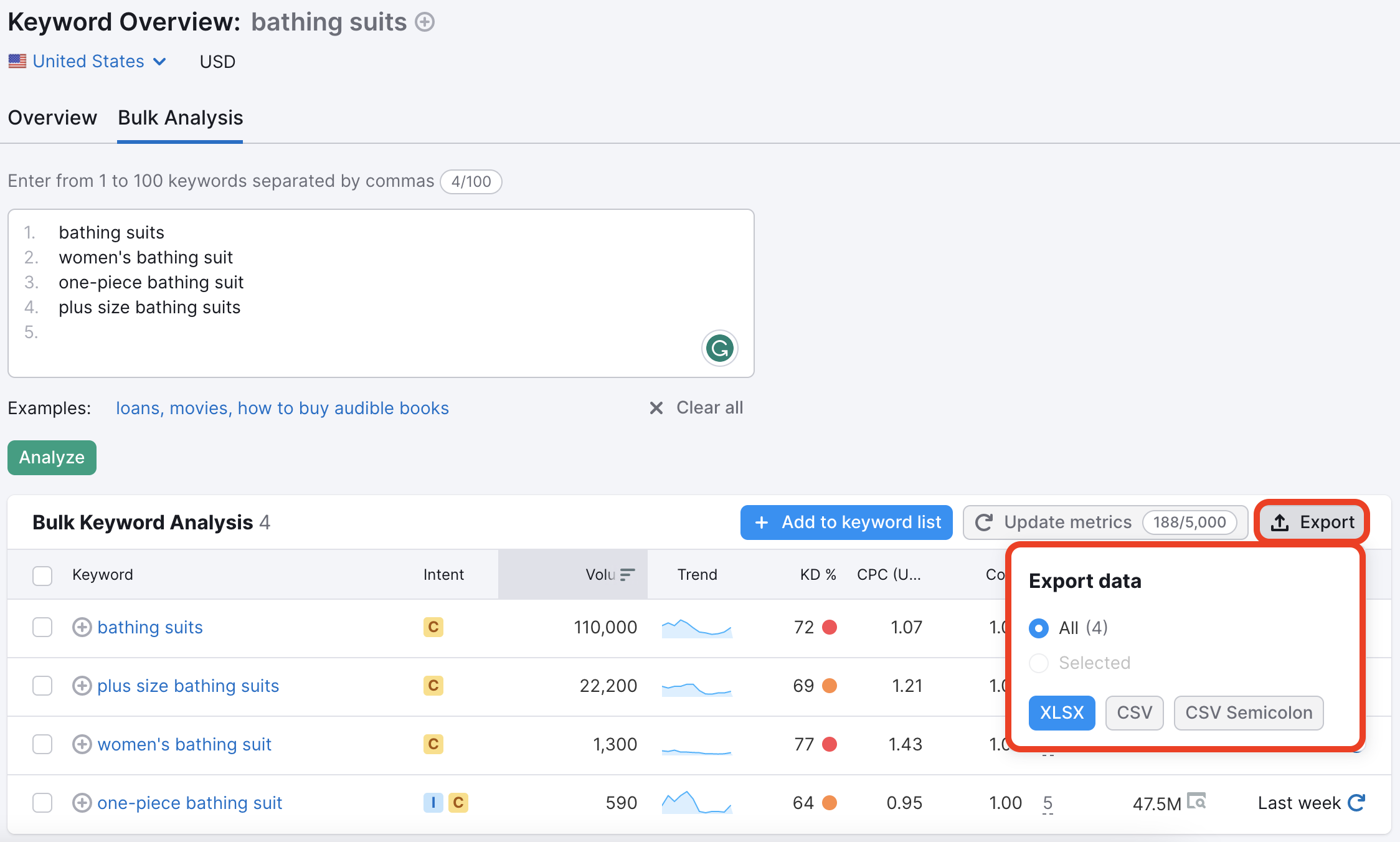 You may also export the data by copying it to the clipboard and then pasting it into your file. When you select one or more keywords, the "Copy" button appears in the header of the table. Click Copy and then paste the selected keywords into your chosen file.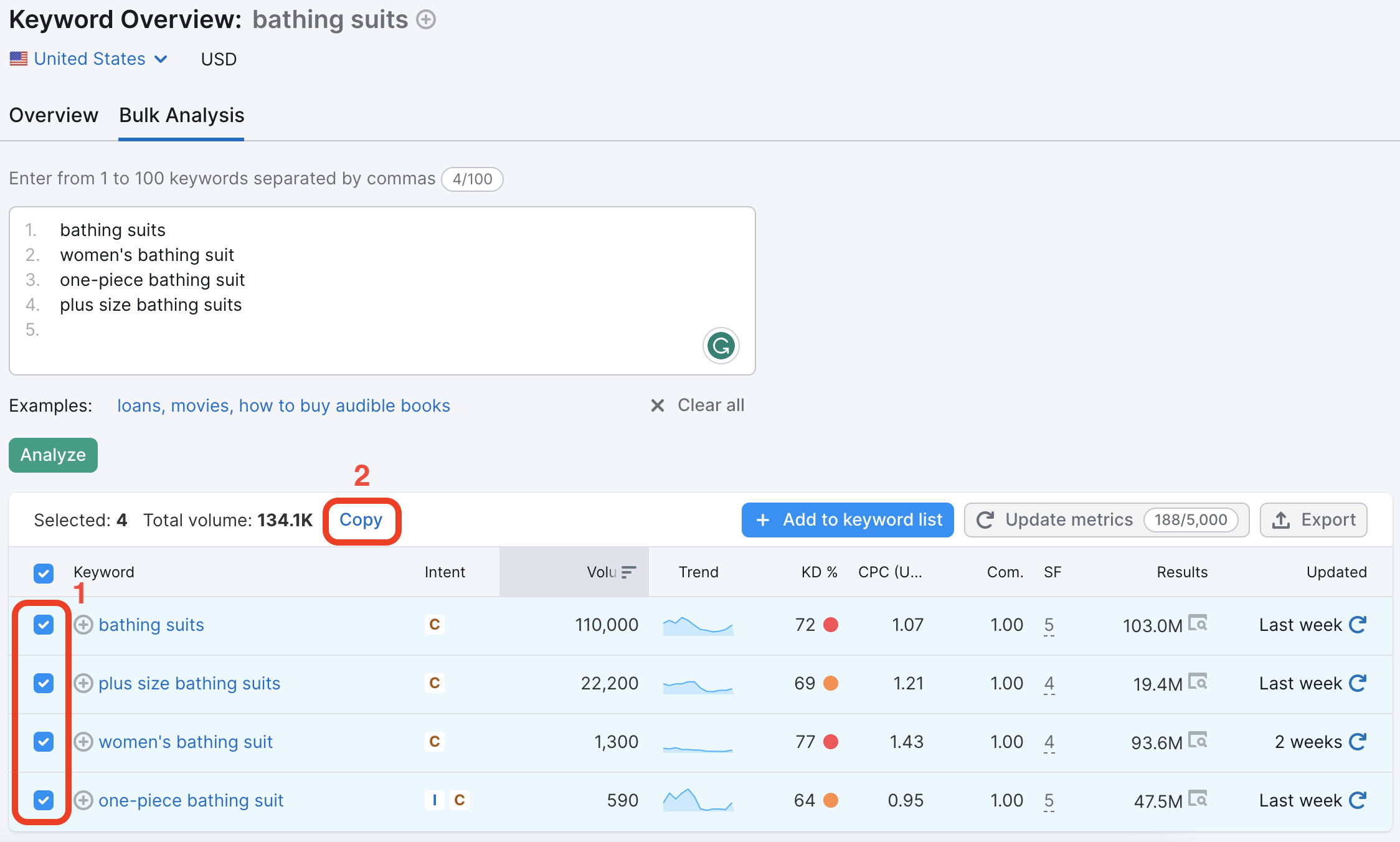 It is possible to select keywords one at a time by clicking on a separate checkbox, or in bulk. To select a contiguous group of keywords from the list, click the first keyword in the group. Next, hold down the Shift key as you click the last keyword in the group. This allows selecting everything in between the two keywords.