Configuring your Backlink Audit Tool can be completed in four easy steps.
In the setup window, you will need to first set your campaign scope. Then, you have the option to specify your brand name and alternate spellings, select the categories for your brand, and select the countries associated with your target audience.
Setting up Your Campaign Scope
Setting up your domain and brand settings is key for Semrush to be able to pull the most accurate results for your backlinks. The Backlink Audit Tool will automatically track the project domain name you specified when setting up your project.
The Backlink Audit Tool gives you the option to choose between four different domain types to track. If you choose to track just a "www" domain you will be limited to backlinks specific to that domain.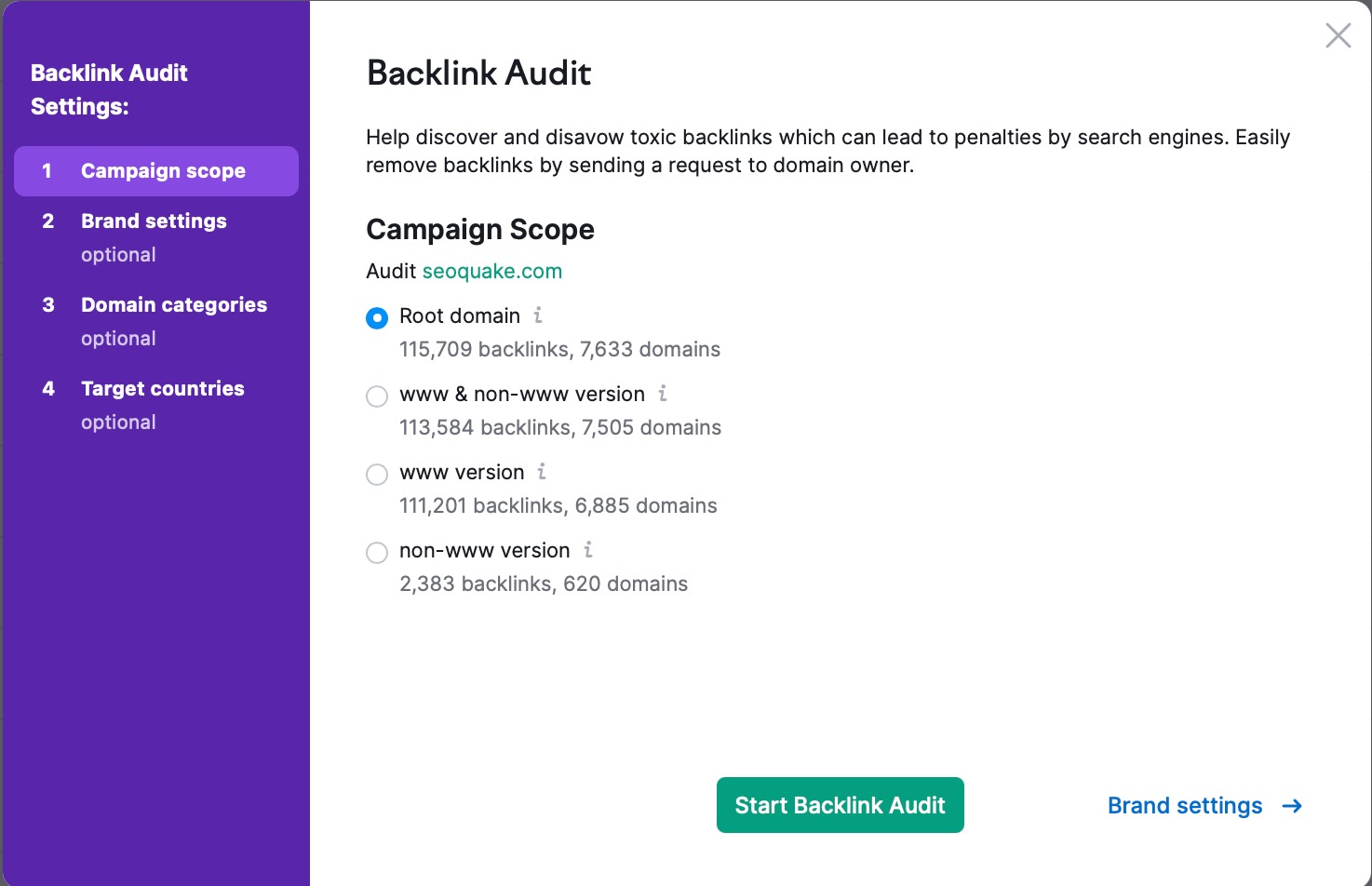 Setting up Your Brand Name
You also have the option to enter and track your official brand name. This can be helpful if your brand name differs from your actual domain. We ask you to specify this information to ensure the tool will pull the results for the different anchor texts.
We detect all the branded and compound anchors that contain your name and target keywords. We do this because the estimations for your backlink profile's toxic score can be impacted by the percentages within different anchors.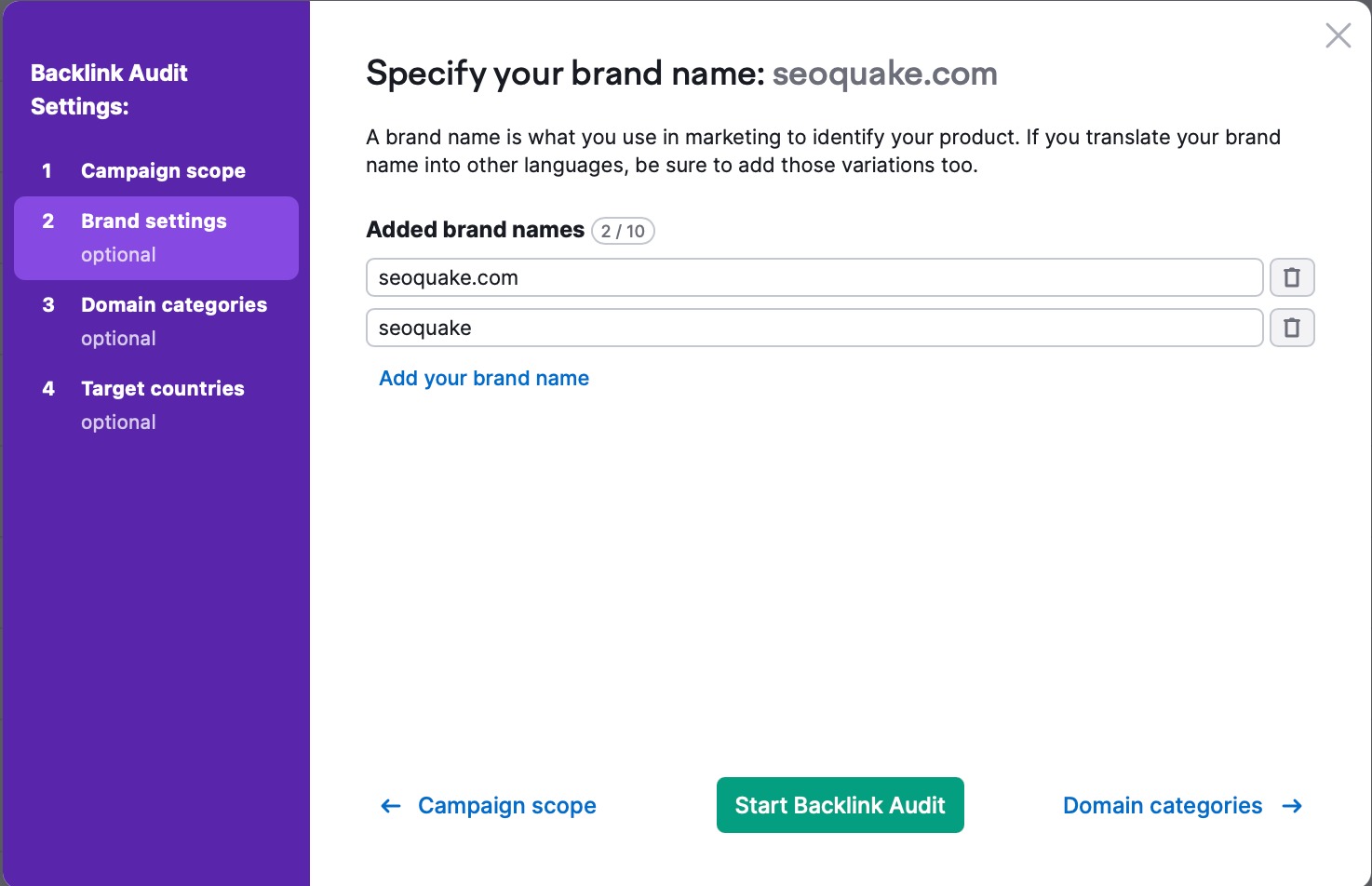 By entering your brand name you are able to detect all the branded and compound anchors. This lets you ensure you are receiving the most accurate toxic score possible. For example, if you have a domain that is "phillyicecream.com" but your brand name is actually Philadelphia Ice Cream Shop, this option allows you to make this specification.
Select Your Domain Categories
The domain categories setting lets the user select from over 20 various domain categories, ranging anywhere from Science to Finance. There is no limit on the number of different categories you can select. This allows for the best results possible when auditing your backlinks.
Each of these categories is determined by Google. For each keyword, URL or domain, Google sets topics that it believes are most relevant. For example, Semrush.com would look something like:
Internet & Telecom > Web Services > Search Engine Optimization and Marketing.
In this example "Internet & Telecom" would be the main level category because it has the broadest reach. Next "Web Services" is the first subcategory as it is more concrete in its search relating to the domain. Finally "SEO and Marketing" would be the final subcategory because it is the most detailed and specific description of the domain.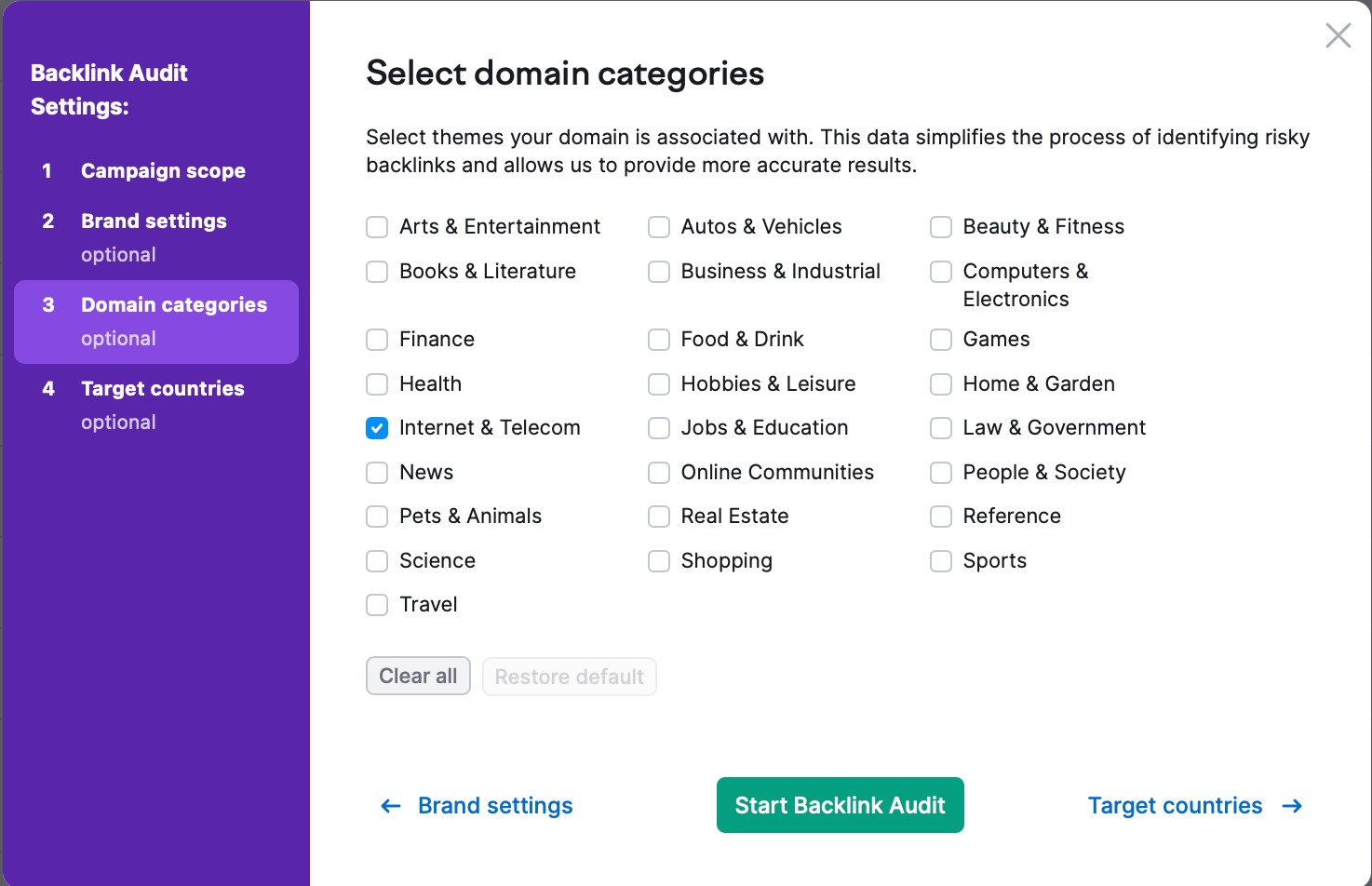 Select Target Countries
One of the issues that can arise with backlinks is having links from domains in foreign countries or in languages that are not relevant to your site. The main point for quality backlinks is having the majority of your backlinks in the same country as your website. For example, you may notice that your site is being attacked by link spam. Link spam can be easy to identify if you see the attack is coming from countries that have nothing in common with your site.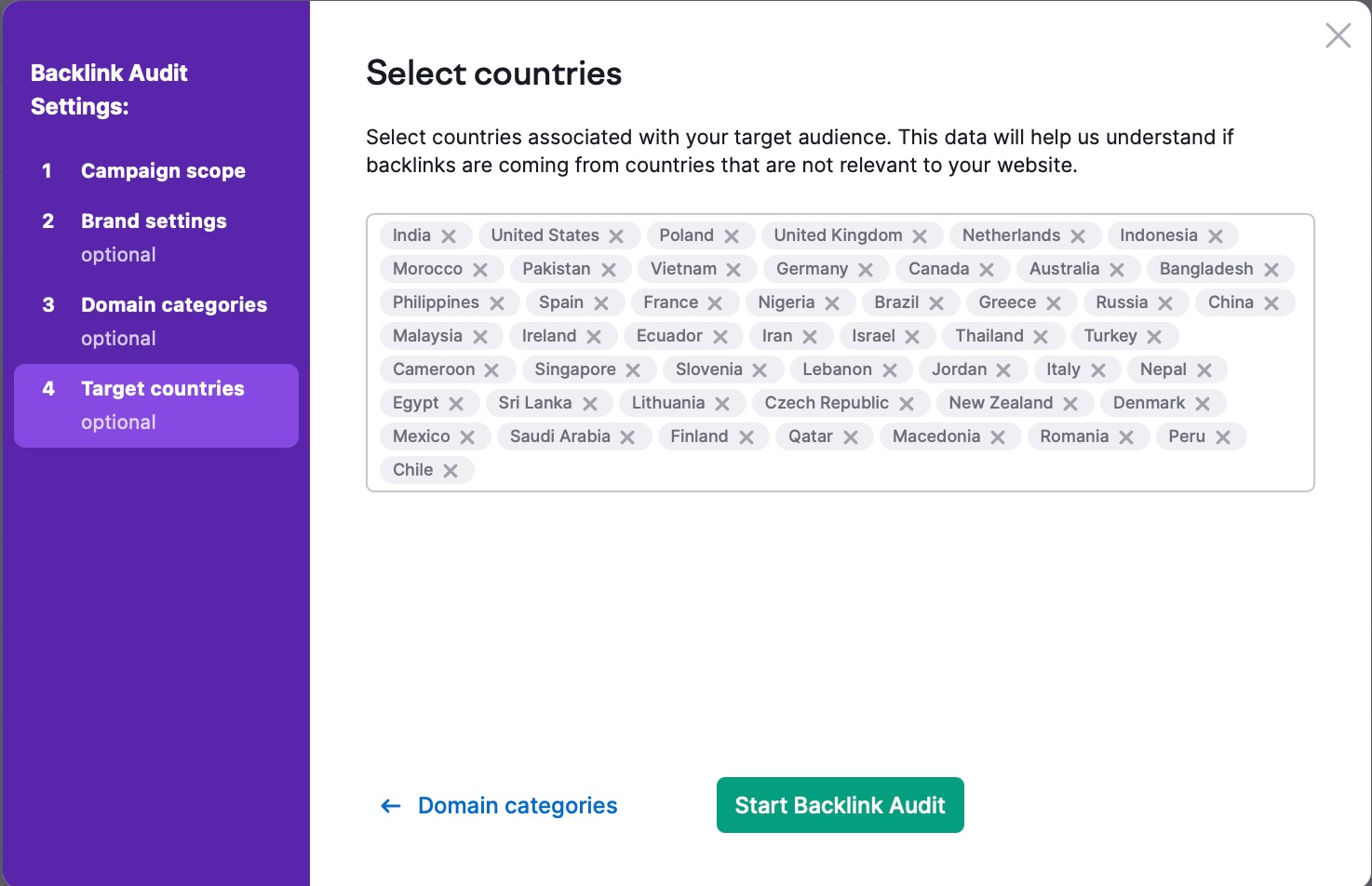 The Backlink Audit Tool lets you determine the country associated with your target audience during initial setup. You may want to select multiple countries based on your audience.
Say your website is based out of the United States but you know you have a large customer base in Sweden. It would then be ideal to set up your Backlink Audit Tool to track backlinks in both Sweden and the US.
Depending on what locations you are targeting, you have the option to specify your brand name in multiple languages.
Connecting to Google Analytics and Search Console.
Once setup, you can connect Google Analytics and Google Search Console to increase the scope and accuracy of the audit. Find instructions on how to connect those to Semrush here.