When you upgrade a location in Listing Management to Premium, here's what you gain access to:
Heatmap: Track up to 5 keywords on a hyper-local level, with your rankings displayed in a heatmap around your target area. This tells you exactly where and how well your SEO efforts are paying off.
Review management: Collect all of your reviews and respond to those on Google Business Profile and Facebook directly from Semrush.
Premium Limit
There are a few ways to upgrade a location to premium. Once you have a location set up, look for the upgrade location button, which can be found beside a location in:
The locations tab
The local rankings tab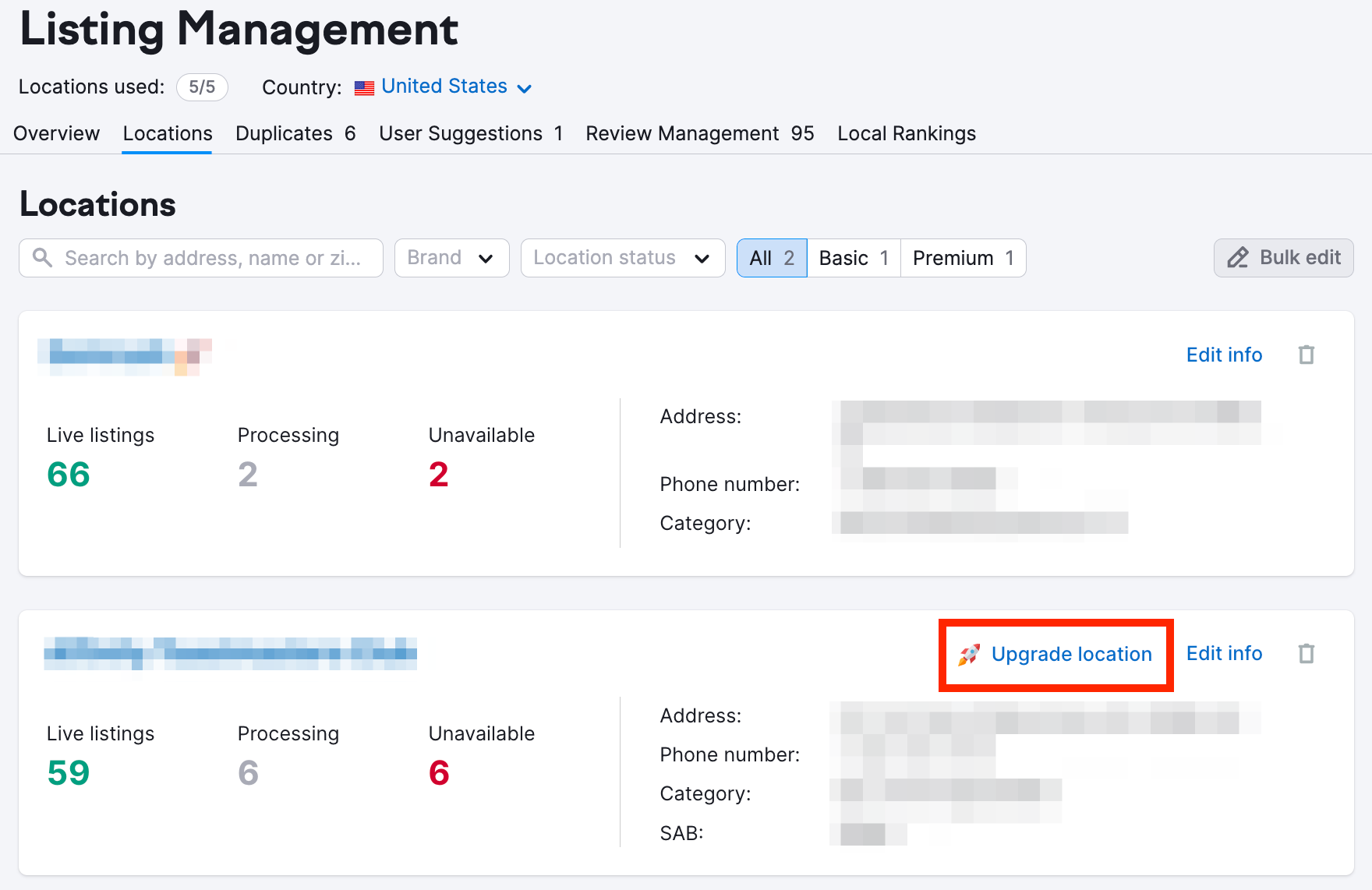 The cost per premium location is $40/month. You'll be asked to confirm the payment and then the location will be upgraded.
Once you've upgraded a location, you can set up your heatmap and then view your existing heatmaps from this column.
Please note: Once upgraded, there is no way to downgrade a location from Premium to Basic.
Using the Heatmap Report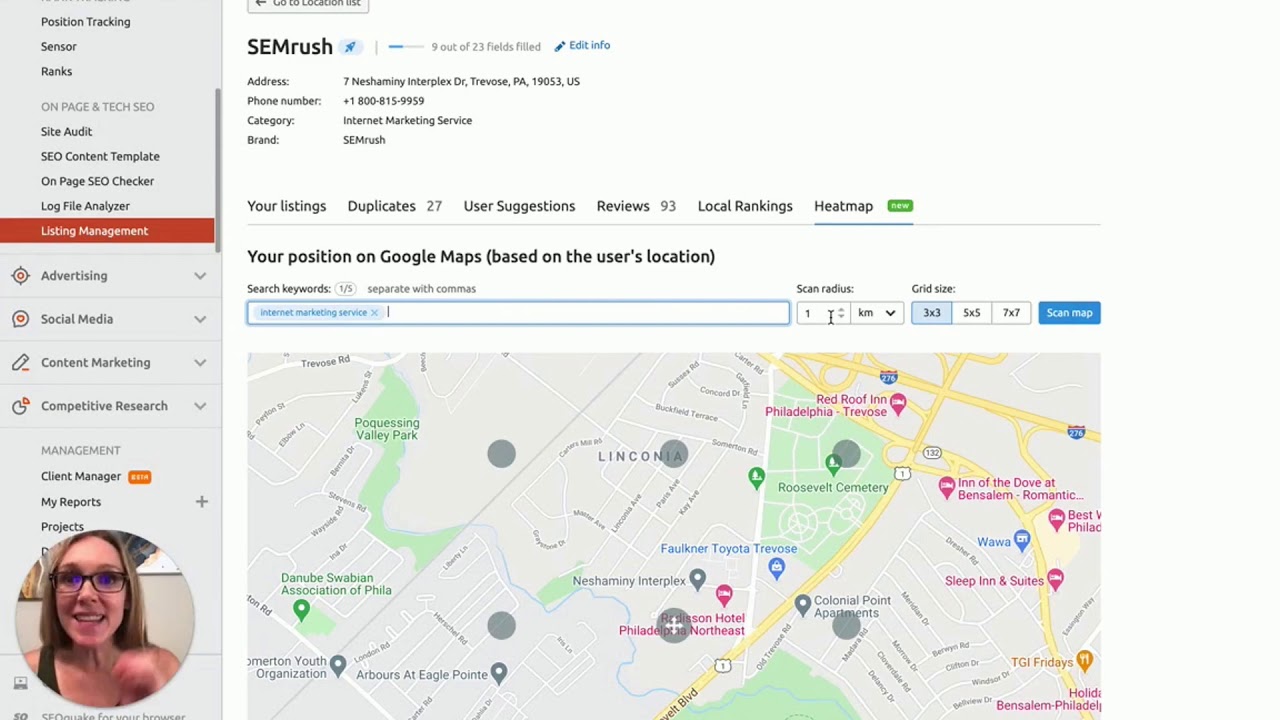 The heatmap report can be configured to find your local rankings for any five target keywords.
To set up your heatmap, enter your target keywords at the top of the report and then set the scan radius and grid size.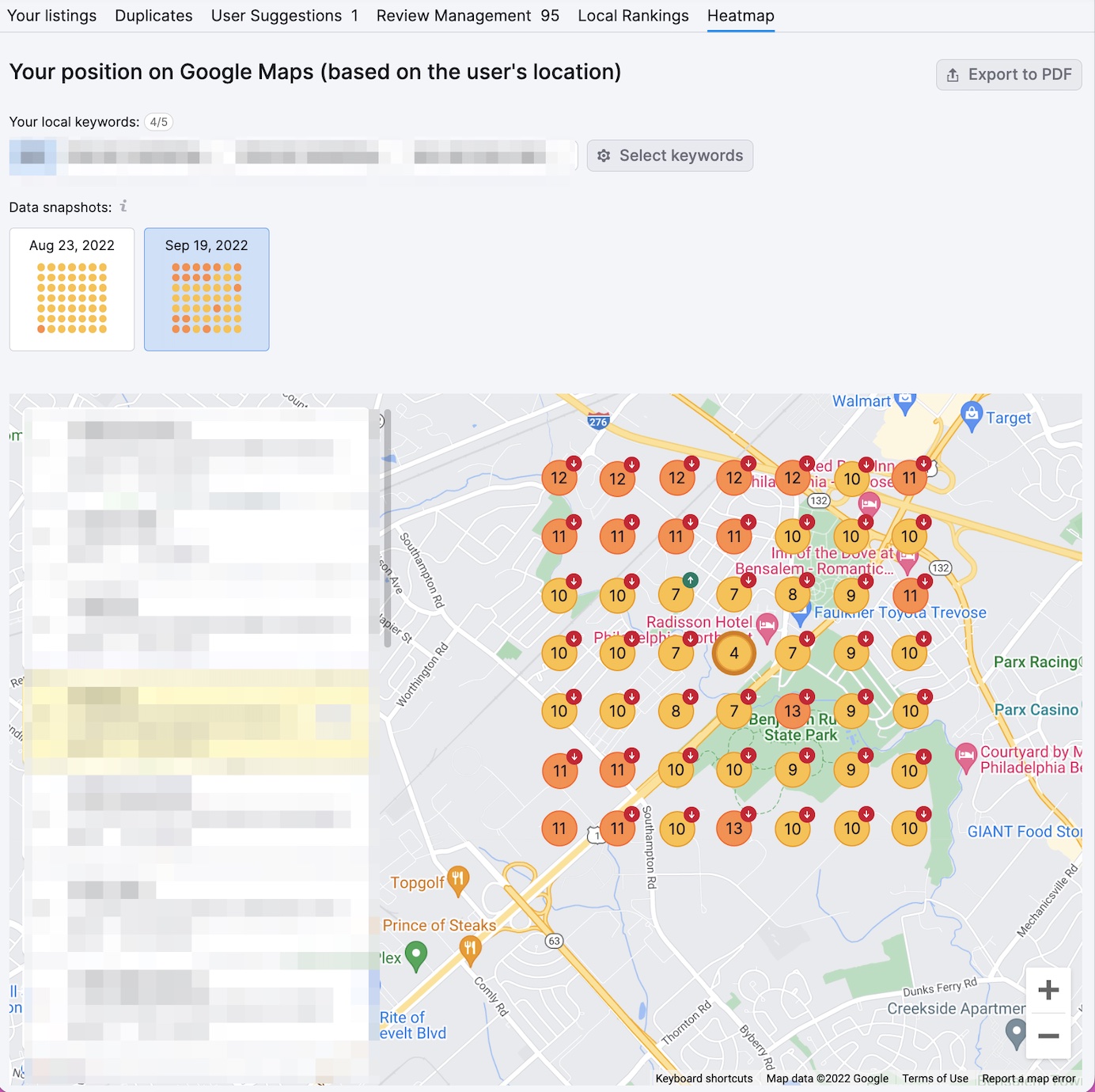 Scan radius refers to how much you want to zoom in or out of an area on the map. Zoom in with a smaller scan radius to track a more densely competitive area where you'd expect a lot of changes (think tracking "coffee" keywords in midtown Manhattan), and zoom out with a larger scan radius to track a wider geographic area with less competitive density (think "dentist" keywords in a rural county).
Grid size refers to how many points within that defined radius you want to track positions in.
Once you choose to scan the map, you will see your site's ranking for each point in your grid and review your competitors.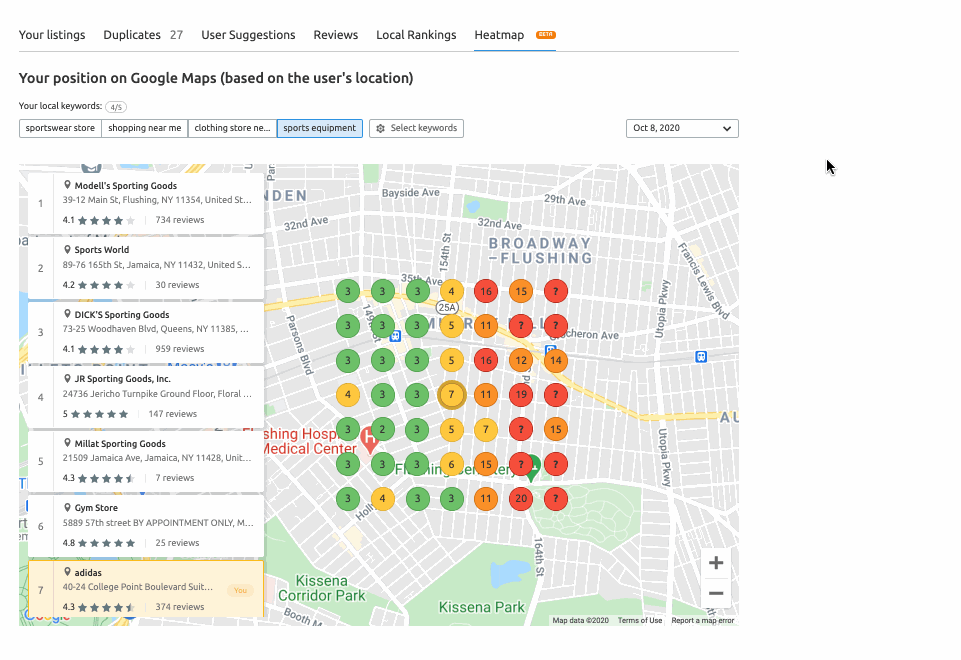 This report will be updated monthly with your business' rankings in Google Maps for each of your target keywords in the indicated locations.
You can download the Heatmap PDF right from the tool or add the Heatmap widget in the My Reports constructor.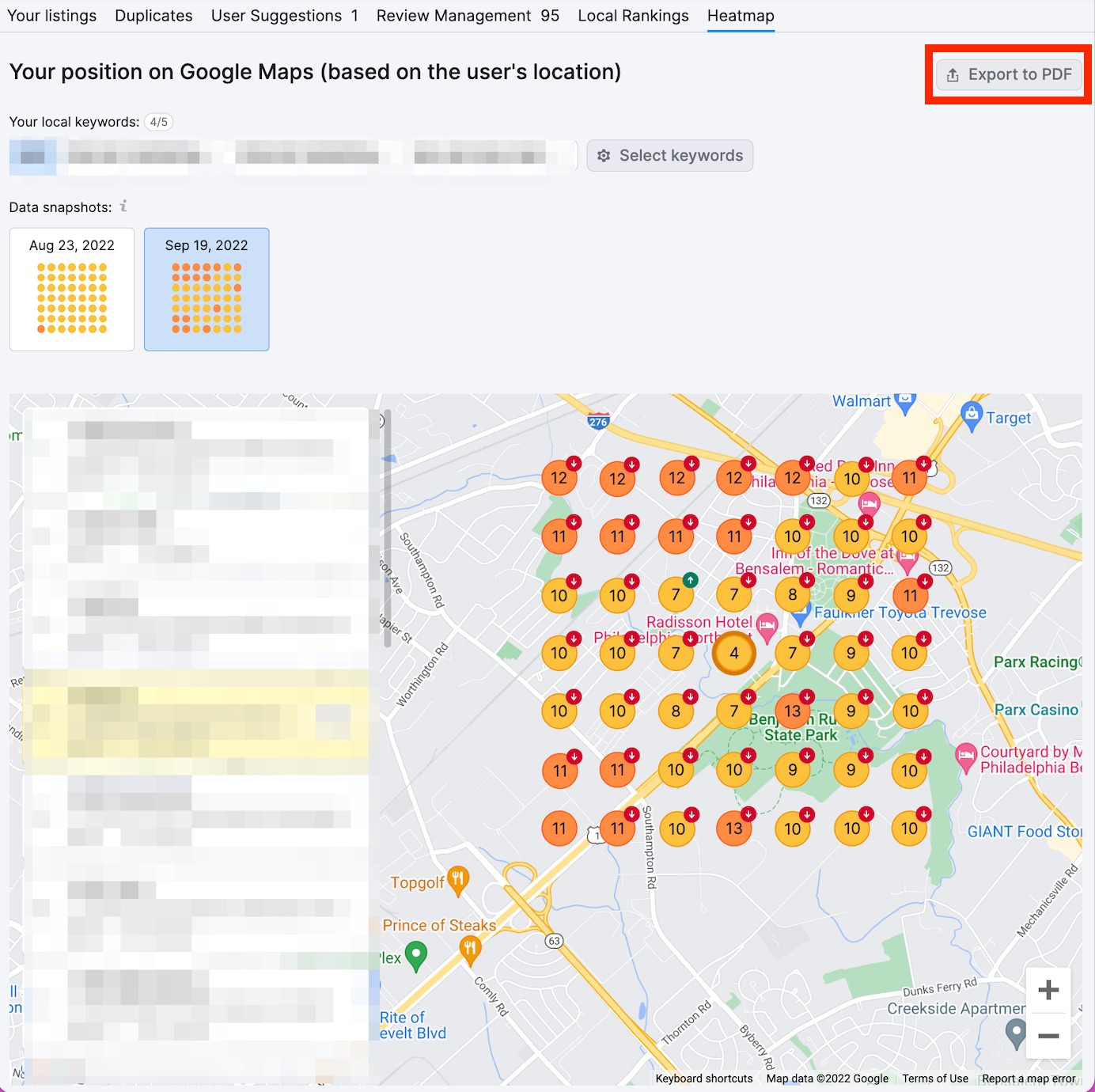 Data Snapshots
As the tool collects your data each month, you will start to see arrows beside each point on the map indicating if your position in that spot went up or down since the last month (1).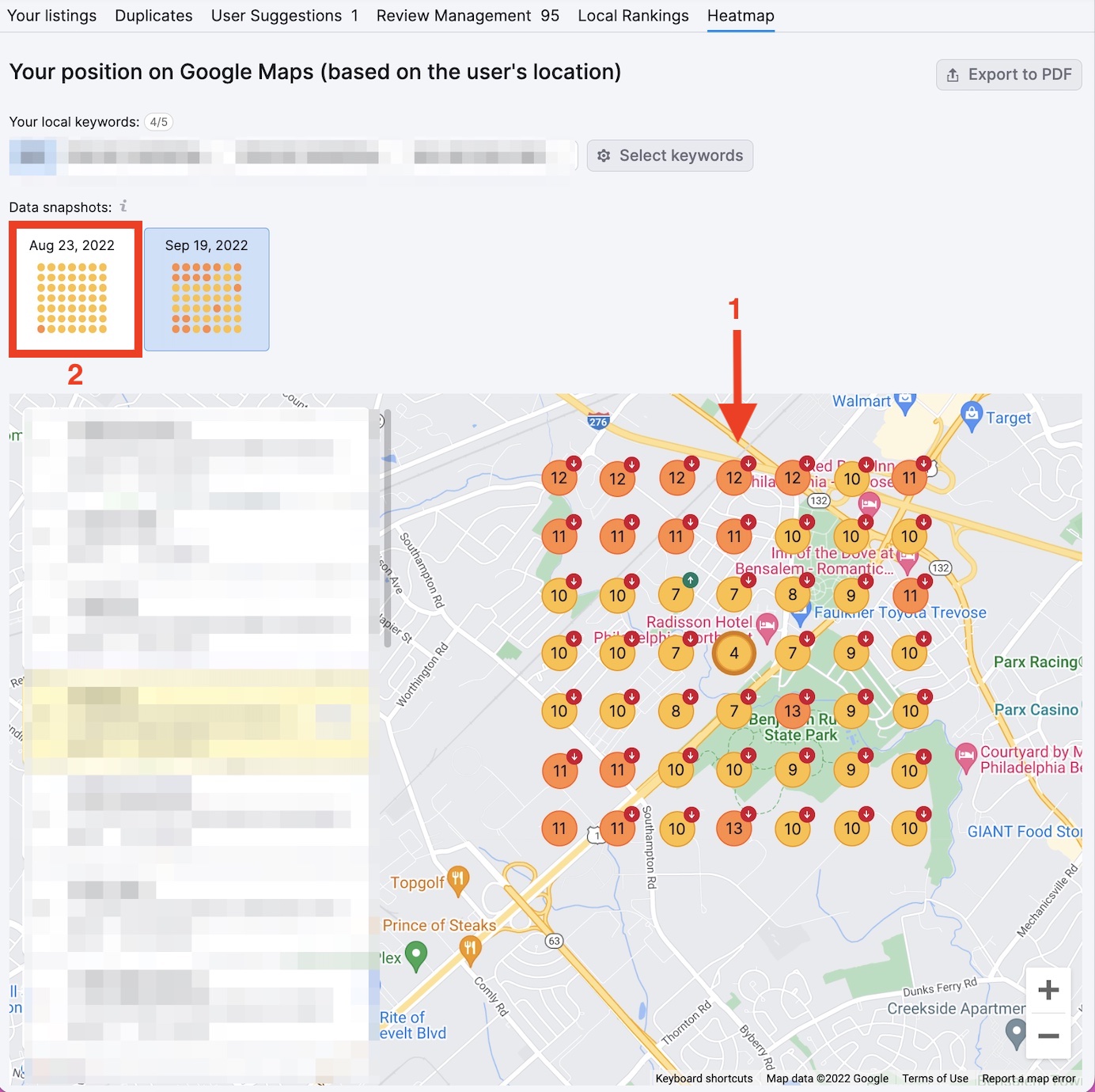 You can open up an old snapshot to review previous months' positions by clicking on the data snapshot box (2). The tool will be able to retain up to 12 months of historical data in these snapshots.
The 5 keywords you choose can be set or changed only once per month. You'll see a notice like this, explaining when your limit resets as you change your keywords:
Review Management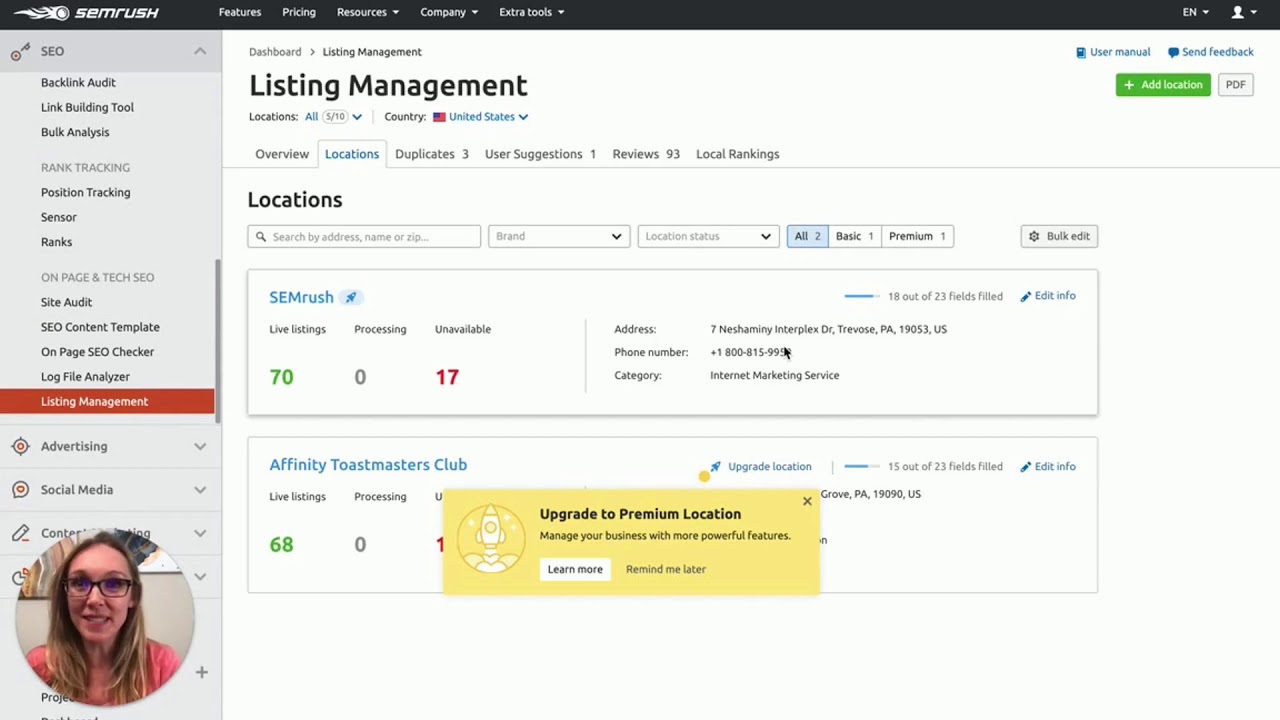 The other great bonus of the Premium level is the ability to manage and reply to your reviews. Here's how the reviews will be collected in the Reviews tab: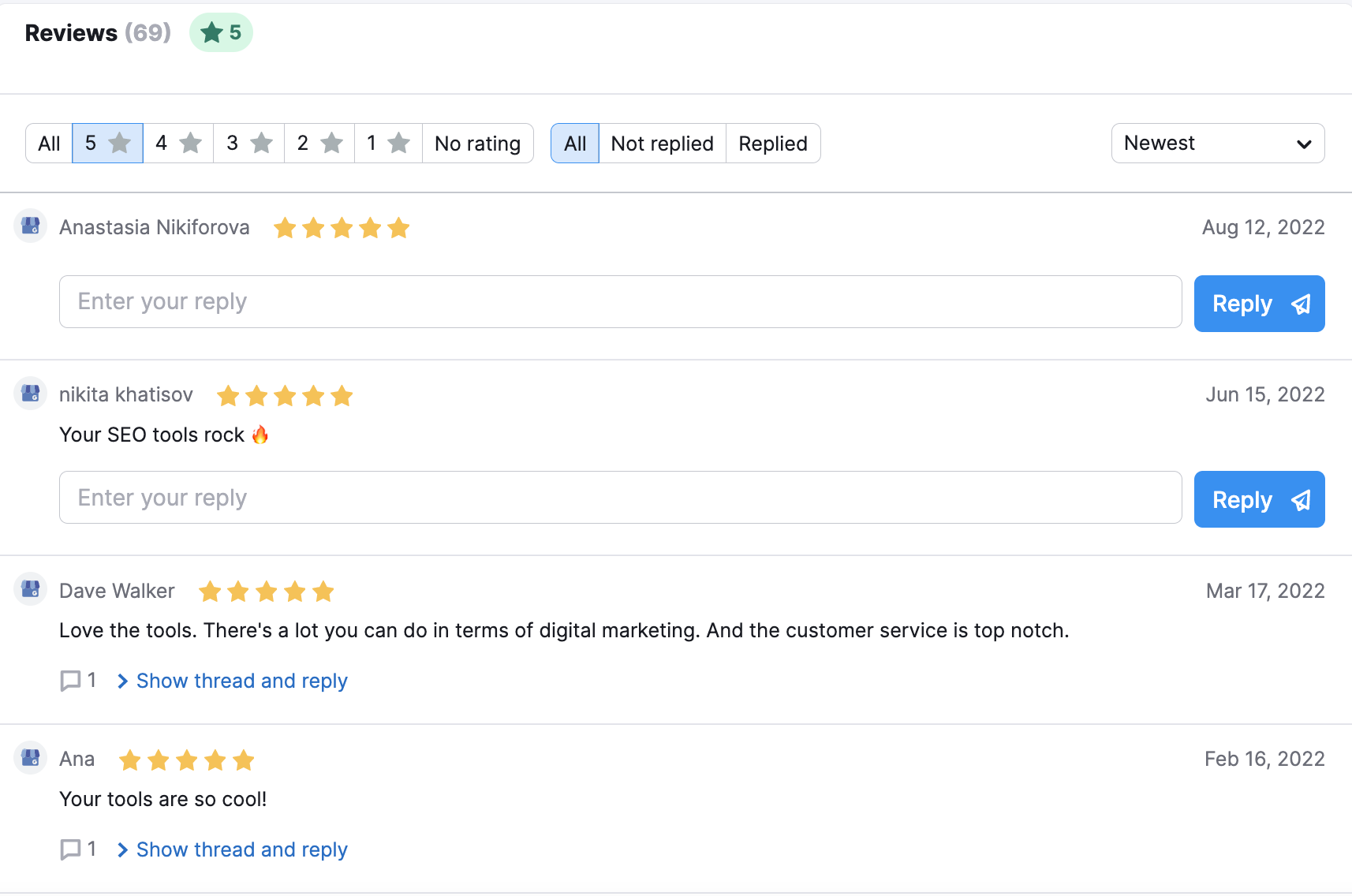 With each review, you can now expand and reply directly to your customer who left the review.

Here's an example of how reviews will appear on your Google search result via Google Business Profile: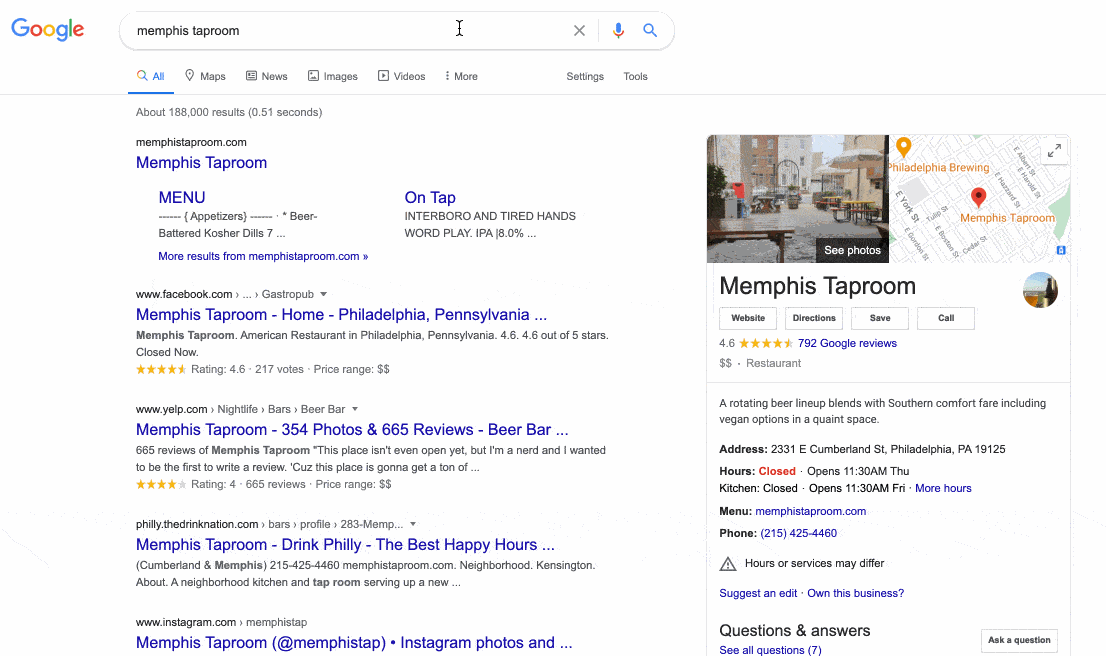 Here's Google's advice on replying to your online reviews:
Business owner responses help you build relationships with customers, but they're also public. When you reply to your customers, keep these guidelines in mind:
Be nice and don't get personal. This isn't just a guideline—it's also a good idea as a business owner. It's difficult to win an argument with a frustrated customer and you want to leave a positive impression. Keep your responses useful, readable, and courteous. In addition, responses should comply with our local content policy.
Keep it short and sweet. Users are looking for useful and genuine responses, but they can easily be overwhelmed by a long response.
Thank your reviewers. Respond to happy reviewers when you have new or relevant information to share. You don't need to thank every reviewer publicly, since each response reaches lots of customers.
Be a friend, not a salesperson. Your reviewers are already customers, so there's no need to offer incentives or advertisements. Tell reviewers something new about your business, or share something they might not have learned from their first visit.
Sentiments by Top Keywords
In addition to being able to collect reviews, you'll see widgets displaying your Review progress by month and the sentiments in your reviews.

The Sentiments widget can show you the most common words found in your reviews, the top positive and negative words used, and the average rating and sentiments of reviews using your tracked keywords.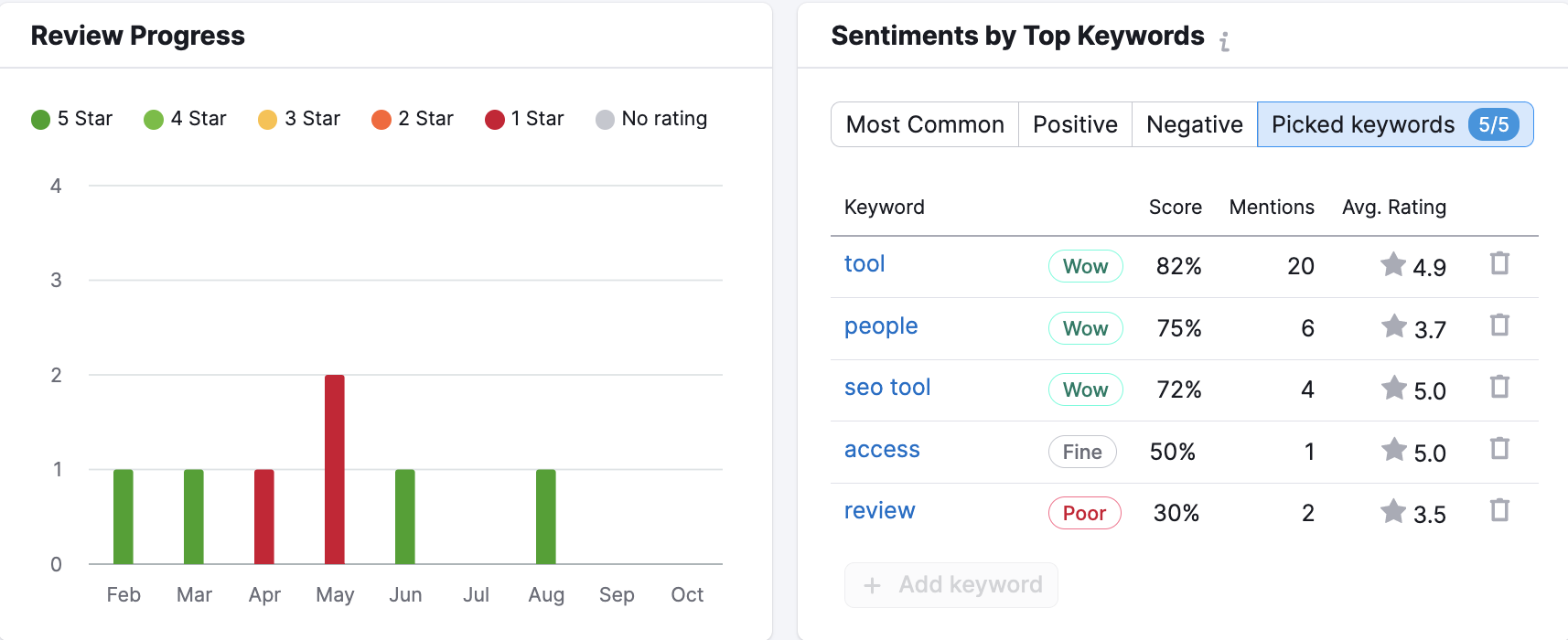 There are 3 labels for sentiments here (from worst to best): poor, fine and wow.
Email Alerts
Here's how email alerts work for your reviews in Listing Management:
Every week, you'll receive an email with negative reviews (a negative review is the one rated not higher than 2 stars) from the previous week and a CTA to answer them.
If there were no negative reviews, you will not receive the email.
This email goes out to everyone with a Listing Management subscription no matter whether you have the premium limit or not.
Here's an example of how this email may look in your inbox: